KLM Royal Dutch Airlines Flights
Cabin Classes
Economy Class
KLM's Economy seating features a seat pitch of between 31-32 inches. Relax on ergonomically designed chairs and pass the time flicking through KLM's in-flight magazine Holland Herald. Alternatively, browse the personal interactive screen with more than 1,000 hours of entertainment, including 80 of the latest Blockbuster movies, as well as classic and world cinema films.
A multi-course hot meal menu is available in Economy, with alcoholic and non-alcoholic beverages served on board. Passengers have the option of pre-ordering a preferred meal before travel on most intercontinental flights.
Economy Comfort
KLM also offers Economy travellers the option of upgrading to Economy Comfort seats. Economy Comfort seats are situated in the Economy cabin with the same service, but offer extra personal space with up to four inches extra legroom, up to double the recline, and are situated at the front of the cabin for faster disembarkation.
World Business Class
World Business Class passengers can enjoy a seamless travel experience, including SkyPriority (priority at check-in, security and passport clearance at selected airports, priority boarding and baggage handling), extra baggage allowance and lounge access. A comfortable on-board experience is guaranteed with 81.5-inch-long seats that boast a 60-inch seat pitch, reclinable to 180 degrees. Privacy is assured with a personal canopy allowing undisturbed sleep, work or reading, and each seat is equipped with an in-seat power supply. 
Alternatively, choose from the huge range of over 80 movies, as well as TV shows, games and music available on 17-inch personal on-demand screens. A three-course gourmet menu prepared by leading Dutch chefs is served on fine tableware, alongside a range of fine wines and other alcoholic and non-alcoholic beverages. A stylish Viktor & Rolf amenities bag is provided to help Business Class passengers arrive feeling refreshed. All Business Class passengers also receive one of KLM's famous Delft Blue miniature houses, filled with genuine Dutch gin as a gift.
For more details on why we recommend flying premium with KLM, see our First and Business Premium Airline Guide.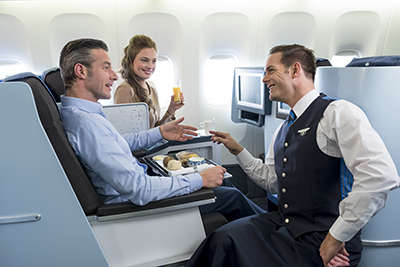 Baggage
Carry-on Baggage
Economy and Business Class passengers may bring one piece of hand luggage with maximum dimensions of 55 x 25 x 35 cm and a personal item such as a handbag or laptop bag. Business Class passengers may also bring a smaller second bag with maximum dimensions of 45 x 20 x 35 cm. The total combined weight allowance of hand luggage for Economy passengers is 12kg, and 18kg for Business passengers.
Checked Baggage
On intercontinental flights, Economy travellers can bring one piece up to 23kg, and on all KLM flights Business Class passengers may travel with 2 pieces of checked in luggage with a maximum weight of 32kg per piece. Economy Class fares on flights within Europe and to Algeria, Morocco, Israel and Tunisia, only include hand luggage allowance. Economy passengers travelling on these routes who wish to bring check-in luggage must purchase baggage allowance (one piece up to 23 kg) for an additional fee.

Don't pack medication or car/house keys in your checked baggage. Always carry these onboard with you
Bulky Items
All bulky, sporting and special luggage must be registered and confirmed by KLM before you travel, available on a first come first served basis. Many sporting items can travel as checked-in luggage in place of a suitcase, or they can be checked-in as additional baggage with rates depending on size and weight of item, and travel destination.

To pack a bike in a bike box: turn the handlebars in and secure to the frame, remove pedals and front wheel if possible, lower or remove seat post and deflate tyres.

Infant Baggage
Infants travelling on parent's laps are entitled to a check-in baggage allowance of 10kg, and a carry-on baggage allowance of baby care items weighing up to 12kg. In addition to this, a collapsible stroller may be checked in, as well as a child car restraint seat.

Bassinets are available on all long haul international flights and the flight crew can help wash and heat up bottles.
Restricted or Dangerous Goods
Restrictions to liquids, gels and pastes in hand luggage apply on KLM international flights. These items may only be taken onboard in quantities of 100ml or less, held in a 1l transparent, resealable bag, with a limit of 1 plastic bag per traveller. Exceptions to this rule are baby food to be consumed on the flight, prescription medication and special diet foods for the flight. Sharp objects are banned from carry-on luggage, this includes arrows and darts, harpoons, ice skates, knives, scissors, swords, skis and pointed tools, and banned blunt items include bats, golf clubs, sticks and skateboards. Guns and ammunition for shooting and hunting purposes may travel as checked luggage with prior clearance from the airline. Dangerous items banned from both checked and carry-on luggage include all explosives and flammable substances, and all chemical and toxic substances.

If in doubt, leave it out. Even if you accidentally take a dangerous good onboard an aircraft you can be fined and penalised.
Check-in
Checking-in for your flight with KLM couldn't be easier. Use your mobile device, laptop or home computer to check-in for your flight and print your boarding pass. Alternatively, head to the airport and check yourself in at a self-service kiosk, or visit the airline counter for full-service check-in.
Web Check-in
All you need is access to the web, and in just a few short clicks you'll be able to check-in for your flight up to 30 hours prior to scheduled departure until 1 hour before scheduled departure. You can choose your preferred seat, book additional baggage if required, and print your boarding pass, saving time and hassle at the airport.
Mobile Check-in
Mobile check-in with KLM is a straightforward way to check-in on the go. All you'll need is your E-ticket number, and you'll be able to check in as with regular web check-in. Instead of printing your boarding pass, you'll receive an electronic boarding pass via SMS or email, which you can scan at the airport.
Airport Kiosk Check-in
If you're unable to check in online, you'll be able to check yourself in at the airport using a self-serve check-in kiosk. You'll be able to select your seat, register check-in baggage, scan your passport, and print your boarding pass, before dropping any check-in luggage at the bag drop counter. Kiosk check-in opens 3 hours prior to international flights, available up until 1 hour prior to flight leaving.
Airport Counter Check-In
If you require assistance checking in, visit the check-in counter at the airport for full service. Check-in counters open 3 hours prior to flight departure until 1 hour before scheduled departure.
International Check-in Guide
at home
Know what time you need to leave the house to get to the airport
Pack your things, check out our baggage guide
Have your flight itinerary ready
Ensure you have your valid passport ready
Getting there
Be at the airport at least

120 minutes

prior to scheduled departure time
At the airport
Proceed to check-in counter with passport and itinerary ready
Go through security
Continue through customs
Check the gate number and flight status
Sit down and get comfy!
Lounges
KLM Airport Lounges
Relax in style before your flight at a KLM Crown Lounge, located in Amsterdam Schiphol Airport as well as Dubai, Houston and Toronto. Entertainment facilities within each lounge include Wi-Fi, laptop charging facilities, TV, rest areas, workspaces, and international newspapers. Refreshments are provided with healthy meals and non-alcoholic and alcoholic beverages. Many lounges also provide hot showers for travellers to freshen up between flights.
Access to the KLM Crown Lounge is available to Business Class travellers, Flying Blue frequent flyer Platinum or Gold members and SkyTeam Elite Plus members. Flying Blue Silver members can access the lounges in a growing number of destinations around the world, upon payment of a fee. Worldwide lounge access is also available at many other destinations, including London Heathrow, via global airline partners.
Frequent Flyer
Flying Blue
The KLM frequent flyer programme is called Flying Blue. Members can earn miles for all KLM flights (based on fare purchased) and with select airline partners, including Air France and other SkyTeam member airlines. Miles can be earned or redeemed on select airline, hotel, car rental and shopping partners.
Flying Blue has four tiers of membership: Ivory, Silver, Gold and Platinum. Each level has a host of benefits including bonus miles, upgrades, access to redemption seats, priority check-in, extra baggage and discounts on Economy extra legroom seats.
KLM is part of the SkyTeam Alliance, which includes 20 airlines worldwide. You can take advantage of this to spend or accrue miles with any of the partner airlines.