Overview

Before You Fly

In the Air
About Cathay Pacific
Lauded as one of the Best Economy Classes in 2018 according to Skytrax, who better to start your Journey with than Cathay Pacific? You can make the most of its award-winning entertainment system – StudioCX – dine on fresh, healthy cuisine, and experience a warm onboard service from the cabin crew.
Check-in
Cathay Pacific offers several check-in options, from web and mobile check in to airport check-in.
Website and mobile check-in is available from 48 to 2 hours before departure. Your reservation number is required for this type of check-in. Passengers choosing to check-in at the airport counter should do so at least 90 minutes before departure.
Hong Kong: free in-town check-in services
To ensure each passenger's journey gets off to a great start, a free in-town check-in service is available at Hong Kong and Kowloon stations (Airport Express/MTR). This means that passengers can check-in and collect their boarding passes as early as 24 hours, or as late as 90 minutes, before their scheduled flight departure.
The maximum size of check-in bag that can be accepted at Hong Kong or Kowloon MTR stations is 145x100x85cm with weight not exceeding 70kg.
Opening hours: 5:30am to 90 minutes before the last scheduled flight departure time that day.
---
Baggage Allowance
Carry-on
Cabin baggage allowances vary for each class flown. Economy and Premium Economy classes each offer 1 bag up to 7kg in weight. The hand luggage allowance for business class is 1 piece up to 10kg.
Checked
Checked luggage allowances are also determined by class flown as well as destination and frequent flyer status. Allowances are as follows:
Economy: 1 piece at 20kg (Destinations in the Americas allow 2 pieces at 23kg each)
Premium:1 piece at 25kg (Destinations in the Americas allow 2 pieces at 25kg each)
Business: 1 piece at 30kg (Destinations in the Americas allow 2 pieces at 32kg each)
Bulky Items
Any item in excess of the free baggage allowance is subject to extra baggage charges. This includes sporting equipment, music instruments and pets. Ask your Flight Centre Travel Expert for specific rules on bulky baggage policies for the many different items that are accepted.
Infant Baggage
Infants under the age of two who do not occupy a seat are allowed multiple pieces for check-in up to a maximum of 10kg. For routes to the Americas, infants are allowed one piece with standard weight restriction for an adult according to class flown. A small bag of food and nappies is allowed in the cabin along with a collapsible stroller.
Restricted or Dangerous Goods
Ask your Flight Centre Travel Consultant for specific advice on items that are not allowed in luggage. Items such as flammable liquids, gases and materials, explosives, fireworks and other potentially harmful materials are never allowed in hand luggage or in checked luggage.
---
Frequent Flyer Points
The Marco Polo Club – Cathay Pacific's loyalty programme – is designed to reward customers with benefits and services that enhance their travel experience. There are four tiers in the club: Green, Silver, Gold and Diamond. Each tier offers a different range of privileges that make every journey something to look forward to. For customers who are part of the Marco Polo Club, the travel experience extends beyond Cathay Pacific and Cathay Dragon to include special privileges on all airlines in the oneworld alliance.
Cathay Pacific's Economy Class boasts redesigned seats with generous legroom, delicious food, and a state-of-the-art-in-flight entertainment system.
The seat's cradle mechanism offers more living space and greater recline (six inches), perfect for resting and sleeping, while also giving more space around the shin area when the passenger in front reclines. The headrest with side wings adjusts four ways to give maximum support for the head and neck.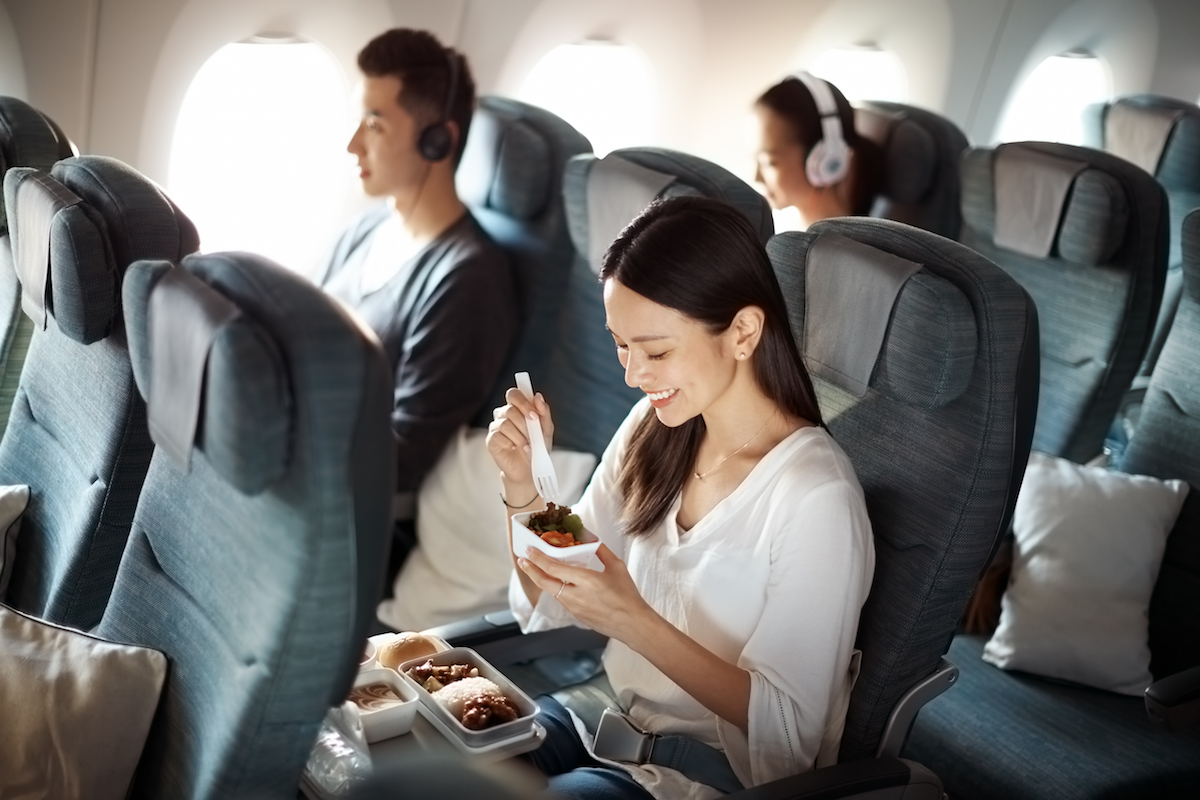 Entertainment: Experience Cathay Pacific's StudioCX entertainment system on your personal nine-inch touchscreen TV. Enjoy over 100 movies, 500 TV programmes, 888 CDs and 22 audio channels, or opt to stream your own content; all seats have built-in power/USB sockets and, by 2020 all UK passengers will be able to make the most of in-flight Wi-Fi.
Food and Beverage: Complimentary menu selections include a choice of regional and western dishes as well as a full bar and beverage service with snacks made available throughout the flight.
Top Cathay Pacific Airfares & Flight Deals
Upgrade to Cathay Pacific Premium Cabins
Choose an Option to Book Flights with Your Favourite Airline
Flight Centre's Travel Consultants really know their stuff when it comes to creating bespoke itineraries. Get in touch below, and let us tailor-make it easy
Frequently Asked Questions (FAQs)
Does Cathay Pacific participate in TSA Precheck?
Cathay Pacific offers TSA PreCheck to all customers leaving from any of its six U.S. gateways. Eligible passengers must have been approved by the Customs and Border Patrol trusted traveller program. Once approved you will be given a membership number, and at the airport during check-in enter this into the "Known Traveller Number" field. The boarding pass will then be printed with TSA PreCheck on it and you are all set.
How long do you have to be at the airport before a Cathay Pacific flight?
The airline recommends arriving at the airport at least 2 hours prior to departure. This allows for ample time to check your luggage, go through security, and find your gate. Also, keep in mind you are required to have your boarding pass at least 45 minutes if departing from Hong Kong, at least 60 minutes if departing from North America, and at least 75 minutes when departing from Dubai.
What airlines are affiliated with Cathay Pacific?
Cathay Pacific and Cathay Dragon, their sister airline, participate in the oneworld global airline alliance. This affiliates them with British Airways, American Airlines, Finnair, Qatar Airways, and many others. This creates a massive network of destinations for customers and offers benefits such as priority check-in.
Contact Our Friendly Travel Consultants for a Quote
Your holiday
We know our stuff when it comes to holidays all around the world and – most importantly – with a little bit of information, our Travel Experts can tailor make a trip to suit you. So what are you waiting for?
Information correct as of September 2019.