Cabin Classes
United Economy®
Great service meets good value in United Economy. Relax in ergonomically-designed seats with up to 32 inches of legroom.  
Entertainment: United has installed global satellite based Wi-Fi on its entire fleet, with 100% of mainline aircraft equipped. This service offers complimentary on-demand programming from a library of more than 150 movies and nearly 200 television shows streamed direct to your device through the United App. Full Wi-Fi access is also available for purchase during the flight. To keep your devices charged, individual in-seat power sockets are standard in Economy Plus and Economy seats on certain aircraft.
Food and Beverage: Travellers flying internationally in United Economy will enjoy a complimentary three course meal, inflight snacks, wine, beer and soft drinks.
Economy Plus®
Stretch out with extra legroom when you upgrade to United Economy Plus. Enjoy all the benefits and services of Economy, but with added comfort and space. Seats are also located towards the front of the cabin, allowing for a quicker exit. Economy Plus is available for an additional charge.
United Polaris Business Class
United began to introduce its new United Polaris Business Class on December 1, 2016. The cabin offers a new in-flight food and beverage experience, custom bedding from Saks Fifth Avenue, new amenity kits and the new United Polaris lounge in Chicago with eight other lounges due to open.
Entertainment: Enjoy gate-to-gate entertainment on an in-seat 16-inch HD monitor with a wide variety of TV shows and movies, including early releases. In partnership with leading entertainment curators, United is said to bring you exclusive content that you won't find on any other airline.
Food and Beverage: Delight in a delicious menu– created in partnership with chefs gathered through The Trotter Project – that features regional specialities based on United's global route network and is refreshed seasonally. You'll enjoy a multi-course meal featuring warm appetisers, salad, a choice of entrees, and even a cheese course, should you choose.
Indulge in a wide selection of delicious treats, sure to satisfy any sweet tooth. Savour a cup of illy® premium Italian coffee, expertly roasted to be flawlessly consistent, smooth, balanced and never bitter.
United's top-rated wines from its global wine list appeal to both novice and connoisseurs alike. United proudly pours only highly rated wines, Champagnes and ports, meticulously selected with help from the airline's master sommelier. If beer is more your style, choose from the rotating selection of premium import and domestic beers, as well as craft brews.
Onboard facilities may vary depending on aircraft. United Polaris travel features, including aircraft and airport configuration, may not be available in all markets and/or flights.
Baggage
United Airlines Baggage Allowance
Carry-on
Travellers are allowed 1 piece of hand luggage and 1 personal item such as a shoulder bag, laptop bag or similar. Coats, a nappy bag and reading materials are also allowed. The maximum size for hand luggage cannot exceed 22cm x 35cm x 56cm including handles and wheels.
Please note that there may be additional carry-on guidelines for United Express® and other flights. Ask your consultant for more details.

Liquids, gels and aerosols must be in containers no greater than 100ml or 3.4 ounces and packed in a clear, sealable bag.
Checked
The baggage allowance is determined by the class ticketed, routing and frequent flyer status. Standard allowances are as follows:
United Economy® - 1 bag up to 23kg in weight
United Business®, United First®, United Polar First Class, United Polaris Business Class - 1 bag up to 32kg in weight

MileagePlus Premier® status holders may be allowed an additional allowance, please check before flying.
Bulky Items
Many bulky items such as surfboards, bicycles and other sporting equipment are charged an additional fee due to size and weight. There are items however that can be checked in lieu of a checked bag. Your Flight Centre Travel Expert will be able to advise on specific items at time of booking.

Infant Baggage
FAA-approved child restraint systems or safety seats, breast pumps and nappy bags may be carried in the cabin in addition to the standard carry-on allowance.

A car seat or child seat must be certified for use in aircraft and motor vehicles.
Restricted or Dangerous Goods
Hazardous items and dangerous materials such as flammable liquids, gases and solids, explosives, corrosives, poisons, paints and other items are never permitted in checked luggage or carry-on baggage. For a complete list of goods that are prohibited from travelling, consult with your Flight Centre travel expert.

Some lithium batteries such as those used for wheelchair use may be permitted in the cabin but must be declared.
Check-In
Check-in any way you choose
Online
Online check-in is fast and simple. Passengers may check-in for their flight starting 24 hours before departure. Boarding passes may be printed or sent to a personal mobile device where they can be saved. Online check-in is available from the U.S. and most international destinations. For online check-in, the first flight of the itinerary must be on a United operated flight and the booking must contain 4 or less segments with less than 9 people and you must have scanned your passport previously with United.
Kiosk
Airport kiosks are available in U.S. airports and many international airports. Kiosks allow passengers to print boarding passes, change seats and declare baggage amounts. Once checked in, simply proceed to the bag drop off counter where passports and documentation are checked.
Counter
Airport check-in counters are open for specified time periods, usually from 3 to 4 hours before flight departure. Counters at London Heathrow and major U.S. airports are open throughout the day. 
International Check-in Guide
at home
Know what time you need to leave the house to get to the airport
Pack your things, check out our baggage guide
Have your flight itinerary ready
Ensure you have your valid passport ready
Getting there
Be at the airport at least 120 minutes prior to scheduled departure time
At the airport
Proceed to check-in counter with passport and itinerary ready
Go through security
Continue through customs
Check the gate number and flight status
Sit down and get comfy!
Lounges
United Lounges Worldwide
There are more than 45 United Club locations, as well as participating Star Alliance® affiliated airport clubs worldwide. For departures from the UK, United has a United Global First℠ Lounge located at London Heathrow's ultra-modern Terminal 2, offering a relaxed oasis for passengers to enjoy before take off.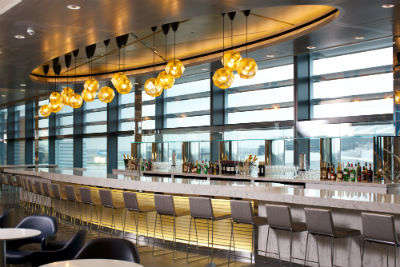 While in the lounge you can take in the views across the airfield, conduct business in the private phone booths or relax in the quiet zone, complete with couches and privacy drapes. The lounge – which has an oversized Big Ben-style clock as its centrepiece – also offers a range of dining options, from a buffet area to an à-la-carte menu, as well as a wine room. 
Complimentary access to the United Club℠ and Arrivals Lounge are available for premium cabin customers.
Frequent Flyer
MileagePlus Loyalty Program
The United Airlines MileagePlus program rewards passengers who fly on United, United Express, Star Alliance and other partner airlines. Points can also be earned for car hire, hotel stays and more. The more you use the program, the sooner you'll achieve Premier® status and receive additional member benefits, such as bonus award miles, upgrades, Premier Access to airport services, fee waivers, discounts and benefits when travelling with Star Alliance members. Accumulated points may be used towards a range of products including flights, upgrades, lounge access or membership, hotel stays and car rentals.