Boston is a beautiful, diverse, culturally-rich city thriving in the heart of New England. It's home to cutting-edge architecture and innovative urban planning projects while being a prime spot for leaf-peepers in the fall. One of the oldest cities in the USA, Bostonians' feisty spirit remains from independence days.
Chat to Us About Tailor-Making Your Trip!
Flight Centre's Travel Consultants really know their stuff when it comes to creating bespoke itineraries. Get in touch below, and let us tailor-make it easy
Top Boston Airfares & Flight Deals
Airlines that fly to Boston
Boston Airport
Most flights from the UK to Boston will disembark at Boston Logan Airport. The largest airport in the New England area, as of 2010, Logan is the 19th busiest airport in the United States with about 13.5 million boardings a year and 28 million passengers overall in 2011.
Useful Information
British passport holders are eligible for the USA's visa waiver program, allowing you to visit the United States without a visa for 90 days. While you might not need to apply for a visa, you will need to gain prior authorisation through the country's Electronic System for Travel Authorisation, commonly referred to as an 'ESTA.' Those who are not approved by this online system prior to their flight may run the risk of being turned away at the airport. For travel on non-British passports or for more information, please ask your consultant.
Due to its early founding, the centre is compact (and easy to walk). The city as a whole is magnificent in late spring (May and June) or early autumn (September and October), when parks are filled with flowering trees or colorful leaves. Boston Common, near the Financial District and Beacon Hill, is the oldest public park in the USA.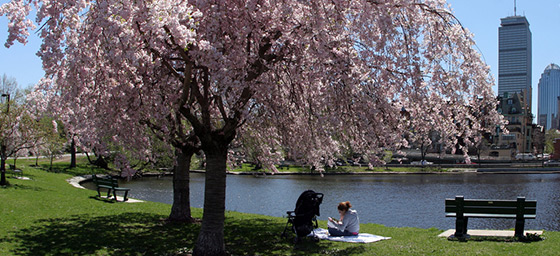 Public Park with Spring Cherry Blossoms
A quick guide to neighbourhoods to visit in Boston:
Back Bay – an upmarket area with sophisticated boutiques and fine dining
Chinatown – sits between downtown and the theatre district and is the US's fourth-largest Chinatown
Downtown – this is a tourist hub and includes the Freedom Trail, Boston Public Garden, and Boston Common
North End – Boston's Italian district complete with fabulous food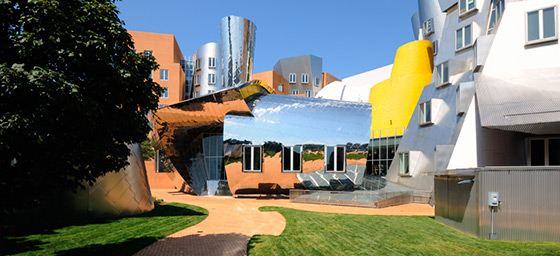 Fun, colorful, irregular, postmodern architecture of MIT Strata Center in Cambridge
For a quintessential taste of Boston life, don't miss watching a game and downing a hotdog at the iconic Fenway Park. The city's Freedom Trail is another must-do, covering 16 significant historic sites in the city including the USS Constitution in Charlestown and the Bunker Hill Monument.
Boston's wealth of academic institutions also keeps the city thriving with students and entrepreneurial energy. As the unofficial capital of New England, there's much to see beyond the city too, such as a visit to the prestigious grounds of Harvard University.
More than 16 million people visit each year – grab a flight to Boston and be one of them! For more information on Boston holidays check out our Boston travel guide.
Destinations in the USA
What is the weather like in Boston?
The average maximum temperature for Boston ranges between 3 and 28 degrees. The hottest month is July with an average temperature of 23 degrees and the coldest month is January with an average temperature of -1 degrees.
How much does it rain in Boston? What is the driest/rainiest month in Boston?
The average annual rainfall for Boston, USA, is 1122mm of precipitation.
The wettest month with the highest rainfall is November, with 113mm of precipitation. The driest month with the lowest rainfall is July, with 79mm of precipitation.
Hottest Month
August
(22°C)
Coldest Month
December
(14°C)
Avg. Max. Temperature
18-24°C
Driest Month
January
(48mm)
Wettest Month
May
(131mm)
Avg. Annual Rainfall
919mm