An iconic statue representing liberty, hope and freedom guides visitors direct to the 'Big Apple' and with our current offers on cheap flights to New York, getting there is easy and affordable. Sinatra sang that he wanted to be a part of it and New York indeed offers many iconic sights that enable you to get amongst it.
Chat to Us About Tailor-Making Your Trip!
Flight Centre's Travel Consultants really know their stuff when it comes to creating bespoke itineraries. Get in touch below, and let us tailor-make it easy
Top New York Airfares & Flight Deals
Choose a Method of Contact
Tap an option below
Email
Send a quick message
Fill in the form with as much detail as you can and we'll get back to you.
Sometimes it's easier to talk! Call us on 0800 587 0058 to chat instantly - It's the quickest way to get your quote! Our travel consultants are waiting to speak to you.
Sometimes it's easier to talk! Call us on 0800 587 0058, 9-6pm - It's the quickest way to get your quote!
Callback
We can call you, now or later.
Enter your number below and we can call you now or at a set time - the choice is yours!
We're not in the office right now
Enter your number and we'll call you back at a time that suits you (within opening hours)
Enter your number
Callback
When would you like us to call?
Select a day and time (UK)
Success!

Continue Browsing
Airlines that fly to New York
New York Airports
New York is serviced by 3 airports; John F. Kennedy Airport, LaGuardia Airport and Newark Airport. The city's main international entry point is John F. Kennedy Airport which has a total of 7 terminals and is located 11 miles from Manhattan.
Useful Information
British passport holders are eligible for the USA's visa waiver program, allowing you to visit the United States without a visa for 90 days. While you might not need to apply for a visa, you will need to gain prior authorisation through the country's Electronic System for Travel Authorisation, commonly referred to as an 'ESTA.' Those who are not approved by this online system prior to their flight may run the risk of being turned away at the airport. For travel on non-British passports or for more information, please ask your consultant.
Take the ferry across to the Statue of Liberty, enjoy the views from the Empire State Building or appreciate the Chrysler Building's architecture. Wander down Wall Street to the New York Stock Exchange or head across to the United Nations Headquarters.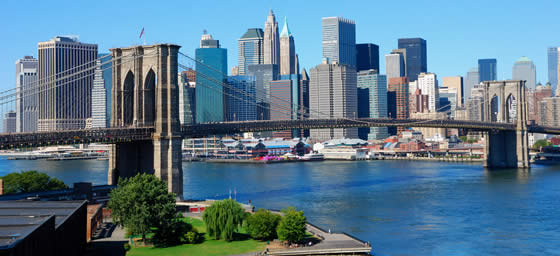 The Famous Manhattan Skyline & Brooklyn Bridge
In the middle of the pulsating city is Central Park, an oasis offering glorious parklands to explore. Alternatively, take the Staten Island ferry for striking views of Manhattan or stroll across the Brooklyn Bridge, which was the longest suspension bridge in the world when it opened in 1883.
Times Square is the heart of the theatre district with dozens of theatres offering big name stars performing in classic and contemporary plays and musicals. The Radio City Music Hall, within the Rockefeller Plaza, is also fantastic for world-class events. Also consider enjoying opera at the Metropolitan Opera or a concert at Carnegie Hall.
The city also boasts many museums including the inspirational Metropolitan Museum of Art, the Guggenheim Museum and the Museum of Modern Art. For an amazing experience, enjoy an evening of opera, ballet or a performance by the philharmonic orchestra at New York's Met or Carnegie Hall. Pay your respects at the site where the twin towers of the World Trade Center once stood, the place now known as Ground Zero.
From Manhattan to Queens, New York has a great range of accommodation options, including iconic New York accommodation such as The Roosevelt, The Chelsea and the St Regis Hotel.
For more on New York holidays check out our New York travel guide or view our range of New York holiday packages that include flights, accommodation and often other extras like tours or car hire.