Delta Air Lines Flights (DL)
Flights
Flights on SALE with Delta Air Lines
About Delta Air Lines
Delta was named FORTUNE magazine's top 50 World's Most Admired Companies in addition to being named the most admired airline for the fourth time in five years. Additionally, Delta has ranked No.1 in the Business Travel News Annual Airline survey for four consecutive years, a first for any airline. With an industry-leading global network, Delta and the Delta Connection carriers offer service to 327 destinations in 57 countries on six continents. Headquartered in Atlanta, Delta employs nearly 80,000 employees worldwide and operates a mainline fleet of more than 800 aircraft. The airline is a founding member of the SkyTeam global alliance and participates in the industry's leading trans-Atlantic joint venture with Air France-KLM and Alitalia as well as a joint venture with Virgin Atlantic.
Cabin Classes
Main Cabin
Delta Air Lines have teamed up with Virgin Atlantic to offer nonstop flights from London to the US with plenty of extras. Get cozy in a comfortable leather seat with complimentary sleep kit. 
Entertainment: Catch up on TV, movies and music with complimentary seat-back entertainment from Delta Studio™ and ergonomically designed earbuds as part of our partnership with Billboard.
Food and Beverage: Main Cabin fares include complimentary beer, wine, spirits, Starbucks® coffee and more. You can enjoy a selection of satisfying meals and snacks.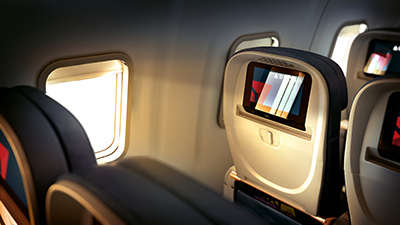 Delta Comfort+™
Enjoy more of the perks you need in Delta Comfort+™. Whether you plan to work or relax, more legroom and extra recline is always better. Rest and refresh with a complimentary amenity kit that includes eyeshades, ear plugs, toothbrush and Colgate toothpaste. With access to Sky Priority® boarding and dedicated overhead bin space, you'll be among the first on the plane to get your carry-on stowed. And with your seat at the front of the cabin, you'll be one of the first off, too.
Entertainment: Watch the hours fly by via TV, movies and music with complimentary premium seat-back entertainment from Delta Studio™ and ergonomically designed earbuds as part of our partnership with Billboard
Food and Beverage: Enjoy complimentary beer, wine, spirits, Starbucks® coffee and more. Plus, you'll enjoy a selection of satisfying meals and snacks. 
Delta One™
Catch some Z's when catching your next flight in the Delta One™ cabin. Onboard you can get a good night sleep beneath Westin Heavenly® In-Flight Bedding on 180-degree flat-bed seats with direct aisle access*. Block out sound with their noise-canceling headsets, and when you wake, freshen up with MALIN + GOETZ items in your TUMI amenity kit. You can also keep your devices powered with power outlets at every seat. When flying out of London Heathrow you can access the Virgin Atlantic Clubhouse before your flight and when arriving back to London Heathrow, you can get straight back to business at the Delta Arrivals Lounge at T3, with a hot shower, delicious breakfast and clothes pressing/mending service. Or freshen up in one of YOTEL's cabins in arrivals area of T4.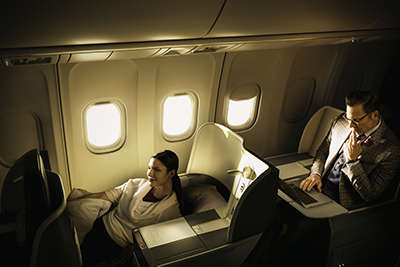 Entertainment: Each seat comes equipped with a large touch-screen TV monitor where the industry-leading Delta Studio™ offers hundreds of movies and other programming selections to be viewed. There is also a long list of CD selections to choose from. To further enhance your viewing and listening pleasure, noise-cancelling headsets are available at each seat.
Food and Beverage: Enjoy a selection of regionally tailored chef-curated meals, paired with wines selected by our Master Sommelier, Andrea Robinson. With complimentary Delta Sky Club®**
* Delta's 757 aircraft flying the London Heathrow-Philadelphia and Manchester-New York JFK routes don't have direct aisle access.
**All Delta Sky Club rules apply to Delta Sky Club. To review the rules, please visit delta.com/skyclub. 
For more details on why we recommend flying premium with Delta Air Lines, see our First and Business Premium Airline Guide.
Baggage
Delta Air Lines Baggage Allowance
Carry-on
Delta Air Lines has no weight restriction on the carry-on piece, but baggage may not exceed 45 linear inches (or 114 cm) in combined length, width and height, including any handles and wheels, with the exception of small musical instruments that fit in the overhead compartment space or under-seat space available at the time of boarding

Place commonly used items in a smaller bag under the seat in front of you for easy access throughout the flight.

Checked
The checked baggage allowance may vary depending on your itinerary, class flown and frequent flyer status. The basic allowance between London and New York in Economy is 1 bag with a weight limit of 23kg. Excess bag fees will apply for weight in excess of this amount. Delta One ™ guests are allowed 2 bags at 32kg each. There is a size restriction on checked items of 62 inches (157 cm) combining length+width+height.

Baggage allowances are greater for Elite Frequent Flyer members. Check with your Flight Centre Travel Expert for exact baggage specifications but generally Elite status members are allowed 1 additional bag in the corresponding class flown. 
Bulky Items
Some bulky items such as golf clubs and other sporting equipment may be accepted as part of the free baggage allowance. There is an excess baggage fee for most other bulky items and your Flight Centre Travel Expert can help determine allowances and any possible baggage fees required.

Some bulky and fragile items such as musical instruments can fly in the cabin with the purchase of an additional seat.

Infant Baggage
There is no additional bag allowance for infants. Additional bag fees may apply for items checked over the standard baggage allowance for paying passenger.

 Try to book your flights around your infant's normal sleep times for a smoother journey.
Restricted or Dangerous Goods
Dangerous and restricted items are never allowed to fly. Such items include flammable materials, liquids and gasses, explosives, fireworks, as well as gasoline powered devices which have previously been used.

Gasoline powered equipment that is new and still in packaging may be accepted for carriage – i.e. chainsaws and other lawn equipment.
Check-In
Check-in, fly out
There are several different options available when checking in for your Delta Air Lines flight:
Online
Check-in is fast and easy when done online. Enter your reservation number on the "Check In" page of the Delta Air Lines website and you will be guided through the check-in process. Simply print off your boarding pass at the end and you're ready to go. Proceed to the bag drop off counter at the airport where your passport and travel documents will be checked. Online check-in may not be available if an itinerary includes travel on a partner airline.
Airport Kiosk
While not available in Australia, Delta Air Lines airport kiosks are quick and easy ways to check-in for your flight at the airport without having to wait in long check-in lines. Scan your itinerary or enter your reservation number, select the number of bags you're checking and the kiosk will print your boarding pass. Proceed to the bag drop off counter where your passport and travel documents will be verified.
Counter
Check-in counters for international flights departing from Sydney usually open about 4 hours before departure. Check-in counters at major U.S. airports are open throughout the day. Have your passport and travel documents ready for inspection. There are designated lanes for those passengers travelling in business class and for Delta SkyMiles® and Skyteam elite members as well as Virgin Australia Velocity Gold and Platinum members. 
International Check-in Guide
at home
Know what time you need to leave the house to get to the airport
Pack your things, check out our baggage guide
Have your flight itinerary ready
Ensure you have your valid passport ready
Getting there
Be at the airport at least

120 minutes

prior to scheduled departure time
At the airport
Proceed to check-in counter with passport and itinerary ready
Go through security
Continue through customs
Check the gate number and flight status
Sit down and get comfy!
Lounges
Unwind at Hundreds of Locations
Delta Air Lines, along with its SkyTeam and other alliance member airlines like Virgin Atlantic, offers over 200 lounge locations around the world including five in the United Kingdom, with three partner lounges available at London Heathrow and two at London Gatwick. 
Delta Air Lines' own Sky Club™ lounges can be found in Manila, Tokyo, Santiago, and close to 30 locations in the US including Honolulu and Los Angeles. 
Delta One™ customers receive complimentary access to the Delta Arrivals Lounge at Heathrow's Terminal 3, as well as the Virgin Atlantic Clubhouse, SkyTeam and Sky Club™ lounges. SkyMiles Diamond and Platinum Medallion® members can also enter the No.1 Traveller lounge at Heathrow lounge.
Frequent Flyer
Delta SkyMiles® Loyalty Program
Delta SkyMiles® is the frequent flyer program that lets passengers earn and redeem points for flights, hotel stays, car rentals and more. Flight miles are also earned on member Skyteam flights as well as other airlines such as Virgin Atlantic.