Thai Airways International Flights (TG)
Cabin Classes
Economy
Thai Airways offers a highly competitive international Economy cabin with an emphasis on greater comfort and higher levels of service. With one of the most spacious Economy Class seating configurations, seats are generously proportioned with a 32-inch pitch. Thai Airways is renowned for the high quality of its Economy Class flight experience, earning many international awards for the airline's outstanding service.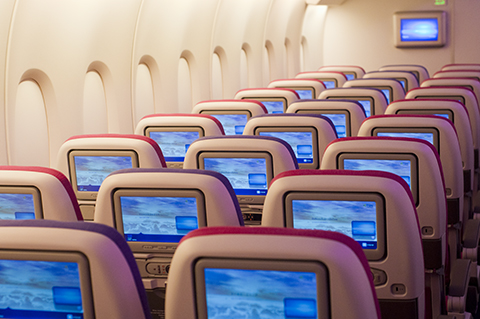 Entertainment: In flight, Thai Airways passengers are treated to the latest on-demand video entertainment system with touchscreen technology. Personal screens at each seat include a wide variety of entertainment options such as movies and television shows, games, kid's entertainment and music.
Food and Beverage: A complimentary meal and beverage service is also offered in Economy and includes a choice of Asian or western dishes as well as a full bar service that includes wines, beers and spirits.
Royal Silk Business Class
With its own dedicated cabin, Thai Airway's Royal Silk service offers comfortable seating with Business Class amenities. Royal Silk shell seats assure refreshing seclusion and a staggered layout that enables enhanced privacy and direct aisle access. Seats provide a 74-inch pitch, 20-inch width and 180-inch fully-flat recline.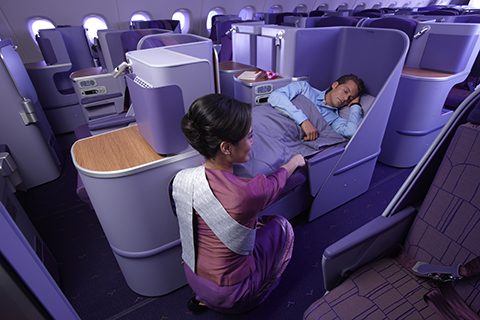 Entertainment: Royal Silk also features personal video screens at each seat. Screens are touch activated and controlled and offer hundreds of programming and personal entertainment options. Seats also feature power outlets and USB ports for laptops and smartphone or tablet use.
Food and Beverage: An extensive menu is offered in Royal Silk and meals are served in individual courses. Presentation standards include porcelain dishes, table linens and glasses. The freshest ingredients are used and menu options are changed regularly. Premium brand spirits and liqueurs, fine wines and beers, along with soft drinks and juices, are always complimentary. Additional Royal Silk amenities include pillows and blankets as well as an amenity kit containing toiletries, eye shades and socks.
Royal First Class
Royal First Class is the ultimate in in-flight luxury. Enjoy personalised service from a dedicated cabin crew who cater to your every need. Upon boarding, each guest is welcomed with a complimentary glass of champagne, wine or liqueur. First Class passengers are also presented with a travel kit containing toiletry items, a toothbrush, socks and eye shade and, as an added touch, First Class lavatories offer linen towels plus men's and women's fragrances. Wide, comfortable seats feature a full 180-degree recline, turning your seat into a lie-flat bed. Fluffy pillows and blankets create a comfortable sleeping environment.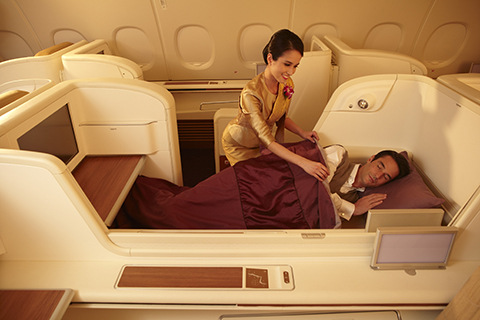 Entertainment: Royal First Class seats are also equipped with power outlets and USB ports, as well as personal entertainment video screens. THAI's in-flight entertainment system offers hundreds of movies, TV shows, games and music.
Food and beverage: In First Class, meals are served at the passenger's preferred time. The extensive menu offers the finest Asian and western dishes over several courses. Meals are presented on fine linens, with porcelain dishes and crystal glasses for a fine dining experience in the air.
Baggage
Thai Airways Baggage Allowance
Carry-on
Thai Airways passengers are allowed one carry-on bag weighing no more than 7kg. Additional items such as a purse, laptop or camera bag, infant bag and a cane or crutches are also allowed free of charge.

All liquids taken onboard must be in containers or packaging of 100ml or less.

Checked
International checked baggage is limited to a specific total weight amount depending on the class of service the passenger is flying and frequent flyer status level. Multiple bags are allowed but weight in excess of these amounts will incur excess baggage charges.
Royal First Class passengers – 50kg
Royal Silk Class – 40kg 
Economy Class – 30kg 

Baggage allowances may vary when connecting onto other airlines, so be sure to check with the operating airline for each sector to avoid potentially costly excess baggage fees.
Bulky Items
Generally bulky items such as bikes, golf clubs and other sporting equipment can be included in the passenger's standard checked baggage weight allowance. Excess baggage fees will apply when the total weight is greater than the allowance. Items that may not be included in the standard baggage allowance are pet carriers and, on flights to or from Australia, surfboards and windsurf equipment. These bulky items will always incur a separate fee.

Always advise the airline at least 48 hours in advance of any bulky item being carried, as details may be needed to be included in your booking prior to check-in. As bulky item charges may differ depending on your itinerary, it's always a good idea to double check with the airline before arriving at the airport.

Infant Baggage
An infant or diaper bag may be carried on board in addition to the 1 carry-on. Collapsible prams or strollers may also be checked in free of charge. If using a car seat on board, a reservation must be made in advance and a child fare will be charged. The car seat must be approved for use on an aircraft.   

Be sure to carry an extra supply of baby formula and diapers in your carry-on in case of delay. 
Dangerous Goods
Flammable gases, liquids and materials are never allowed in carry-on or checked baggage. This includes explosives and fireworks, petrol and petrol or gas equipment and motors, fertilizers and poisons as well as matches or other fire starters.
Some items such as wheelchair and power mobility batteries, a small amount of ammunition and medical oxygen containers may be taken on board if pre-approved by the airline. Items that do not require approval for carriage are alcoholic beverages, hairspray and personal toiletry items.

Always check with your airline in advance to determine if an item is allowed for carriage or not.
Check-in
Check-in early and save time
There are two ways to check-in for your Thai Airways International flight when departing London: online and at the airport counter.
Online check-in is available up to 24 hours before departure. Simply enter your six-digit booking reference code on the Thai Airways website check-in page and follow the simple instructions. When done, print out your boarding pass and present it to the airport staff when dropping off your bag.
Counter check-in is available at the airport up to three hours before departure. Check-in generally closes one hour before departure. Those with special needs such as wheelchair assist or children travelling alone can only check-in at the airport. For more information regarding check-in, ask yor consultant. 
International Check-in Guide
at home
Know what time you need to leave the house to get to the airport
Pack your things, check out our baggage guide
Have your flight itinerary ready
Ensure you have your valid passport ready
Getting there
Be at the airport at least

120 minutes

prior to scheduled departure time
At the airport
Proceed to check-in counter with passport and itinerary ready
Go through security
Continue through customs
Check the gate number and flight status
Sit down and get comfy!
Lounges
Plenty of ways to unwind in style
In addition to its flagship Bangkok lounges, Thai Airways features seven domestic airport lounges and another eight around the world. Global THAI lounges can be found in Dhaka, Hong Kong, Kathmandu, Kuala Lumpur, Manila, Osaka, Singapore and Taipei.
As a member of Star Alliance, over 1,000 partner lounges are also available around the world for First and Business Class guests and for Gold Status frequent flyers with any Star Alliance member carrier.