Flights
About Qatar Airways
Qatar Airways is one of the world's fastest growing airlines, flying to over 150 destinations across six continents via Doha. It also boasts one of the world's youngest fleets. In its ever-expanding global network, you can choose from 72 flights a week – travelling all over the world – including six daily departures from London Heathrow, 16 weekly from Manchester, daily from Edinburgh and Birmingham. Plus, from 1st May 2018 Qatar Airways will be the first Gulf carrier to commence daily direct flights from Cardiff, Wales.
Cabin Classes
Economy Class
Qatar Airways goes the extra mile to anticipate the comforts and services required to make your Economy Class journey a great one – so it's no surprise that its cabin crew has been voted "Best in the Middle East" for the past seven years.
Take advantage of a 30kg baggage allowance at check-in then, after boarding, experience extra-wide seats – with a pitch of up to 34 inches and adjustable headrests for comfort and flexibility – onboard one of the airline's youngest fleets. You'll settle into your own personal space with plenty of room to eat, sleep and stretch out. Fresh pillows and soft fleece blankets make for a well-rested travel experience.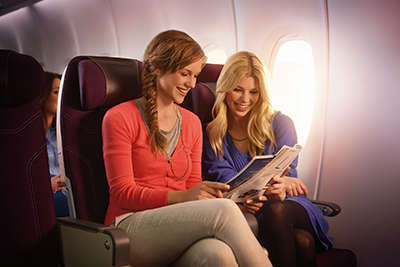 Entertainment: Up to 3,000 entertainment options are available at your fingertips on a personal TV screen of up to 10.6 inches. If that's not enough, you'll also have access to a personal in-seat telephone, Wi-Fi and in-air mobile services. All entertainment functions are available on selected flights.
Food and Beverage: International cuisine is provided and accompanied by complimentary beverages. Choose from a selection of meals catered to a variety of tastes and preferences.
Children: To ensure young travellers have an enjoyable flying experience, Qatar Airways also offers a variety of activity packs for children, as well as a wide choice of entertainment options including video games, dedicated channels and cartoon programmes. 
Business Class
To stay on top of your game on the ground, you need the best experience in the air. Check up to 40kg of baggage then head for your flight: the Qatar Airways Business Class cabin combines luxury, spaciousness and superb service with technology. Luxuriate in your fully lie-flat bed with built-in back massage function, part of a seat that offers a whopping 78-inch seat pitch. At night, on selected flights you'll get designer amenity kits to complement your light and comfortable sleeper suits and slippers.
Soon you'll discover why Skytrax rates Qatar Airways as the World's Best Business Class 2017.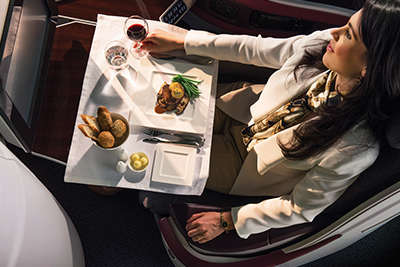 Entertainment: Business Class passengers will have a generous 17-inch TV screen with a fully interactive in-flight entertainment system that boasts up to 3,000 options. They can stay powered up with a laptop power outlet, USB plug, mobile services and Wi-Fi on selected flights too.
Food and Beverage: Enjoy signature dishes, designed exclusively by celebrity chefs.
First Class
Travel First Class and experience elegance, refinement and world-class personal service in your private space. Seats have a 90-inch pitch, come equipped with a 24 x 23-inch meal table for two, and convert into fully lie-flat beds, 90 inches in length, with built-in back massage functionality. And you can shop till you drop into that bed too thanks to the in-flight duty-free offering – with plenty of products perfect for filling up your 50kg baggage allowance. An award-winning cabin crew will attend to your requests and deliver the five-star service you deserve. From fine dining for two and onboard lounge bar access to designer amenity kits, and even luxury male and female sleeper suits and slippers, trust Qatar Airways to provide you with only the best.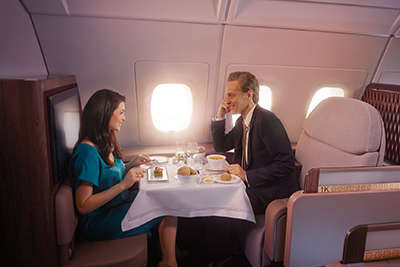 Entertainment: Choose from up to 3,000 entertainment options on your 26-inch LCD TVs, controlled with a touchscreen remote and fitted with laptop power/USB/iPod ports.
Food and Beverage: Enjoy fine dining at any time during the flight, with gourmet meals and a selection of fine wines and Champagne. Or head for the in-flight lounge bar, available on A380 aircrafts. It's an engaging space for you to relax, experience signature beverages, gourmet coffee blends and exclusively developed menus.
Baggage
Economy Class passengers are allowed one piece of 7kg hand luggage and 30kg of checked baggage. Business Class passengers are allowed two pieces of 15kg (total) hand luggage and 40kg of checked baggage. First Class passengers are allowed two pieces of 15kg (total) hand luggage and 50kg of checked baggage.
Check-in
Qatar Airways recommends you arrive at the airport three hours before the departure time. Check-in at the airport closes one hour before the departure time. Please refer to the airline for details.
Lounges
London Heathrow Premium Lounge
Qatar Airways' Premium Lounge changes your experience of travel completely. More a boutique hotel or private club than a lounge, this is a venue where spending time is a pleasure, whether it's dining in the Global Brasserie or feeling revitalised by the private shower facilities with heated floors and luxury amenities.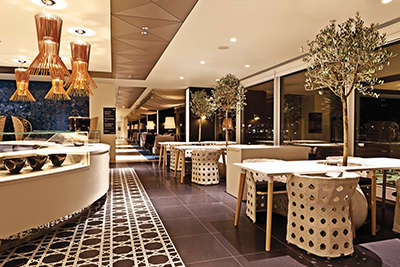 Al Mourjan Business Lounge
Business and First Class passengers can relax in style and comfort in the 1,000-seat Al Mourjan Lounge in Doha's Hamad International Airport. From the moment you enter, your senses will be treated to a beautiful portrayal of Arabian heritage, a refreshing resort-like ambience, tantalising à la carte and buffet dining and the signature hospitality that Qatar Airways takes pride in.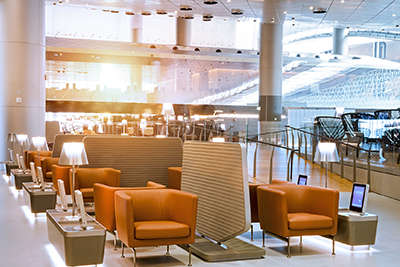 Al Safwa First Lounge
In Qatar Airways' Al Safwa First Lounge, the passenger is the priority. Every inch, every feature, and every facet is specially designed to create the most luxurious lounge experience ever imagined, so guests can enjoy a seamless journey from start to departure. Admire the sandstone and marble detailing, luxury spa, Islamic fine art installations and a 250-seat restaurant, with a selection of fresh a la carte dishes on offer.