Overiew

Before You Fly

In The Air
About Delta Air Lines
Delta Air Lines is a US global airline leader in safety, innovation, reliability, and customer experience. In the UK, Delta partners with Virgin Atlantic and Air France-KLM to offer customers an extensive network. It offers 30 daily flights to 14 non-stop destinations, and is also part of the most connected transatlantic partnership thanks to onward connections to over 200 destinations in the US – according to the 2022 summer schedule.
It has an extensive rewards programme, while customers in every cabin enjoy in-seat entertainment, complimentary meals and beverages, access to free mobile messaging and access to high-speed Wi-Fi.
In times of sustainability, Delta is also the first airline to commit to becoming carbon neutral on a global basis by focusing on carbon reductions and removals, stakeholder engagement and coalition building. The carrier's long-term vision is zero-impact aviation: air travel that doesn't damage the environment directly or indirectly via greenhouse gas emissions, noise, waste generation or other environmental impacts. Its people are committed to these values while leading the way in ensuring safe, reliable and comfortable travel.
Check-in
Airport Check-in
Airport Kiosk: While not available in Australia, Delta Air Lines airport kiosks are quick and easy ways to check-in for your flight at the airport without having to wait in long check-in lines. Scan your itinerary or enter your reservation number, select the number of bags you're checking and the kiosk will print your boarding pass. Proceed to the bag drop off counter where your passport and travel documents will be verified.
Counter: Check-in counters for international flights departing from Sydney usually open about four hours before departure. Check-in counters at major US airports are open throughout the day. Have your passport and travel documents ready for inspection. There are designated lanes for those passengers travelling in business class and for Delta SkyMiles® and Skyteam elite members as well as Virgin Australia Velocity Gold and Platinum members.
Airport Curbside: Delta Curbside desks are positioned at passenger drop-off, conveniently next to where you first exit your vehicle. Use these services to get rid of your baggage before even entering the terminal.
Online Check-in
Online: By navigating to either "Check-in" on the header of Delta's website or "My Trips" within your personal Delta account, you can enter your SkyMiles or confirmation number to gain access to either a printable boarding pass or an eBoarding Pass for your mobile device.
Fly Delta App: Downloading the Fly Delta App will streamline your entire journey, allowing you to check-in, access your boarding pass, see alerts and even view, change or upgrade your seat. Check-in as a guest or create an account to be automatically checked-in 24 hours before your flight.
Baggage Allowance
Carry-on allowance:
Economy & Business Class: One carry-on and one personal item are allowed onboard with you at no charge. There is no weight restriction applied to carry-on baggage, and just three Asian international airports have exceptions to this. The carry-on will not fit in the overhead if it is greater than 114 cm (45 inches), linearly. Baggage must always meet carry on size limits to ensure it will fit (approximately 22" x 14" x 9" or 56 x 35 x 23 cm).
Checked baggage allowance:
The checked baggage allowance may vary depending on your itinerary, class flown and frequent flyer status. When traveling from the UK, checked baggage fees depend on the route you are taking. See Delta's Baggage and Travel Fees page or speak to a Flight Centre Travel Consultant now to know exactly what fees, if any, you can expect.
Bulky items
Some bulky items such as golf clubs and other sporting equipment may be accepted as part of the free baggage allowance. There is an excess baggage fee for most other bulky items and your Flight Centre Travel Expert can help determine allowances and any possible baggage fees required.
Infant baggage
There is no additional bag allowance for infants. Additional bag fees may apply for items checked over the standard baggage allowance for paying passenger.
Frequent Flyer Points
Delta's SkyMiles® Loyalty Programme
Join the SkyMiles® Loyalty Programme for free and start racking up points that will never expire! You can earn miles for purchasing flights, booking places to stay, getting around, shopping and dining when you use your Delta SkyMiles® Credit Card and. There is no cap on the amount of miles you can earn!
Delta SkyMiles Credit Card:
Earn 2 miles per $1 on Delta purchases
Earn 1 mile per $1 spent on everyday purchase
While You Fly:
Earn 5 miles per $1 spent on your ticket
Medallion® Status Tiers:
Diamond Medallion Members—Earn 11 miles per $1 spent on your ticket
Platinum Medallion Members— Earn 9 miles per $1 spent on your ticket
Gold Medallion Members—Earn 8 miles per $1 spent on your ticket
Silver Medallion Members—Earn 7 miles per $1 spent on your ticket
Main Cabin
No matter your destination, find all of your must-haves on any trip you take in Main Cabin. With comfortable leather seats, a complimentary sleep kit, and attentive service, you'll find yourself enjoying each mile.
Entertainment: Catch up on 1,000+ hours of TV, movies and music with complimentary individual entertainment screens from Delta Studio® and ergonomically designed earbuds. We especially love the premium offering from HBO®, Hulu® and Showtime®! Stay connected through free in-flight messaging via iMessage, WhatsApp and Facebook Messenger*.
Food and Beverage: Enjoy a wide selection of tasty meals and snacks as well as complimentary beer, wine, spirits, Starbucks® coffee and more.
*Availability varies by aircraft and route; check your listing for details. Free messaging usage is restricted to select messaging apps.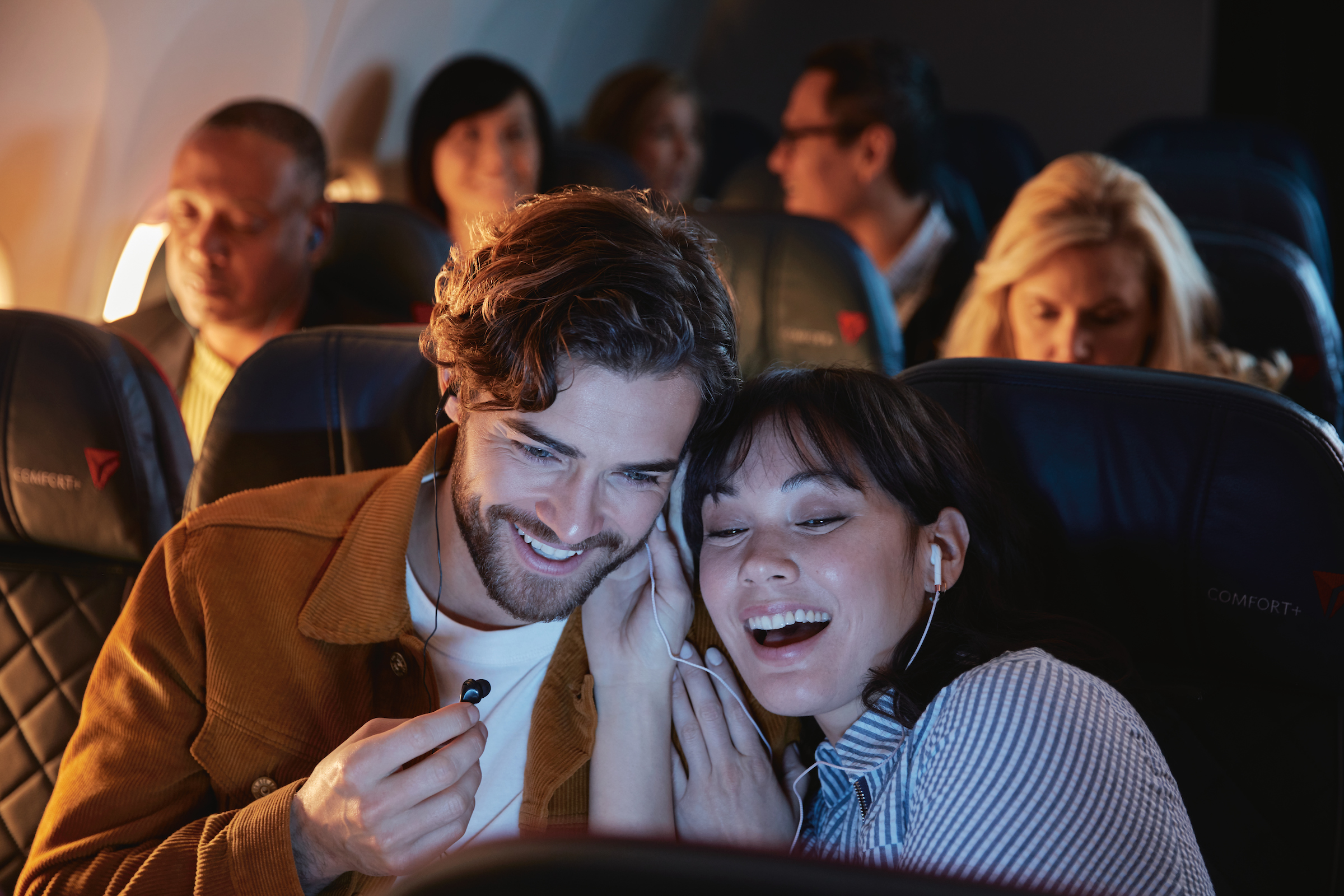 Delta Comfort+®
Whether you want to work or relax, more legroom, dedicated overheard storage, and extra recline is always better. After all, plus means more! Rest with a pillow and a blanket and refresh with a complimentary amenity kit that includes eyeshades, ear plugs, toothbrush and toothpaste on long-haul flights. With access to dedicated Delta Comfort+® boarding and overhead storage space, you'll be among the first on the aircraft to get your carry-on stowed away. And with your seat at the front of the cabin, you'll be one of the first off too.
Entertainment: Catch up on TV, movies and music with complimentary premium seat-back entertainment from Delta Studio® and stay connected through free in-flight messaging via iMessage, WhatsApp and Facebook Messenger.
Food and Beverage: In Delta Comfort+® you can sip on complimentary beer, wine, spirits, Starbucks® coffee and more. Plus, you'll enjoy a selection of satisfying meals and snacks.
Top Delta Air Lines Airfares & Flight Deals
Upgrade to Delta Premium Cabins
Choose an Option to Book Flights with Your Favourite Airline
Flight Centre's Travel Consultants really know their stuff when it comes to creating bespoke itineraries. Get in touch below, and let us tailor-make it easy
Frequently Asked Questions (FAQs)
Does Delta airlines accept cash onboard?
In an effort to help expedite transactions, Delta flights have transitioned to cashless cabins. This is more convenient for both the passengers and the flight attendants as money handling is steadily being eliminated. Before your flight, take note of what complimentary items you will qualify for and bring the correct form of payment for anything you may desire that is not included!
How many Delta miles do you earn per flight?
If you are a SkyMiles® Member, every flight with Delta is an opportunity to get more than just 'away'. With Delta, every US$1 spent on your ticket grants you five miles.* This allowance only goes up (maximum of 11 miles per every US$1 spent) if you achieve Medallion Status!
*Ticket price eligible to earn miles includes base fare and carrier-imposed surcharges, but excludes government-imposed taxes and fees
Am I able to select my seats for Delta Air Lines flights in advance?
After you have selected the flights you wish to take, you will be able to select your seating. This is applicable for all cabin classes except Basic Economy. If you are traveling Basic Economy, your seat will be assigned to you after check-in.
Did You Know?
Want to stay connected with your loved ones without spending any money? All of Delta's Wi-Fi enabled flights have a "Free Messaging" option for smartphones. All you need to do is make sure you have iMessage, Facebook Messenger or WhatsApp pre-downloaded (all free to download) and that anyone you want to communicate with has the same application!
As it was highlighted in Fast Company's 2019 Most Innovative Companies Worldwide,
Delta Air Lines has broken new grounds within the airline industry. At the core of this achievement is the Hartsfield-Jackson Atlanta International Airport in the United States, the world's busiest airport. It is here where Delta has made the International Terminal (Terminal F) fully equipped with facial recognition technology 'from curb to gate' which eliminates any passport rummaging!
Contact Our Friendly Travel Consultants for a Quote
Your holiday
We know our stuff when it comes to holidays all around the world and – most importantly – with a little bit of information, our Travel Experts can tailor make a trip to suit you. So what are you waiting for?
Information correct as of September 2019.