Choose from our range of Australia holiday packages below that each include your flights, accommodation, and often added extras such as tours or free upgrades. Can't find the package you're looking for? Contact one of our friendly consultants on 0800 587 0058 today and don't forget to ask about customising a holiday to suit your needs.
Flights from the UK to Australia generally disembark at Sydney International Airport, the country's main international airport. As a long haul flight taking approximately 21 hours and 35 minutes from London to Sydney, flights to Australia usually include a stopover in Dubai, Abu Dhabi, Los Angeles, Singapore, Bangkok or Hong Kong depending on the airline. From Sydney, transfers are available to reach a wide range of Australian cities, including Brisbane and Melbourne which are only a couple of hours in flying time away.
Airlines that fly from the UK to Australia include:
For more information refer to our airline guide.
Australian International Airports
As an incredibly spread out country, Australia boasts a large number of domestic airports. The country's main international airports include:
Useful Information
British passport holders will need a visa in order to enter Australia. There are two kinds of visas available: an eVisitor visa, for which there is no charge, and an Electronic Travel Authority (ETA) from your travel agent or airline, for which there's a service fee of A$20. eVisitor visas are available from the Australian Department of Immigration and Border Protection or from the Australian High Commission in London. For visa information for other passports, please ask your consultant.
If you wish to work, study or stay in the country for longer than three months, you will need to apply for a different type of visa depending on the purpose of your visit. In addition to the usual check-in and carry-on baggage restrictions, Australia has it's own restrictions as to what can and cannot be brought into the country. Before your flight, be sure to check these restrictions via the official Australian Government website and if you're not sure about an item, it is recommended to declare it to the authorities upon arrival to avoid a fine.
At Flight Centre, we can arrange flights to the following destinations. Looking for something in particular or want to include a stopover along the way? Contact one of our friendly consultants on 0800 587 0058 and don't forget to ask about our latest holiday deals as well.
While the beaches are what you'll find on most Australian postcards, they're not the only draw card. In terms of other assets, Australia is naturally blessed with landmarks like Uluru, the Twelve Apostles, Kakadu and the wondrous Great Barrier Reef, which commonly make up the best things to do in Australia.
From a city perspective, Sydney is the largest in the country and the most popular in terms of international tourism. Here you can climb the Sydney Harbour Bridge, catch an iconic Sydney ferry to meet the local wildlife at the Sydney Zoo, and take an afternoon dip in the famed waters of Bondi Beach. For more ideas, check out our page on things to do in Sydney.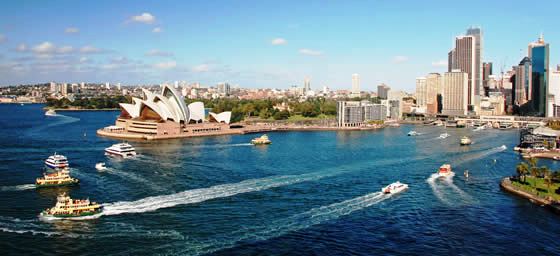 Sydney's Famous Harbour
While Sydney may have all the icons, Melbourne has been attributed as the country's cultural capital. Located on the south east coast, Melbourne is less about swimming and more about coffee, shopping and sport. Cricket, tennis and Australian Football (known locally as AFL) are less a spectator sport and more a religion, while Melbourne's will passionately argue that they produce the city's best cuisine and coffee. And they may just be right.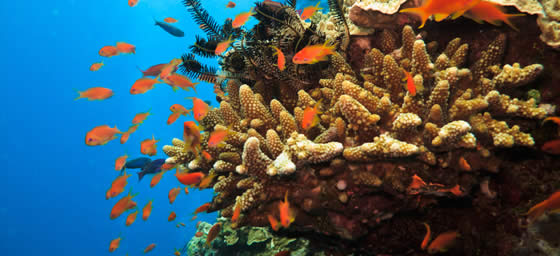 Great Barrier Reef
If you're really travelling to Australia though for the sun, sea and laidback lifestyle, then you're best launching spot is the North Queensland city of Cairns. A tourist favourite, Cairns is perfectly located between the Great Barrier Reef and the Daintree Rainforest. The beauty of Cairns is you can do as little or as much as you want, from snorkelling to sky diving and simply sun bathing on the beach. For tips on when to visit the Great Barrier Reef and other attractions, see our advice on when to go to Australia.