There are few other countries on the planet where you will you feel as welcome as you do when you arrive in Japan. With warm locals, a proud culture and a perfect balance of history and modernity, Japan promises to humble, enlighten and entertain. Book your flights to Japan with our Airfare Experts and enjoy a pleasant journey for a great value price. Our Airfare Experts can source the latest flight deals that you won't always find elsewhere online, as well as tailor airfares to your itinerary. Our flights are all ATOL and ABTA protected, come with a 24/7 Emergency Assist Service and are backed up by our Lowest Airfare Guarantee.
Top Japan Airfares & Flight Deals
Airlines that offer flights to Japan from Singapore include:
For more information on the airlines that offer flights to Tokyo, have a look at our international airline page.
Flights from Singapore to Japan may disembark at the following airports:
With some of the world's most advanced and energetic cities, breathtaking ski slopes, picturesque traditional gardens and important cultural sites, Japan offers holidaymakers a level of diversity scarcely found in Asia and indeed the world.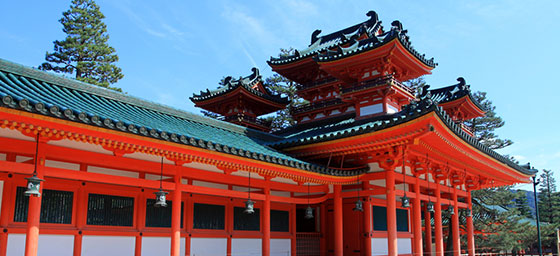 Heian Shrine, Kyoto
Many of Japan's most iconic images come out of Kyoto's 17 UNESCO World Heritage sites. Having been the capital of Japan from 794 to 1868, Kyoto is home to an astonishing number of temples, shrines and gardens. Perhaps the most famous is Kinkaku-ji, or the Golden Pavillion, a Zen Buddhist temple recognised by its pure gold leaf exterior. The gardens surrounding the temple are also immaculate and well worth a couple of hours of exploring.
Few cities are as modern, technologically advanced and utterly obsessed with all things new as the Japanese capital of Tokyo. Weave your way through the myriad of glistening skyscrapers and gaze in amazement at all the latest fashions and newest gadgets. Try the hugely popular Great Cycling Tour for an entertaining and active way to see and learn about Tokyo. Then to relax, take a walk through the Shinjuku Gyoen National Garden and experience one of Japan's most beautiful and historically significant displays of flora.
For cheap flights to Japan call Flight Centre on 0800 587 0058.