Choose from our range of Asia holiday packages below that each include your flights, accommodation, and often special bonuses like tours and free upgrades. If you can't find the package you're looking for, contact one of our friendly consultants on 0800 587 0058 and don't forget to ask about customising a package to suit your needs.
As a popular travel destination, Asia has a number of major international hubs. Generally speaking though, most flights from the UK to Asia will disembark at Singapore Changi Airport, Hong Kong International Airport or Beijing Capital International Airport, the region's busiest airport. One of the most common direct flights to Asia, is London to Hong Kong which has a flying time of 11 hours and 40 minutes. At Flight Centre, we work with over 85 airlines with 20 of our leading airlines servicing Asia. Can't find the flight you want? Call our airfare experts today.
Airlines that fly from the UK to Asia include: 
Main International Airports in Asia: 
Useful Information
Before you book your flight to Asia be sure to check with your Flight Centre consultant in regards to visas and entry requirements, as they can vary from country to country. For example, British passport holders do not require a visa in order to visit Singapore for one month or Japan for six months, but will need to obtain a visa in order to visit China or Vietnam.
At Flight Centre, we can arrange flights to the following destinations. Looking for something in particular or want to include a stopover along the way? Contact one of our friendly consultants on 0800 587 0058 and don't forget to ask about our latest holiday deals as well. 
Mount Everest is at the top of the world, Mumbai defies description, the tourist-scorched beaches of Bali are ever-popular and the slamming of East and West in Shanghai produces a buzz unlike any other. Asia truly is an onslaught to the senses.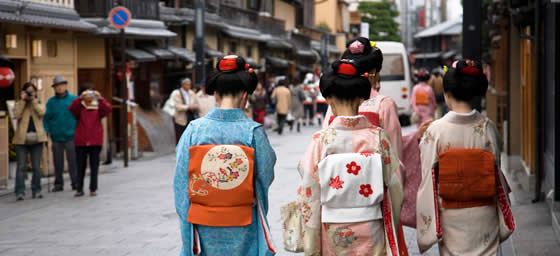 Kyoto, Japan
Beyond the delights of the food and eclectic, cosmopolitan cities, you can find a myriad of ancient wonders and sacred places here. The Great Wall of China, monasteries of Tibet, temples of Angkor and Shinto shrines across Japan offer something more than trinkets and talismans. If you're searching for the mystic, spiritual and encounters of faith, come to Asia. Here the gods roam among the people and life holds many different meanings.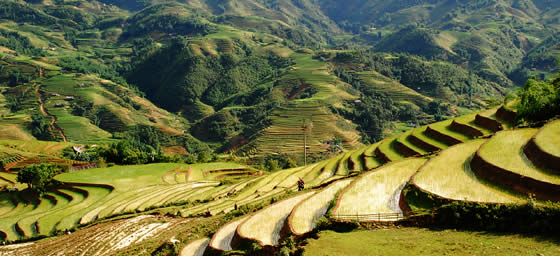 Vietnamese Rice Fields
Asia's geographic spread means it also dishes up a land and seascape feast. You can find dense equatorial jungle, volcanic islands, sweeping tundra and vast mountain ranges and desert here. The traditional practices of people inhabiting these diverse ecosystems still flourish, providing a unique opportunity to truly immerse yourself in a new culture.
So if you feel the allure of the far east, talk to one of our consultants to day about flights to Asia or our Asia holiday packages to keep your plans simple. Want to find out more? Check out our Asia travel guide.