With around 7000 islands, you're sure to find your favourite place in the archipelago that is the Philippines. After exploring the cities, head across the waterways to experience the natural beauty of this great destination.
For information on the airlines that offer cheap flights to Philippines, have a look at our international airline page.
Flights from Singapore to Philippines will disembark at Ninoy Aquino International Airport (MNL).
In 1521, explorer Ferdinand Magellan went ashore on an island that was later to become part of the Philippines - a move that lead to the Spanish colonisation of the region, which forever changed the history of the country. The Spanish dominated the Philippines until 1899 when the United States began their period of influence in the country's affairs. Today the culture of the country is a fascinating blend of Spanish European, American and Asian.
The principle entry point into the country is the capital Manila. Once you've arrived in the city, be sure to appreciate the original Spanish part of the city by exploring Intramuros. Here there are well-preserved medieval ruins, the Cathedral and terrific museums. While you're in Manila, check out the Bonifacio Shine, the Coconut Palace and the Malacañan Palace. Being a largely Catholic country, there are many churches that are worthy of investigation.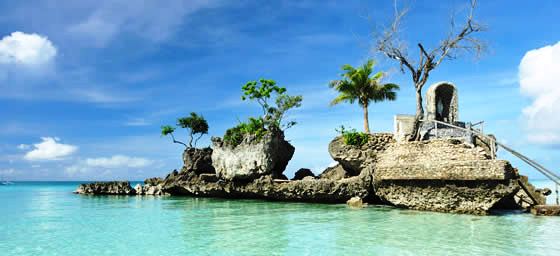 Willy's Rock
After you're satisfied with your Manila exploration, it would be criminal not to appreciate the waterways of the archipelago. The beaches of Boracay are particularly beautiful - especially White Beach and Puka Beach. The island is also a popular dive destination and you'll find plenty of outlets happy to provide advice and hire you the appropriate gear.
Are you ready to explore the Philippines? Check out our flights to the Philippines or contact Flight Centre for great tips on things to do and see on your South-east Asian holiday.