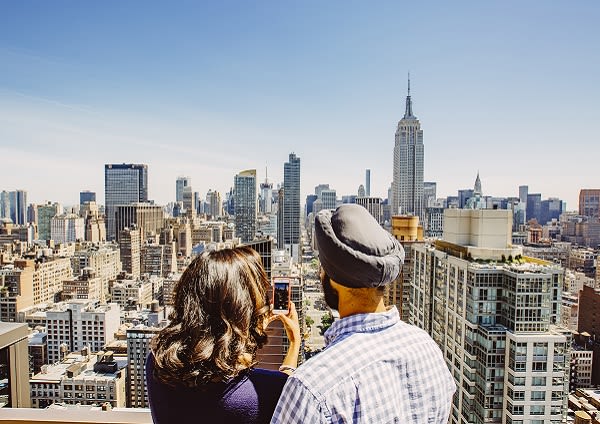 Take a bite out of the Big Apple and prepare to get lost in the world's most iconic concrete jungle with a trip to New York. While New York City is often the biggest drawcard for tourists, offering glimpses of the Empire State Building, trips to Grand Central Station, bagels packed with cream cheese in Central Park, and the chance to rub shoulders with Manhattan's elite, New York State as a whole has so much to offer. A trip north from the famous city will have you donning a raincoat against the spray of Niagara Falls, witnessing the beauty of Fingers Lakes, sipping wine in the Hudson Valley or driving through the scenic Catskill Village in fall. Whether you're a city slicker or are keen to experience the natural beauty upstate, a New York holiday package has something to offer every traveller.
Deals with your name on them...
Explore holidays by interest
Explore New York City
Where to stay in New York City
Where to stay in New York City
You have so many options, so deciding where to stay in New York depends on your budget and what you wish to be close to. Finding the best areas to stay in New York means having an idea of the type of holiday you want to have, or perhaps being willing to spend a little time travelling each day. Whether you want to be close to the action in Midtown West, or you're looking for boutique charm in SoHo, there's no shortage of great hotels on offer.
Read travel guide
Midtown West
You can't beat Midtown West for accommodation that's right in the thick of things. Close to Times Square, Broadway and Hell's Kitchen, this area is also home to some iconic hotels. International hotel chains and boutique hotels are plentiful, ensuring you get a comfortable bed. If bright lights tend to keep you up at night, Midtown East might be a better option.
Upper Manhattan
Upper Manhattan covers accommodation in the Upper East Side and the Upper West Side. Here you'll be close to attractions such as Central Park and the Met, without the flashing neon and noise of Times Square. The Upper East Side is more expensive than the West Side, with deluxe hotels the norm. The Upper West Side lends itself to midrange hotels that are comfortable and convenient.
Soho
Downtown, Soho accommodation is trendy and upbeat, much like the suburb itself. The boutique hotels here are beautifully styled, while the hotels in the lower end of the scale have chosen functionality over high fashion. Close to Chinatown and Little Italy, Soho is one of the best areas to stay in New York if you want to enjoy flavourful dining.
West Village
Don't let history or the cobblestone streets confuse you – West Village accommodation is chic and modern. While this was once a very laidback, almost bohemian part of New York, West Village is now home to some of the best dining and nightlife. If you're keen to browse boutiques or to have a drink in a trendy bar, this is the perfect spot.
Brooklyn
The beauty of Brooklyn accommodation is the value for money. Compared to Manhattan, the rooms here tend to be bigger and brighter, which is perfect if you plan to stay for a while. Brooklyn is only a short train ride from the action of Manhattan, and with a thriving arts and dining scene here, you might feel encouraged to stay.
Frequently asked questions
How many days do I need in New York?
New York may be the city that never sleeps, but do you? Unless you intend to match the city's nocturnal energy, aim for at least five to seven days if you hope to see the main attractions. Just be prepared to leave wanting more because no amount of time is ever truly enough to fully experience everything New York has to offer.
---
What to take on holiday to New York?
One thing you should know about New York is that there is lots and lots of walking, so be prepared with some comfortable shoes. Depending on what time of year you plan to travel, your packing list will be pretty different so best to do some specific research once you've locked down your dates. Just don't forget to pack your sense of fun and adventure.
---
Where to go on holiday in New York?
This very question could fill a book, as one thing you will discover about New York is that you could spend a lifetime here and still have more to learn. Many first-timers tend to stick to the borough of Manhattan, as it's where you will find the highest concentration of attractions. Even if you decide to stick exclusively to Manhattan, there's still the task of deciding between Downtown, Midtown and Uptown.
---
How do I go about cancelling my New York holiday package?
---
What is the nicest area in New York?
If there's one thing New York has in spades, it's nice areas! Oh, and hot dog vendors, but we digress. The most expensive neighbourhoods in New York City are generally considered to be Noho, Hudson Yards, Tribeca, Central Park South and Nolita, where the median sales price is above $3-million.
---
When is the best time to visit New York?
The excellent news is that there's no bad time to visit New York as it's magic all year round. The peak tourism season extends from June to August (summer) and then again from November to December (winter), however both fall and spring offer their own reasons for visiting.
---
What is there to do in New York?
Whatever your heart desires! New York is home to some of the world's best restaurants, museums, galleries, Broadway shows, shopping, historic neighbourhoods and landmarks including the Statue of Liberty, the Empire State Building, Central Park and the Brooklyn Bridge. It's impossible to be bored in New York.
---
How to find the best holiday package to New York?
Sign up to get the hottest deals sent straight to your phone & emails here: You can also check out our deals online, or speak to one of our Travel Experts.
---
...loading
Popular holiday destinations