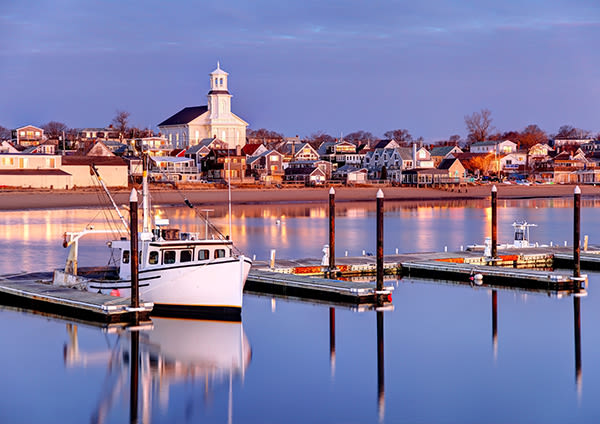 Massachusetts
Holiday
Deals
Home to world-class universities, historic cities, quaint villages and serene beaches, Massachusetts is a year-round destination that brings new life to every season. Head to Boston to catch a game of baseball at Fenway Park before exploring the country's oldest city park, The Boston Common, and checking out the city's countless museums and monuments. Nature lovers can enjoy hikes along the Long Pond Trail or soak up the sun at one of Cape Cod's many beaches. Travellers are also encouraged to witness the small-town charm and pre-Civil war architecture in Nantucket, a destination for summer holidaymakers and history buffs alike.
Deals with your name on them...
Explore holidays by interest
Frequently asked questions
What is the prettiest part of Massachusetts?
It depends on your definition of pretty! Nantucket is a cute maritime island lined with cobblestones and bathed in hydrangeas, while Sturbridge is a historic town where the past comes to life. Boston is one of the nation's oldest cities and blends historical sites with modern attractions beautifully.
---
What to take on holiday to Massachusetts?
Well this all depends on where you're heading and the time of year you're travelling. As a general guide, comfortable walking shoes are a must! Massachusetts weather is also known to be a little unpredictable, so pack accordingly with a rain jacket or an umbrella.
---
Where to go on holiday in Massachusetts?
Culture seekers could easily (and happily) spend all of their time in Boston exploring the city, sipping, snacking and skipping between galleries, while those who love the great outdoors will love The Berkshires. Nantucket Island and Cape Cod offer a dose of 'vitamin sea', while Martha's Vineyard is a cute pit-stop; it should be noted that there are no actual wineries here. For history buffs, there's Salem and Plymouth.
---
How do I go about cancelling my Massachusetts holiday package?
---
What is the best place to stay in Massachusetts for families?
Let's face it, travelling with kids can be a bit of a challenge, but some destinations make holidays with tiny humans a breeze. If you're planning a getaway for the whole kit and caboodle, Cape Cod is a popular spot for the sun and sea, Plymouth is a step back in time, while Boston is ideal for those who love city life. Families who love the great outdoors should also check out The Berkshires and Jiminy Peak Mountain Resort.
---
When is the best time to visit Massachusetts?
Massachusetts has plenty to see and do all year round, from sun-soaked summer days by beaches of Cape Cod to the beautiful fall colours that turn the trees shades of orange and red. If you are planning a summer vacay, aim for Mid May to September, but being peak season, it can get pricey. The shoulder seasons including April and November can often bring smaller crowds and a few more budget–friendly options. For those searching for a snow-filled adventure, December to March is your time.
---
What is there to do in Massachusetts?
Well, this all depends on which part of Massachusetts you plan to visit and the time of year you are travelling. Visitors can step back in time at the Plimouth Plantation and see how the Pilgrims lived in 1627, explore the quaint seaside villages of Cape Cod, hear about haunted happenings in Salem, strap on your hiking boots (or skis, if the weather permits) and explore The Berkshires or get wonderfully lost wandering around Boston.
---
How to find the best holiday package to Massachusetts?
Sign up to get the hottest deals sent straight to your phone & emails here

You can also check out our deals online, or speak to one of our Travel Experts.
---
...loading
Popular holiday destinations