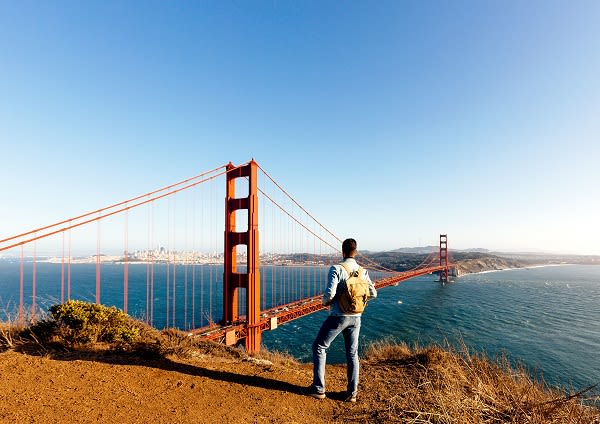 Soak up some sun and keep your eyes peeled for stars - it's time to book your trip to the USA's Golden State! Home to Los Angeles, San Francisco, San Diego, Santa Monica and Death Valley, California is not shy about showing off its best features. Those blinded by the lights of tinsel town can strut their stuff along the Walk of Fame, dose up on adrenaline at Universal Studios and take selfies with the Hollywood Sign, while nature lovers leave the crowds behind to embrace the stunning beauty of California's natural parks. From the redwood tree-lined coastlines and Silicon Valley in Northern California to the glitz, glam and Mexican influence in the south, Flight Centre has a California holiday package that is sure to tick off a few things on your bucket list.
Deals with your name on them...
Explore holidays by interest
Explore San Francisco
Where to stay in San Francisco
Where to stay in San Francisco
San Francisco is a city bursting with personality. Each neighbourhood and precinct have their own unique flavour. Likewise, every shop, restaurant, bar, and gallery has unique charms to contribute to this city's fine culture. So no matter where you stay in San Francisco, you won't have to travel far to discover something totally original right next-door. The bustling city centre of Union Square and the revitalised South of Market by the bay both offer the authentic San Francisco experience, in totally different ways. Free-spirit or trendsetter, the best areas to stay in San Francisco feel like they're tailored for you.
Read travel guide
Union Square
Welcome to the centre of fine-dining, fashion, and art. Easily accessible and always providing plenty to eat, drink and see, Union Square is the crown jewel of San Francisco's shopping districts. Stroll through some of the finest galleries and discover some of the coolest bars. From here, the city is laid out before you. Shop 'til you drop, rinse and repeat.
Civic Centre
The home of San Francisco's government, the Civic Centre has been witness to some of the most culturally vital turning points for the city by the bay. An opera house, state library, museums, and shopping plazas make this one of San Francisco's most esteemed neighbourhoods. The area has also recently gone through a period of beautification.
South of Market (SoMa)
South of Market (SoMa) is an impressively vast district, sprawling out across the southern reaches of the bay. The revitalised neighbourhood is a puzzle of warehouses, chic nightspots, loft apartments, art spaces, and internet start-ups. With ongoing development and gentrification, SoMa is an up-and-coming neighbourhood, making it one of the best areas to stay in San Francisco.
Embarcadero
The Embarcadero has a reputation as one of the liveliest and most scenic spots along the Bay Area. Its proximity to Pier 39 and Fisherman's Wharf make it a must-visit destination for food lovers and shopaholics. Ghirardelli Square is full of boutiques and restaurants. If you want to get to Alcatraz, Pier 33 is your passageway to the infamous island prison.
Nob Hill and Fisherman's Wharf
Nob Hill is one of San Francisco's signature suburbs. The iconic rolling hill is almost frozen in time, with barber shops, corner cafes, and cocktail lounges dotting its streets. Nob Hill holds the character of a bygone era with charm and sophistication. A cable car trip down towards the bay will land you right in the buzzing Fisherman's Wharf.
Frequently asked questions
What is the most popular beach in California?
With more than 100 named beaches along the Central Coast, sun-seekers are spoilt for choice when it comes to the decision of where to roll out a towel in California. Surfers flock to Huntington Beach while Thousand Steps in Laguna Beach promises that perfect 'gram-worthy shot. Did you even visit California if you didn't head to Santa Monica State Beach for a stroll along the pier?
---
What to take on holiday to California?
What to take depends on what your dream itinerary looks like and the time of year you are travelling. California is unique in that you could be surfing in the morning and skiing by nightfall. We recommend packing light, because anything you forget can be picked up along the way. Just be sure to pack your sense of adventure.
---
Where to go on holiday in California?
Yosemite National Park in the Sierra Nevada Mountains is something that every intrepid traveller should see at least once in their lifetime. Meanwhile, Southern California – or SoCal – is a dream for sun-soaked beach days and exploring Santa Barbara, Santa Monica, Malibu and Palm Springs, to name just a few. Whether you're looking for a family-friendly holiday with Disneyland adventures, a foodie feast or a vacay that's jam-packed with breath-taking sights, there's a side of California to suit.
---
How do I go about cancelling my California holiday package?
---
What is the best part of California to visit?
This all depends on how much you hope to cram into your holiday! You could easily spend weeks (months) exploring San Francisco and all it has to offer including Yosemite, Alcatraz as well its world-renowned food scene. San Diego is ideal for beach dwellers, while Lake Tahoe is the perfect place to reconnect with nature. Big Sur is great for road trippers and adventurers, Napa Valley is like Disneyland for wine lovers and Santa Monica is a must for those token tourist activities.
---
When is the best time to visit California?
The peak tourism season kicks off around June and stretches through until August. Summer in California is a vibe, however those who prefer smaller crowds could consider the shoulder seasons from March to May. The good news is there's never really a bad time to visit as you will always find something to see and do, even on rainy days.
---
What is there to do in California?
Here goes – explore National Parks, hike, surf (or learn to surf), road trip to Big Sur, see the Hollywood sign, take a stroll along Venice Beach Boardwalk, get locked up at Alcatraz, stargaze in Death Valley, sip wine in Napa, take a self-guided tour of San Francisco's Michelin-star restaurants and, of course, visit the happiest place on Earth, Disneyland.
---
How to find the best holiday package to California?
Sign up to get the hottest deals sent straight to your phone & emails here. You can also check out our deals online, or speak to one of our Travel Experts.
---
...loading
Popular holiday destinations