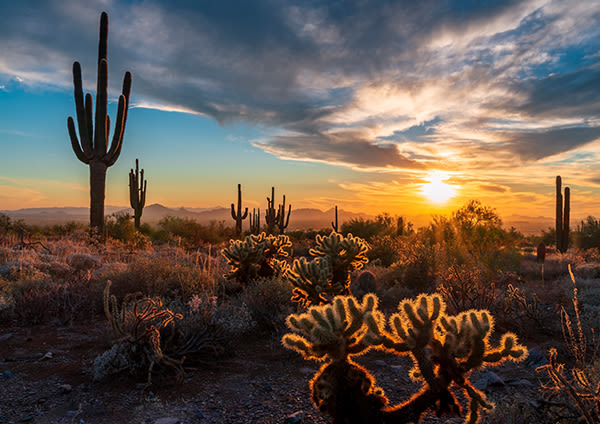 Seeking a little peace and quiet? With rolling desserts, remote spa retreats, world-famous canyons and an abundance of natural beauty, Arizona is the perfect place to take a step into the slow lane and enjoy life's simple pleasures. No Arizona holiday package is complete without a chance to stare in awe at one of Mother Nature's greatest accomplishments - The Grand Canyon National Park. While this world wonder draws travellers from across the globe, wider Arizona boasts plenty of places worthy of a visit. From the desert city of Scottsdale with its sprawling resorts and championship golf courses, to exploring a new world below the surface at Kartchner Caverns, and watching the sun rise over monument valley, Arizona's unique landscapes have a knack for taking your breath away. Ready to experience it for yourself? Book an Arizona holiday package with Flight Centre's Travel Experts today.
Deals with your name on them...
Explore holidays by interest
Frequently asked questions
What part of Arizona should I visit?
Ahh Arizona, it truly is unlike anywhere else on Earth. If it's breathtaking otherworldly landscapes that bring you to Arizona, you're in for a treat. A few top contenders for your must-visit list are The Grand Canyon, Monument Valley, Horseshoe Bend in the tiny town of Page, and, if you're feeling lucky, you can enter the permit lottery to be one of the 64 people that are allowed to hike The Wave per day.
---
What to take on holiday to Arizona?
The Arizona desert temperatures can vary significantly in one day, so light layers will be your best friend. If you're setting out on a hike, be sure to pack accordingly with adequate water (it is desert after all), energy-sustaining snacks, comfortable hiking-appropriate footwear, sunscreen, a hat and your sense of adventure.
---
Where to go on holiday in Arizona?
Like a swimsuit, there's no one size fits all approach to Arizona. There are so many breathtaking sights that the hardest part will be trying to decide what you can reasonably fit into the time you have, while allowing for some wiggle room for when things don't go according to plan. Some of the most popular attractions are The Grand Canyon, Monument Valley, Horseshoe Bend, Vermilion Cliffs National Monument (which includes The Wave), Sedona and Saguaro National Park, to name just a few. Tucson and Phoenix are also emerging as must-see destinations thanks to its burgeoning foodie scene and cultural hubs.
---
How do I go about cancelling my Arizona Holiday package?
---
What is the prettiest place in Arizona?
If there's one thing Arizona is known for, it's pretty places. The Grand Canyon, Monument Valley, Horseshoe Bend, Vermilion Cliffs National Monument (which includes The Wave), Sedona and Saguaro National Park are just the beginning. It all depends on how long you have and how active you feel like being.
---
When is the best time to visit Arizona?
Arizona boasts the enviable reputation of being a year-round destination. That said, the high season generally stretches from October to mid-May. Spring and autumn (fall) are regarded as the best time to visit as the daytime temps are a little more mild than in the peak of summer.
---
What is there to do in Arizona?
It's no secret that the vast majority of people come to Arizona for the scenery and national parks. If you're looking to experience a side of Arizona beyond The Grand Canyon, Sedona is a beautiful town set against picturesque red rocks, Bisbee is a historic town with some captivating ghost stories, step into the Wild West with a visit to Tombstone while Tucson and Phoenix offer an increasing array of restaurants, museum trails and nightlife.
---
How to find the best holiday package to Arizona?
Sign up to get the hottest deals sent straight to your phone & emails here

You can also check out our deals online, or speak to one of our Travel Experts.
---
...loading
Popular holiday destinations