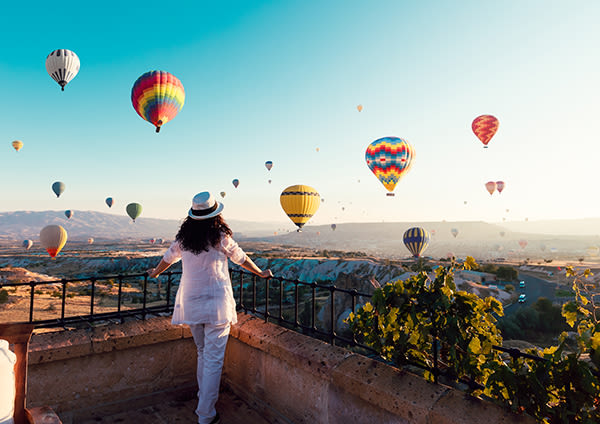 While Greece and its respective islands commandeer the bulk of the tourist trade, the travel renegades with a thirst for adventure go to Turkiye. Bursting with historic sites, rich and fascinating culture, golden sands and stunning natural beauty, Turkiye is without a doubt one of the world's most picturesque and interesting holiday destinations. Visitors can spend days (weeks) making their way along the aptly named Turquoise Coast, which stretches from Fethiye to Antalya, detouring only to check out awe-inspiring ancient ruins. Adventure enthusiasts can fill their days hiking, diving, sailing, hot air ballooning and exploring, while beach-dwellers can skip between the countless sandy beaches dotted along the coastline. For a thrilling white-knuckled experience, visit Oludeniz, which is widely regarded as the world's number one paragliding location, to launch head-first off a mountain and soar like an eagle. Lara beach, located on the Turkish Riviera, offers a taste of both history and luxury, with its ancient ruins and luxurious resort hotels. If you're the kind of person who zigs when the world zags, you're going to love Turkiye. Call our team of travel experts to start planning your dream Turkiye holiday today. Adventure is calling.
Deals with your name on them...
Explore holidays by interest
Frequently asked questions
Where should I go in Turkiye for the first time?
This is a tough one! Turkiye is a large country with diverse regions each boasting its own drawcards. For first-timers, however, it would be hard to go past Istanbul, Cappadocia, and the Turkish Riviera.
---
Where are the best tourist attractions in Turkiye?
The hardest part about your Turkiye holiday will be deciding which sights to see as there are so many! Some of Turkiye's most famous attractions are Hagia Sophia in Istanbul, the hot air balloons in Cappadocia, the travertine terraces of Pamukkale, the bustling Grand Bazaar, the ancient ruin of Ephesus and the Turquoise Coast.
---
When is the best time to visit Turkiye?
Turkiye is one of those rare places that are exceptional all year round. The high season stretches from June to August, with sun-seekers flocking to the coast in summer, meaning it can be crowded and expensive to travel then. The shoulder seasons between March and May and September to November are the ideal choice.
---
What is there to do in Turkiye?
Turkiye is a feast for all of your senses. Travellers can fill their days sprawled out on one of the many beaches that line the Turquoise Coast, hustle for a bargain at Grand Bazaar, step back in time at one of the ancient historical sites, marvel at intricate architecture and watch the sky ablaze with hundreds of hot air balloons.
---
How many days in Turkiye is enough?
It depends how much of Turkiye you hope to cram into your vacay. You could easily spend four to five days in Istanbul alone, so ideally aim for 10 to 14 to see some of the country's most famous cities, ancient historical sites and ruins, as well as leaving a little beach time at the end.
---
What to take on holiday to Turkiye?
Comfortable shoes or sandals are an absolute necessity! Light, breathable clothing and women will need a scarf or shawl to cover their hair when visiting religious sites.
---
Where to go on holiday in Turkiye?
Your Turkiye itinerary will change depending on your interests. For ancient ruins and history, head to Istanbul, for incredible scenery, add Cappadocia to the list and for relaxation, wining and dining, the Turkish Riviera has you covered. This is just the tip of the iceberg.
---
How do I go about cancelling my Turkiye holiday package?
---
...loading
Popular holiday destinations