Our Koh Samui Holiday Expertise
Move over Photoshop: Koh Samui is already as beautiful as it can possibly get. It's not all about looks though – underneath its immaculate façade of well-manicured beaches and spa resorts is a culture that will leave you stunned. Our Experts have gone beneath the surface many a-time, uncovering the best beaches, hotels, street food and more, not to mention talking to real people to gain a local insight into this bewitching collection of isles. From abundant coconut groves, dense rainforest and steaming street-food stalls, to the 12-metre-tall golden Big Buddha statue, Flight Centre's team of Experts know exactly how to craft your ideal holiday.
Children at Wat Plai Laem Temple
Tailor-made Koh Samui Holidays
Koh Samui was the first of the Thai islands to make it onto the tourist radar. So it goes without saying that this celebrity archipelago deserves a bit of extra attention, which is where our Escapes range of holidays come in. Book one of our Escapes and you'll be able to make the most of Koh Samui – think flights, a perfect 4 to 5-star resort stay, free transfers and myriad added extras from resort to resort. 
A Bespoke Experience
Whether you want to spend your time lazing on the beach or really get under the skin of Koh Samui, we can create the perfect holiday for you. Our tailor-made Escapes are designed to suit your travel style, desires and budget, incorporating the trips and tours you want. You can pair your beach break with some time in Bangkok or Chiang Mai, spend a few days getting PADI qualified or work in a range of tours and excursions. Whatever you want to see, and however long you want to spend seeing it, our Experts can arrange it for you for an ideal price.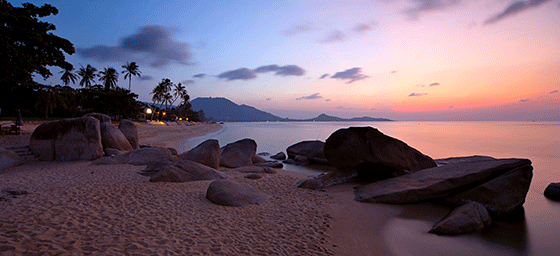 Sunrise at Lamai Beach on Koh Samui Island
Wherever you decide to stay, be prepared to enjoy the view. Koh Samui has a development law that stipulated no building may be taller than the nearest coconut palm. As a result, bungalow accommodation is very common.
Service from Start to Finish
Travel insurance, visas, where to eat, which excursions to go for… there's a lot to think about when booking your perfect trip. You can eliminate any worries when you book your Koh Samui Escape with us, thanks to our dedicated Travel Butler concierge service. Your Travel Butler will be at your beck and call from the moment you choose your holiday, to the moment you arrive safely home. So all you have to think about is whether you'd rather relax by the pool, or laze on the beach.
A Tailor-made Holiday to Koh Samui with Flight Centre includes:
A beautifully designed personal itinerary and travel documents
Flexible deposits
Balance due 10 weeks before departure
Fixed change and cancellation fees
Visa and vaccination assistance
24/7 Emergency Assistance Service
Travel Butler concierge service – we will look after your every need from the moment you book to the moment you return safely home.