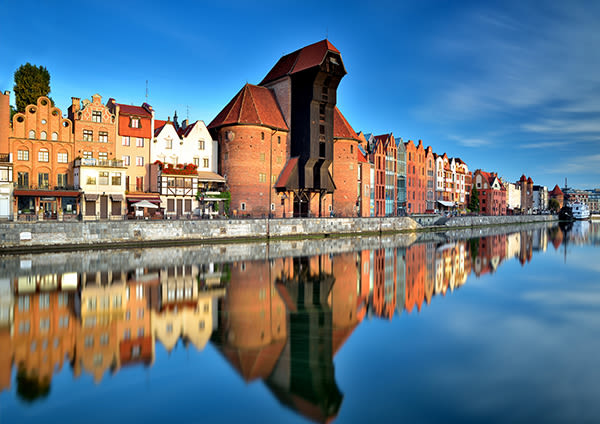 A country known for its history, Poland is home to 15 UNESCO World Heritage sites, one being the Royal Wawel Castle, whose current day structure was built in the 14th century. The central European country offers a blend of modern cities and old villages, made up of mountains, national parks, seaside, and the Masurian Lake District. In classic European form, architectural lovers can feast their eyes upon the stunning structures of Poland, particularly its gothic cathedrals, communist relics and various museums. Ready to explore? Let our travel experts lead you to your Poland holiday!
Deals with your name on them...
Explore holidays by interest
Frequently asked questions
What to take on holiday to Poland?
Poland is a country best explored on foot, so comfortable walking shoes are a must. The rest of your packing list will depend on the time of year you are travelling, but the weather can be unpredictable all-year round so be sure to throw in a lightweight rain jacket.
---
Where to go on holiday in Poland?
Krakow is undoubtedly one of Poland's most popular pit stops for tourists, known for its rich history and stunning architecture. Warsaw, Gdansk and Wroclaw also attract their fair share of visitors thanks to Poland's rich cultural heritage. Outdoor enthusiasts will gravitate to Zakopane in the Tatra Mountains and the UNESCO World Heritage-listed Bialowieza Forest.
---
How do I go about cancelling my Poland holiday package?
---
When is the best time to visit Poland?
It depends on what brings you to Poland in the first place. If you're here for the festivals and outdoor activities, the summer months (June to August) are ideal. If you're after slightly smaller crowds, fall or autumn (September to November) are great for exploring the great outdoors and if it's snow that you seek, aim for December to February. Christmas in Poland is also pretty magical.
---
What is there to do in Poland?
Step back in time and wander around Poland's historic cities, learn about Poland's complex history by visiting some of the country's important (and sombre) historical sites, lace up your hiking boots and explore the Tatra Mountains, sample Polish cuisine, learn to ski, sip Polish beer and vodka straight from the source, and that's just the tip of the iceberg!
---
...loading
Popular holiday destinations