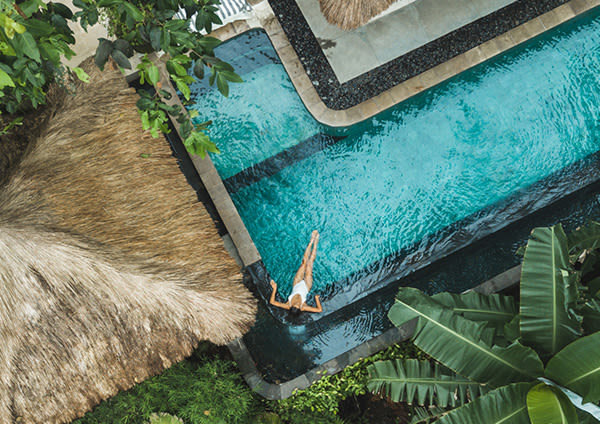 Bali tends to take the spotlight when it comes to travelling in Indonesia but we're not gonna lie, it deserves it!
Think stunning beaches, lush mountainous terrain, scenic lakes, rolling rice fields, blooming flower gardens, sacred rivers and cascading waterfalls. Did we mention the locals are absolutely the nicest people you'll ever meet? With a Bali holiday, you can spend your days snorkelling the crystal clear waters of the Blue Lagoon, saying hello to cheeky friends at the sacred monkey forest, catching a sunset at Tanah Lot Temple and hustling for a bargain on Legian Street.
If you're chomping at the bit to visit Bali and Java Island, browse Flight Centre's travel deals and book in your leave, stat.  
Deals with your name on them...
Explore holidays by interest
Explore Bali
Where to stay in Bali
Where to stay in Bali
Some Bali locations are famous for their beaches, others for their luxury, and further still for their arts. When it comes to deciding where to stay in Bali, the truth is you're spoiled for choice. If it's a lively atmosphere that appeals, Kuta and Legian offer a vibrant ambiance with easy access to dining, markets, cultural attractions, and shopping. Meanwhile, the high-end enclaves of Seminyak and Nusa Dua are known for their luxury feel, and Ubud boasts a selection of some of the finest relaxation retreats on the island.Choosing where to stay ultimately comes down to what you hope to explore and how you prefer to spend your time.
Read travel guide
Seminyak
Home to some of Bali's most luxurious resorts, Seminyak offers a quieter alternative to its lively neighbours, Legian and Kuta. Many resorts overlook picturesque Seminyak Beach, offering beachfront access, spectacular sunsets, and proximity to the shopping boutiques and high-end restaurants within the immediate vicinity. Seminyak is also within walking distance of Kuta, making it a convenient location for exploring a range of Bali attractions.
Canggu
Canggu is widely regarded as one of the best areas to stay in Bali due to its emerging popularity as a beachside destination and truly laidback feel. Featuring new beachside resorts, the region is also home to diverse beaches that have sands ranging from black in some areas through to the creamy shorelines so familiar in the island's south.
Legian Beach
Known for its vibrant nightlife, Legian is the second-most popular place to stay within the Bali region. Resorts and accommodation line the beachfront, providing ready access to water sports, shopping, restaurants, and more. If it's the buzz of activity you seek, with excitement at any hour of the day, then Legian is perhaps the destination best suited to meeting your needs.
Kuta
If you're looking for accommodation positioned in the thick of Bali's action, you can't go past Kuta for its accessibility to shopping, entertainment, and endless dining options. Kuta is a thriving hub of activity day and night. However, amid all the action, there's still quiet refuge to be enjoyed at one of the many beachfront resorts adjacent to the main street.
Nusa Dua
Of all the places to stay in Bali, Nusa Dua is arguably the most exclusive precinct available. The region was specifically designed as an "all-inclusive" tourism enclave, and it features luxurious and world-renowned resorts with immediate beachfront access. There's also a golf course and a shopping centre. Kuta and Denpasar International Airport are both a quick taxi ride away, making this a convenient location of world-class standard.
Frequently asked questions
What to take on holiday in Bali?
Pack your flip-flops (thongs or jandals, depending on where in the world you reside), swimmers, sarong and your appetite for exotic flavours because Bali is calling! Get ready for sandy toes, colourful sunsets and delicious street food adventures in this tropical paradise. In terms of your packing list, keep it simple and leave some room in your suitcase for shopping, but be sure to throw in some hand sanitiser, sunscreen and bug spray.
---
Where to go on holiday in Bali?
Bali is a treasure trove of wonders, so it depends on what brings you here in the first place. If you're after the tourist experience, you'll find it in the bustling town of Kuta, which is a sensory smorgasbord. Seminyak steps things up a notch in terms of luxury, and if you're keen for a slightly slower pace and some of Bali's best beach clubs and restaurants, head to Canggu. From here, you can do a daytrip to see Tanah Lot temple, one of Bali's unmissable attractions and immerse yourself in the cultural heart of Ubud, where you'll find rice paddies, lush jungle and blissful yoga retreats. For a taste of the good life, it's hard to go past Nusa Dua for pristine beaches and world-class resorts, and let's not forget about the Instagram-worthy waterfalls of Munduk and the hidden gems of the Gili Islands. Of course, this is just the beginning of Bali's incredible bounty.
---
How do I go about cancelling my Bali holiday?
---
When is the best time to visit Bali?
If you want to experience the magic of Bali at its peak (read: lounge on beautiful beaches, dance on the sand, explore lush jungle and dive into crystal-clear water), then plan your visit for the dry season, which runs from May to October. With balmy temps and minimal rainfall, it's the perfect time to experience everything Bali has to offer. If you're keen to avoid the intense crowds, consider the shoulder seasons from April to June and September to October.
---
What is there to do in Bali?
A playground of endless adventures and unforgettable experiences, Bali invites you to switch off from the rat race and dive into crystal-clear water, raise the heart-rate with a thrilling white-water rafting adventure, bliss out at a day spa, dance the night away at a world-famous beach club, visit ancient temples, feast on delectable Indonesian cuisine, barter in bustling markets, chase waterfalls, hike to the top of Mount Batur for sunrise. Bali offers a world of adventure, relaxation, and cultural wonders, the hardest part will be trying to fit it all in one trip!
---
How to find the best holiday package deals to Bali?
We've got that covered too! Sign up to get the hottest deals sent straight to your phone & emails here. You can also check out our deals online, or speak to one of our Travel Experts.
---
...loading
Popular holiday destinations