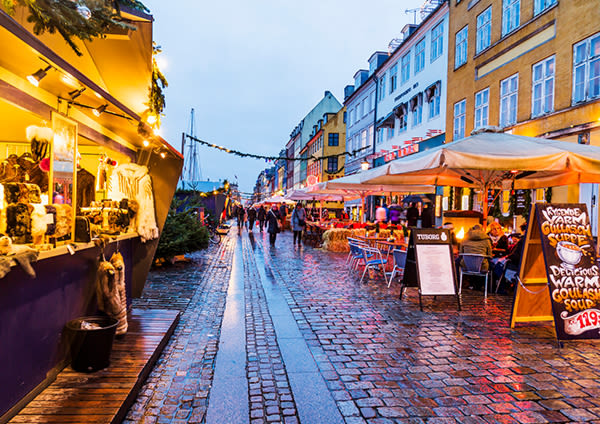 Picture this: You're walking down a cobblestone street, bold-coloured buildings on your left, sparkling canal on your right. A host of cafes, restaurants and bars offer delicious treats and drinks to accompany your stroll through the country's capital, Copenhagen. You realise why Denmark is consistently ranked the happiest country in the world. Whether you're a history buff eager to brush up on your Medieval knowledge at the Viking Ship Museum, an arts connoisseur dying to catch a show at the Opera House or keen to don some snow boots and hit up the Copenhagen Christmas Markets, year-round, Denmark delivers. Let's pick a season and get your Denmark holiday sorted, hey?
Deals with your name on them...
Explore holidays by interest
Frequently asked questions
What to take on holiday to Denmark?
Other than the usual socks and jocks, Denmark is a cosmopolitan country so don't be afraid to embrace a smart style with comfortable shoes for sightseeing. Save the stilettos for evenings in Copenhagen and be prepared for all seasons with a jacket and umbrella.
---
Where to go on holiday in Denmark?
Though Denmark is small in size, it's big in personality! A melting pot of fascinating history, culture, architecture, cuisine, nightlife and entertainment, it's little wonder why travellers from around the world flock here for holidays. When it comes to incredible places to visit, it's hard to go past Denmark's capital Copenhagen. If you're looking to venture beyond the main tourist spots, check out the colorful buildings of Nyhavn, step back in time at Ribe or get a dose of culinary culture in Aarhus.
---
How do I go about cancelling my Denmark holiday package?
---
When is the best time to visit Denmark?
Although Denmark is beautiful at any time of the year, many believe the best time to visit is from May to October when the weather is mild and the countryside is in full bloom. December is also particularly magical with colourful Christmas lights, markets and delectable baked goods.
---
What is there to do in Denmark?
Visit a castle or ten, go island hopping – there are 444 to choose from! Sample the local cuisine, get a glimpse of the Northern Lights, relax in a beach resort along the Danish Riviera, museum hop in Aarhus, learn about the Vikings in Ribe or get your arts and crafts on in Bornholm. Hot tip, if you're heading to Copenhagen, be sure to visit the Tivoli Gardens, a.k.a the most visited theme park in Scandinavia.
---
...loading
Popular holiday destinations