Our Cambodia Holiday Expertise
Here at Flight Centre, we've joined forces with Asia specialists Buffalo Tours, so when you book a Journey to Cambodia with us, not only will you benefit from the in-depth knowledge of our 18,000 staff, but you'll have the added advantage of the expertise of our people on the ground. You'll be welcomed at the airport, transferred to your hotel and guided around the sights by Cambodian residents, people who know the country like the back of their hand. You can be confident that your trip to Cambodia will be tailored to suit your needs, with recommendations and tried and tested advice from the people who know best.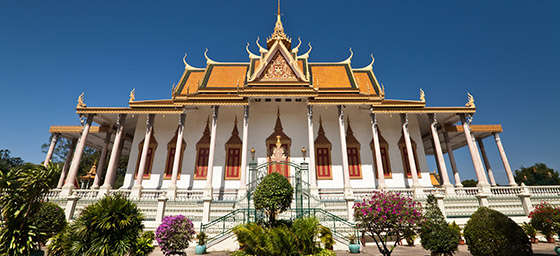 The Silver Pagoda at the Royal Palace Phnom Penh
Tailor-made Cambodia Holidays
Cambodia is most famous for the fascinating Khmer ruins at Angkor, including the iconic temple of Angkor Wat. But there's more to this country than just archaeology. From its traumatic recent history, Cambodia has emerged to be a top Southeast Asian destination, with travellers attracted by its friendly people, aromatic cuisine and varied historical sights. Cambodia's vibrant capital Phnom Penh is filled with golden spired temples and interesting museums, while the countryside offers a slice of traditional rural life.
To experience it all, we have created a range of expertly designed itineraries to show you the best of Cambodia. Called Journeys, these itineraries include our Cambodia Explorer Journey where you'll discover the country's little-explored beaches, or our Cambodia Encompassed Journey where you'll ride the quirky Bamboo Train in Battambang Alternatively you can combine your Cambodian holiday with a trip to neighbouring Vietnam on our Saigon to Angkor Journey. Or perhaps you'd prefer to explore by boat on our Lost Civilisation River Cruise, or even head off on a full-on Southeast Asian adventure, mixing Cambodia with Thailand, Laos and Vietnam on our Indochina Explorer Journey. 
A Bespoke Experience
Whether you're looking for a quick taste of Phnom Penh before touring the Angkor Temples, or on the hunt for a far longer Journey to all four corners of Cambodia, we've got it covered. Give our Experts a call to discuss your requirements and budget, and we'll tailor-make your Journey to suit you. Perhaps your trip is for a birthday or anniversary and you'd like us to arrange a special dinner for you, or perhaps you're looking for a particular style of hotel. Whatever it is, our Experts can design it into a bespoke itinerary for you and even make suggestions you might not have thought of.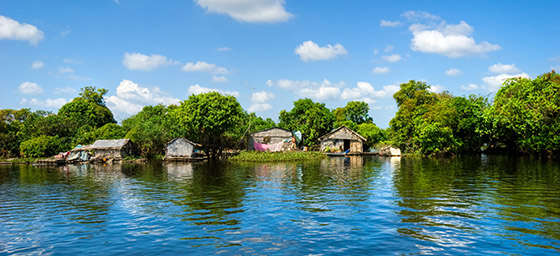 Cambodia isn't just about the ancient ruins: when you see the welcoming smiles of the Cambodian people, you'll appreciate just how far they've come since the terrible days of Khmer Rouge rule in the 1970s. Phnom Penh's excellent museums tell of this turbulent period in unflinching detail, a moving and fascinating testament to human resilience. 
Service from Start to Finish
When your book a tailor-made holiday with Flight Centre, you can let go of any of your travel worries thanks to our exclusive Travel Butler concierge service. Your Travel Butler will be with you through the planning process, while you're away and even when you arrive safely home. So whether you need helping arranging visas or simply want advice on the best restaurants and cuisines to try in Cambodia, we'll be on hand to help. 
A Tailor-made Holiday to Cambodia with Flight Centre includes:
A beautifully designed personal itinerary and travel documents
A destination guide with insider local knowledge
Flexible deposits
Balance due 10 weeks before departure
Fixed change and cancellation fees
Visa and vaccination assistance
24/7 Emergency Assistance Service
Travel Butler concierge service – we will look after your every need fro