Experience exquisite luxury in the sky
The Residence
Etihad Airways pioneering spirit coupled with their traditions of Arabic hospitality has resulted in the creation of the most contemporary flying experience in the sky. Accompanied with unparalleled comfort and service Etihad's new A380 high-end luxury product is out of this world.
Described as one of the world's most luxurious living spaces in the sky, Etihad Airways provides some of the most exquisite premium cabins around coupled with exceptional on-board service.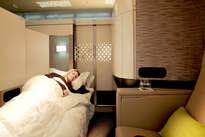 The First Apartment
Introducing The Residence, the only 3-room suite in the sky, including lounge, bathroom with shower and double bedroom, The Residence offers an unparalleled luxury in-flight experience. The ultra-modern and personalised VIP service you and your companion will receive includes a dedicated on-board butler and chef, on-ground travel concierge and chauffeur transfers. This remarkable service is available on A380 flights from London to Abu Dhabi.
The First Apartment, offers a private cabin for one, with closing doors, space to dine with a companion, a wardrobe, a leather seat that converts to a fully-flat bed with mattress and duvet plus state or the art on demand entertainment.
Business Class Studio - Airbus A380
The Business Studio comprises of a modern seat with inbuilt massager that converts into a fully-flat 81 inch bed with mattress, an 18-inch touch screen TV and a dedicated food and beverage manager.
With departures from London Heathrow three times daily, twice daily from Manchester and the introduction of a daily service from Edinburgh in June 2015. Etihad have an ever expanding network of over 90 destinations including Abu Dhabi, Dubai, Singapore, Kuala Lumpur, Bangkok, Jakarta, Sydney, Melbourne, Mumbai and Delhi. Isn't it time you flew with the best?
Call our First and Business Experts Now
0800 082 1174  or  0333 333 6885
Etihad Airways Flights
We don't have any flights available online right now for this destination, but our First and Business Premium Airfare Experts can still help you find exactly what you want.
To find out about our latest flight deals, call us on 0800 082 1174 or enquire online today
Etihad Premium Cabins
Etihad Airways – In a Class of Their Own
Voted the world's best Business Class, the new Etihad Airways' Business Class is taking business to a whole new level. Guests are treated to a 'privacy shell' with a six-foot long flat bed, complete with in-built massage function, plus an on-demand a la carte menu of five-star food and wine choices.
With unparalleled luxury permeating from every corner of Etihad Airways' premium cabins, you'll be sure to experience to best of the best, whatever cabin suits your tastes and budget. With its award winning Business Class and unique offering from The Residence, First and Business would unequivocally recommend flying in one of the following premium cabins, for the ultimate in luxury travel.
Business Class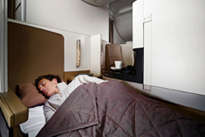 Business Studio
Prior to flying, Business Class guests are granted Lounge access. With in-seat power and USB connectivity on board you can work or be entertained on your own schedule. Guests travelling in Business Class with Etihad Airways are treated to 15-inch LCD TVs and noise-cancelling headsets to enhance the in-flight entertainment experience. Over 675 hours of hit television shows, classic movies and the latest music from around the world is loaded into the on-demand E-BOX system for your convenience, which can also be accessed using your personal devices.
First Class
Upping the ante in luxury and privacy, the world's most luxurious flying experience debuts on Etihad Airways with the offering of The Residence and a new first class cabin First Apartments. The Residence is available exclusively on the airline's new A380 which is due to operate daily flights to London Heathrow.
First Apartments
First Class Apartment - Airbus A380
Upholstered with fine Italian leather by Poltrona Frau, the first apartments feature a large living space (large enough to walk around) with an over-sized armchair, ottoman, wardrobe, 24-inch TV, vanity cabinet, chilled drinks cabinet and room for two people to dine together. If travelling with a companion, wall dividers can be lowered to join rooms. This is undefined luxury in the sky exclusive to the Etihad Airways A380 experience.
First Suite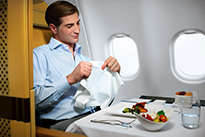 Etihad Diamond First Class
Enjoy a complementary Etihad Chauffeur in over 30 cities before stepping into your First Suite with stylish Poltrona Frau leather seats, exquisite fabric and finishes and ambient lighting encased behind a closed door inside your own private suite. Each First Suite includes a personal wardrobe, chilled drinks cabinet and enough space to entertain a travelling companion. In-flight chefs will take your a-la-carte order and couple with the finest wines in the sky.
First Class Suite - Boeing 787
In-flight entertainment for First Class guests includes a 23-inch widescreen for personal viewing using the E-BOX system, plus noise cancelling headphones and connectivity to power your personal electronic devices. First Class guests also receive mobile phone and Wi-Fi access on selected routes and aircrafts.
The Residence
The Residence Cabin - Airbus A380
Luxury and privacy are taken to the next level with three suites making up the The Residence. The Living Room includes a double-seat sofa with ottoman, two dining tables, a chilled drinks cabinet and 32-inch flat screen TV. The Ensuite Bathroom includes personal bathrobes, exclusive amenities and a private shower. Finally the Bedroom includes a double bed with Egyptian cotton sheets and choice of pillows.
Your luxury getaway with Etihad Airways
With one of the most modern fleets in the world and flying to nearly 100 destinations across Europe, The Middle East, Africa, Asia-Pacific and The Americas, Etihad Airways is the airline of choice whether you're travelling for business or to your next luxury getaway. From its hub in vibrant Abu Dhabi to the crystal blue waters of the Seychelles, Etihad Airways will fly you in ultimate luxury to wherever your dreams take you.
Here are three of our favourite luxury holiday destinations Etihad Airways fly to:
Seychelles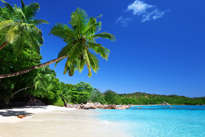 Home to some of the most luxurious hotels on the planet, Seychelles screams elegance, relaxation and indulgence. With bright white sand beaches with lapping topaz, clear waters, you would be hard to argue that this wasn't paradise. To add to this is the juxtaposition of lush hills and big glacis boulders as its back drop. If you want a bit of activity whilst you here then Seychelles can offer that as well, with jungle and coastal walks, boat excursions, and diving and snorkelling.
Click here to view some of the Luxury Beach Escapes we have on offer in the Seychelles in our First and Business Luxury Holiday Collection.
Dubai
A melting pot of cultures, Dubai is multi-cultural super-city steeped in Islamic traditions. Seamlessly blending strong traditions with futuristic ambitions, Dubai is the ideal place for those wanting a 5 star luxury experience. With shopping malls that are out of this world, global cuisine to tempt every taste bud and an
emerging art scene that will rival some of the greatest, Dubai is a modern marvel with a traditional heart. To absorb the more traditional side to the city there is a chance to visit local Souq's to shop for local crafts or experience the life of the nomadic Bedouins from the back of a camel discovering the desert landscape.
Click here to view some of the Luxury City Escapes we have on offer in Dubai in our First and Business Luxury Holiday Collection
Phuket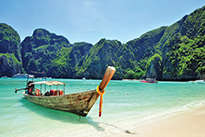 Dubbed the pearl of the Andaman and Thailand's biggest island, Phuket has everything from vibrant restaurants and nightlife to relaxing spa treatments and glistening white sandy beaches. A spring board to many other stunning islands, Phuket is a fantastic choice for an entire luxury escape or the beginning of an island hopping adventure.
Explore Old Phuket to indulge in a melting pot of Thai tradition and vibrant, trendy baristas and artists who are making themselves at home amongst the temples and traditional shops that line the streets.
Click here to view some of the Luxury Beach Escapes we have on offer in Phuket in our First and Business Luxury Holiday Collection.