Travel the World with Emirates
Emirates Business Class
Flying with Emirates is always a first-rate experience regardless of the cabin you fly in. Highly regarded, multi-award winning and forward thinking, they are the airline of choice for many seasoned
Emirates First Class
travellers. Through their hub in Dubai they offer connecting flights to over 140 destinations across 6 continents making it simple to discover the world.
With one of the youngest fleets in the world, by flying with Emirates you can rely on the upmost in comfort and the latest in cabin design. The majority of the fleet is now made up of the ultra-modern Emirates Airbus A380 and spacious Boeing 777, making your Emirates experience world class.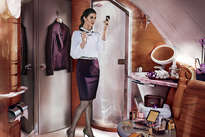 Emirates A380 First Class Spa
At First and Business we are delighted to be considered as one of Emirates preferred partners in the UK and will often be heard recommend Emirates as the best airline for many of our customer's long-haul journeys.
Emirates First Class
With flights departing from London, Manchester, Birmingham, Glasgow and Newcastle, their regionally availability is second to none.
Have a look at some of the current offers we have flying with Emirates in Business Class and First Class, or call our Premium Airfare Experts now for a tailor-made quote.
Emirates flights
We don't have any flights available online right now for this destination, but our First and Business Premium Airfare Experts can still help you find exactly what you want.
To find out about our latest flight deals, call us on 0800 082 1174 or enquire online today
Luxury Escapes flying with Emirates
Holidays Full view by skus
Emirates Premium Cabins
Signature Airport Lounges
Onboard Cocktail Bar
When flying in Business Class or First Class with Emirates you receive complimentary access to Emirate's signature airport lounges. Before you board your flight you can relax in the spa and enjoy a beauty treatment, or a pre-flight meal taken from the gourmet buffet and bar service.
Exclusive to First Class and Business Class customers is the A380 Onboard Lounge where passengers will have access to a selection of delicious canapés and refreshing cocktails. Also available to choose from are premium spirits, exclusive wines, champagne, cocktails and beers as well as hot and cold beverages served to all customers by the dedicated bartending staff.
Complimentary Chauffeur Drive Service
Emirates complimentary Chauffeur-drive service is available for all First Class and Business Class passengers. We can assist you when booking your Chauffeur-drive service which will collect you from your door and, when you land, your car will be there to take you to your final destination. That could be straight to your hotel, your next meeting, your favourite restaurant or to the course for a round of golf. Enjoy Emirates exclusive Chauffeur-drive service in over 70 cities worldwide when booked 48 hours before your flight departs (conditions apply).
Emirates Business Class Cabin
Start your Business Class flight in style with a complimentary chauffeur-driven service, available in over 70 cities worldwide, along with priority check-in and baggage handling.  
Emirates Business Class
Once on-board, passengers on the Airbus A380 can enjoy fully lie flat beds helping you feel relaxed and rejuvenated upon arrival.  All seats boast a personal mini-bar, privacy screens, massage function, and touch-screen seat controls for the in-flight entertainment system.
Business Class
Dine onboard on Royal Doulton bone china plates with exclusive Robert Welch cutlery, with exquisite cuisine, locally sourced and freshly prepared.  Compliment your meal with a list of complimentary cocktails, champagne, beers, spirits and hot and cold drinks.
First Class
Emirates First Class Suite
Enjoy a First Class experience from the moment you leave home with a complimentary chauffeur-driven service in over 70 cities, priority check-in and baggage handling.
First Class Suite
On-board the A380-800, Boeing 777-200LR and selected Boeing 777-300ER, relax into your own Private Suite and enjoy a glass of exclusive wine or champagne or delve into your own personal mini bar.  Each private suite features a fully reclinable lie flat bed and is fully enclosed for privacy.
First Class Private Suite
Passengers flying in First Class on the A380 can reawaken their senses in the onboard Shower Spa, using the selection of Bvlgari toiletries and signature Timeless Spa products. 
Enjoy sumptuous cuisine on board with regionally inspired dishes, created using fresh, locally sourced ingredients and coupled with this carefully selected fine wines chosen by Emirates' personal sommeliers.
Flying Emirates means flying in pure, unadulterated luxury.