Because you deserve it!
At Flight Centre, we work with the world's leading hotel properties to offer an incredible range of 5-star holidays. Every location is chosen for its particular brand of 'wow factor' and to satisfy travellers with a lavish appetite for travel. Including Economy flights, our 5-star holiday packages can match you with knowledgeable tour guides and passionate staff who go the extra mile to offer exceptional service. If you are dreaming of an extravagant getaway, we can plan it all down to the fine details that will make a notable difference.
Inside a room at the Mandarin Oriental in Las Vegas
Amongst our 5-star holiday packages, you can enjoy a luxurious resort stay in Dubai, experience the grandeur of Hong Kong in a grand way or stay in the Maldives in 5-star style. In addition to accommodation, our holidays also feature added extras such as breakfasts, transfers and room upgrades.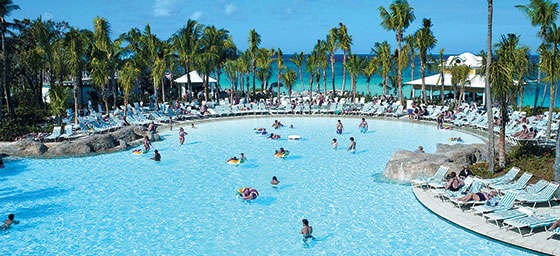 The pool at Atlantis Paradise Island
By inspired by our latest 5-star holidays on offer which include economy flights, 5-star accommodation and more. Contact Flight Centre today and start planning your ultimate getaway for a special occasion or just because you deserve it.