For the Thailand of azure lagoons, palm tree lined beaches, breathtaking sunsets and balmy nights, Koh Samui is where you need to be. Make it happen with a Koh Samui flight or better yet, make the most of your time and money and book one of our tailor-made Koh Samui holidays. Whether you want to just laze on the beach for a week or enjoy a couple of days before moving onto other parts of the UK, our Experts can create you the exact experience you want for an ideal price.
We don't have any products online right now but one of our consultants may be able to help you. Enquire now to get access to great deals all over the world.
Airlines that fly to Koh Samui from the UK
Samui International Airport
Samui International Airport (USM) is an open air facility consisting of two terminals, one for domestic and one for international. There are no aero bridges and although this is one of Thailand's busiest airports it is quite small is size. Ground transportation into the city is readily available and ferries to nearby islands and the mainland are close by.
Koh Samui, located off the eastern coast of Thailand, is just one of many islands that make up the beautiful Ang Thong Marine National Park. Long stretches of idyllic beaches and swaying palm trees line the brilliant coast where colourful coral reefs lay enticingly close for an exciting day out snorkelling and swimming.
While the interior of the island is mostly dense rainforest, the setting lends itself to a beautiful scenic oasis rich in native flora and fauna. Na Mueang is a picturesque waterfall about 30 minutes outside of the city and neaby villages grow beautiful fruit where coconut trees tower over the landscape. Exclusive resorts pamper guests while exciting night life options range from bars and night clubs to laid-back lounges. No matter what time of day, there is plenty to see and do in this tropical paradise.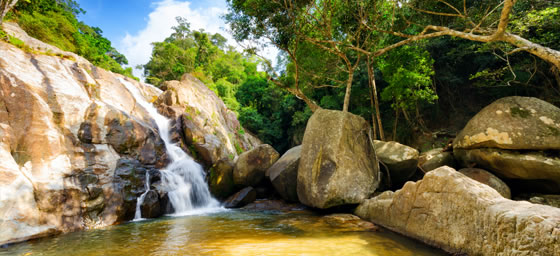 Flights to Thailand
Holidays in Thailand