During the past two decades Shanghai has experienced massive redevelopment to again re-assert the importance of this great Chinese metropolis. You'll love exploring every inch of this city! Book your flights to Shanghai with our Airfare Experts and enjoy a pleasant journey for a great value price. Our Airfare Experts can source the latest flight deals that you won't always find elsewhere online, as well as tailor airfares to your itinerary. Our flights are all ATOL and ABTA protected, come with a 24/7 Emergency Assist Service and are backed up by our Lowest Airfare Guarantee.
Choose an Option to Start Tailor-Making Your Holiday
Flight Centre's Travel Consultants really know their stuff when it comes to creating bespoke itineraries. Get in touch below, and let us tailor-make it easy
Top Shanghai Airfares & Flight Deals
What airlines fly to Shanghai?
Royal Dutch Airways
Air France
During the nineteenth century Shanghai was a pivotal trading centre between east and west, reaching its pinnacle during the 1930s. However under the Communist Party the city fell out of favour until the 1990s when the metropolis underwent incredible redevelopment to again assert its dominance in the region. Having hosted the 2010 expo, focus is now squarely back on this great Asian city.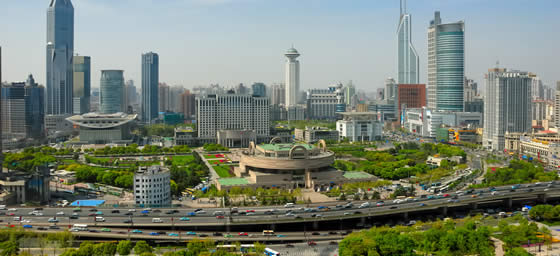 People's Palace
Once the financial heart of China for foreign investment, the Bund on the Huangpu River today provides a wonderful stroll through western nostalgia. The impressive buildings in European architectural styles remain but most now house Government offices. Either way, exploring the Bund is one of Shanghai's must do experiences. On the other side of the river is the district known as Pudong, which provides the perfect contrast in architectural styles to the Bund. This is progressive China with state-of-the-art designer buildings that demonstrate the importance of modern Shanghai. The Oriental Pearl Tower, positioned on the bend in the river, is one of the symbols of the city. Other structures of note in Pudong include the Jin Mao Tower and the Shanghai World Financial Centre.
History enthusiasts will enjoy exploring the district known as the French Concession, an exclusive Shanghai neighbour that was once dubbed the Paris of the East. On the other hand, keen shoppers will take delight along Nanjing Road, a shopping strip that boasts 600 shops stretching five and a half kilometres. The Yuyuan Garden, a traditional Chinese garden designed in the Ming and Qing styles, offers a peaceful oasis away from the city bustle. Also consider visiting the Jade Buddha Temple.