This southeastern corner of the US basks in sweltering sunshine in a tropical monsoon climate, has the largest concentration of banks in America and its port is known as the Cruise Capital of the World. As a popular holiday spot, there are miles of sun-drenched sand to enjoy in Miami, with several beaches to choose from. Bask on the sand at Virginia Key Beach, enjoy volleyball and watersports at South Beach or marvel at the undersea wildlife with a snorkelling session at Biscayne National Park. Bring your cash, sunscreen, dancing shoes and your brushed-up Spanish for your flights to Miami, Florida. The party is just getting started.
Top Miami Airfares & Flight Deals
Airlines that fly to Miami
Miami Airport
Flights from the UK to Miami will disembark at Miami International Airport. Miami International Airport (MIA) is situated northwest of downtime Miami and serves destinations in southern Florida. Because of its proximity to Central and South America, Miami Airport is a major gateway between North and Latin America.
Useful Information
British passport holders are eligible for the USA's visa waiver program, allowing you to visit the United States without a visa for 90 days. While you might not need to apply for a visa, you will need to gain prior authorisation through the country's Electronic System for Travel Authorisation, commonly referred to as an 'ESTA.' Those who are not approved by this online system prior to their flight may run the risk of being turned away at the airport. For travel on non-British passports or for more information, please ask your consultant.
Tucked between Biscayne Bay and the Everglades, Miami has the occasional errant alligator roaming its streets (which may or may not get a write up in the Miami Herald or the El Nuevo Herald). If you do want to get up close with some amazing animals, try Zoo Miami and Seaquarium, two popular attractions where you can watch a colourful array of animals from the world's land and oceans. If you fancy delving into the history of Miami, don't miss the Vizcaya Museum and Gardens, where you can get a taste of the high life lived by the city's wealthy industrial elite in the late 19th century. There are 10 acres of gardens to explore, set along the picturesque Biscayne Bay.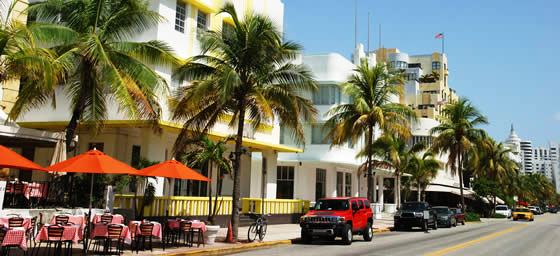 Ocean Drive
For foodies, Miami offers a glorious blend of Latin and Cuban flavours, Caribbean dishes and traditional US favourites. Tuck into a traditional Cuban medianoche (midnight sandwich), sip on a mojito or crack open a delicious stone crab.
Here's a quick guide to things to see and do:
Party on South Beach – this is one lively strip that continues up the Florida coast
Balloon over the Miami skyline – grab a year-round sunrise flight
Airboat over the Everglades – for a hair-raising look at this natural ecosystem
Arrive by ship – and cruise into your holiday
Grab a flight to Miami and join the mayhem or search for a hotel, perhaps the landmark Fontainebleau? For more information on Miami holidays check out our Miami travel guide.
Destinations in the USA
What is the weather like in Miami?
The average maximum temperature for Miami ranges between 25 and 33 degrees. The hottest month is August with an average temperature of 29 degrees and the coldest month is Janaury with an average temperature of 21 degrees.
How much does it rain in Miami? What is the driest/rainiest month in Miami?
The average annual rainfall for Miami, USA, is 1267mm of precipitation.
The wettest month with the highest rainfall is June, with 196mm of precipitation. The driest month with the lowest rainfall is December, with 46mm of precipitation.
Hottest Month
May
(29°C)
Coldest Month
January
(26°C)
Avg. Max. Temperature
30-34°C
Driest Month
February
(78mm)
Wettest Month
May
(107mm)
Avg. Annual Rainfall
1144mm