Flights to the United Arab Emirates
The largest of the UAE's seven emirates, and the federation's capital, is Abu Dhabi but its flashy neighbour Dubai often takes centre stage. The lesser-known emirates all have their own merits, even if the world doesn't know about them yet.
Chat to Us About Tailor-Making Your Trip!
Flight Centre's Travel Consultants really know their stuff when it comes to creating bespoke itineraries. Get in touch below, and let us tailor-make it easy
Top UAE Airfares & Flight Deals
Choose a Method of Contact
Tap an option below
Email
Send a quick message
Fill in the form with as much detail as you can and we'll get back to you.
Sometimes it's easier to talk! Call us on 0800 587 0058 to chat instantly - It's the quickest way to get your quote! Our travel consultants are waiting to speak to you.
Sometimes it's easier to talk! Call us on 0800 587 0058, 9-6pm - It's the quickest way to get your quote!
Callback
We can call you, now or later.
Enter your number below and we can call you now or at a set time - the choice is yours!
We're not in the office right now
Enter your number and we'll call you back at a time that suits you (within opening hours)
Enter your number
Callback
When would you like us to call?
Select a day and time (UK)
Success!

Continue Browsing
How Long Does It Take to Fly to UAE?
As a major flighs hub, flights from the UK to the United Arab Emirates are usually direct and take around 7.5 hours. The two main arrival points within the United Arab Emirates are Dubai and Abu Dhabi.
Airlines that fly from the UK to America include:
Air France
Royal Dutch Airways
Main United Arab Emirates International Airports:
Things to Do in UAE
The United Arab Emirates marry rags and riches, depending upon where you look. While you're adventuring (with the exception of water sports) it's always advisable to wear modest clothing.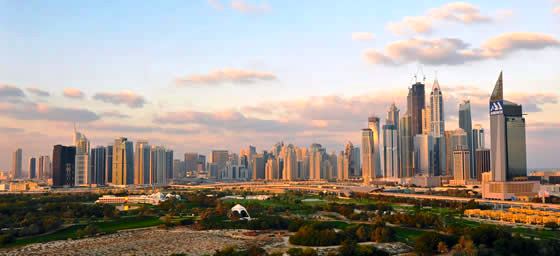 Dubai Skyline
Here's a very brief overview of the major emirates:
Abu Dhabi – a liveable city that maintains its local Emirati flavour, it's a green haven amid vast desert dunes; its small fishing village origins of 50 years ago are barely reconisable.
Dubai – otherworldly architecture, shopping, beaches and nightlife are the headliners here and cater to a multinational population. This is the region's major transit hub and even just stepping outside the airport into a serious wave of heat is enough to reorient the senses pretty quickly.
Sharjah – a conservative region where museums, galleries and theatres are the highlights, alongside city souq bargain hunting.
Ras al Khaymah – this is the UAE's northernmost emirate with attractive, development-free beaches and alluring views to the Hajar Mountains from the dusty main town.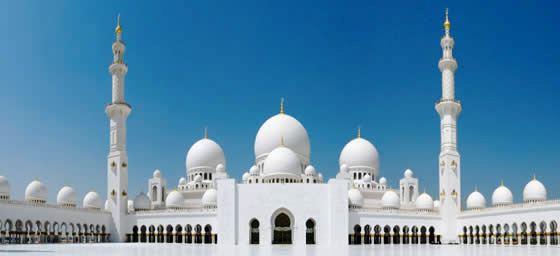 Sheikh Zayed Mosque, Abu Dhabi
November to March is the most temperate time to visit. If you want to know more about making the most of your holiday here, see our travel guide or book a flight to the Arab Emirates and lock in your next trip.
Flights to the Middle East
Holidays in the Middle East