Distance from city centre
Around 1.8 miles
Taxi
Around 40 dirhams to the city centre
Public Transport
Dubai's airport is serviced by a range of public buses running from various locations in the city. Buses numbered 4, 11, 15, 33 and 44 reach Terminal 1 while the number 2 bus services Terminal 2. Dubai's Metro train also runs from various stations to the airport every 10 minutes.
Car Hire
Car hire desks are located at the arrivals lounge of all 3 terminals. Companies include Avis, Dollar, Europcar, Tiger, Budget, National and Sixt. Talk to your consultant about booking car hire in advance.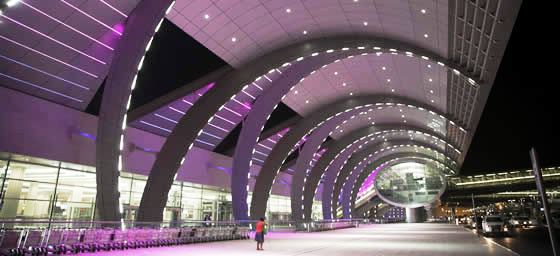 Dubai Airport
Check-in
Check-in zones are located on the check-in and departures level of the central terminal building.
Money Exchange
Money exchange facilities can be found in the departures lounge of the international and domestic terminal. The international arrival lounge also has money exchange facilities.
Business Services
Dubai International Airport offers the 'Executive Service,' ideal for corporations and individuals with private planes. The service boasts its own dedicated hangar and aviation terminal complete with customs, immigration and a fully equipped business centre. Business facilities can also be found within the Concourse Global Link near Gate 16 on the departures level, as well as in the airport's range of lounges (access conditions apply)
Internet Access
Free Wi-Fi is available across Terminals 1, 2 and 3 as well as all airside facilities.
Family Facilities
Baby changing facilities are located throughout the terminals both before and after security.
Baggage
Dubai International Airport has a short term baggage storage service located in the arrivals hall of Terminals 1 and 3.
Concierge
The Ahlan 'meet & greet' service is performed by highly trained individuals to ensure your experience at Dubai International Airport is a pleasurable one. The service involves helping you throughout the arrival or departure process from baggage claim to relaxing at an airport lounge and assisting with immigration and duty free shopping. A similar meet and great service called the Marhaba is also available.
Showers
There are showers located in Terminal 3 near Gate 201 and 231. The airport's various lounges (access conditions apply) and the onsite hotel also have showers.
Airport Lounges
Dubai International Airport is home to a range of lounges, some of which are operated independently. To book access to Dubai's independent airport lounges, talk to your Flight Centre consultant.
Airline Lounges
The following airlines have lounges located within the airport. For access to specific lounges, ask your consultant.
Emirates - Emirates Airlines has a First Class Lounge and Business Class Lounge in Terminal 3. In the First Class lounge, guests can choose from 3 relaxing seating areas, each harmoniously decorated with water features and plants. Alternatively, be pampered at the Timeless Spa, spruce up with a complimentary shoe shine or stay connected with the fully equipped business centre. The First Class Lounge also offers a first class dining experience offering a wide range of international gourmet dishes, cocktails, wines and fresh juice on offer. Business passengers travelling with Emirates are privy to similar services at the Business Lounge, including a dedicated business centre complete with conference room, PCs and broadband internet.
British Airways - British Airways First Class, Business Class and Club World passengers are free to enjoy the Galleries Club Lounge located in Terminal 1. Take a seat to watch the TV or read the daily newspaper and enjoy a range of complimentary food and beverages including snacks, wine, beer and spirits. Free Wi-Fi is also available.
KLM - KLM welcomes it's Blue, Gold, Platinum and Silver Elite passengers to enjoy the KLM Crown Lounge located next to gate 18 in Terminal 1. The lounge is open for night flights from 9pm to 4am and during the summer timetable on days with morning flights from 8pm to 8am. The lounge seats 53 and offers free Wi-Fi, data-ports for internet and a self-service buffet with warm and cold snacks and drinks.
Terminal Transfers
Dubai International Airport is made up of 3 terminals. Travelling between terminals in made easy via a 24-hour inter-terminal shuttle bus, which transfers passengers airside between Terminals 1, 2 and 3. The Metro also runs between Terminal 1 and 3.
The following airlines reach Dubai. Don't see the airline you are looking for? Talk to a consultant to book your Dubai flights with your preferred airline.