The UK's Year In Travel 2022: A Year's Worth Of Travel Trends
We've been crunching our numbers to bring you the UK's Year in Travel 2022. Read on to discover our top travel trends of 2022!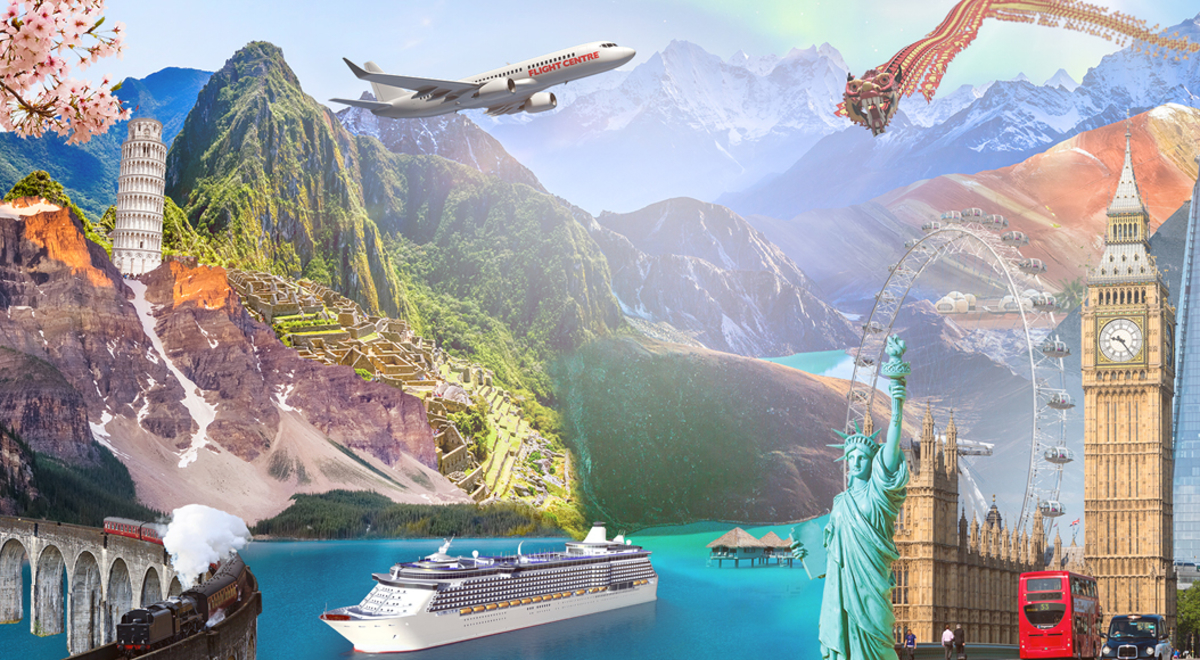 ---
---
We've been crunching our numbers to bring you the UK's Year in Travel 2022. Read on to discover our top travel trends of 2022!
---
It's that time of year. The Christmas trees are going up, Mariah Carey is beginning her annual take-over of our Spotify playlists and the end of 2022 is in sight. What better time to look back on the year that was? From Europe's hottest summer on record, a new Monarch, and turbulence in Downing Street to England and Wales chasing glory at the FIFA World Cup in Qatar— there's no denying it's been an eventful year. 
2022 was also a big year for the travel industry. Borders reopened, restrictions lifted, and UK travellers began to venture out into the world again. We holidayed at home and abroad, reunited with loved ones after too long apart, and booked our first international trips in what felt like forever.
Here at Flight Centre, we've been busy crunching our numbers to bring you a fascinating wrap-up of our UK customers' Year in Travel, 2022. Read on to discover where their favourite international holiday destination was in 2022, how many chose the pointy end of the plane, their most expensive cruise holiday we booked and how many new Travel Experts we recruited to make all these holiday dreams come true.  
We get it, your time is precious and you want the summary. Here are five of our biggest discoveries...
TL;DR – Top Five Takeaways
Our oldest traveller in 2022 was 91 years old
 
We booked flights for close to 540 babies (obviously their parents/guardians as well)
 
The most expensive cruise booking made this year cost £38,406
 
Four of our top 22 hotels for the year were in New York
 
We made a hotel booking this year for a duration of 335 days
What You'll Find Once You Read To The End...
Where They Went: Favourite Travel Destinations In 2022 
They Spent How Much And Booked How Many?!   

So, Who Exactly Were All These Travellers? 

Planes, Cruises And Touring: How They Travelled In 2022 

From Budget To Luxury: Where They Stayed In 2022 

How They Holidayed Through 2022 
Self-Reflection Time: How Flight Centre Changed In 2022 

Dusting Off The Crystal Ball: Our Predictions For 2023 
Now, without further ado, let's get into the nitty-gritty numbers of 2022!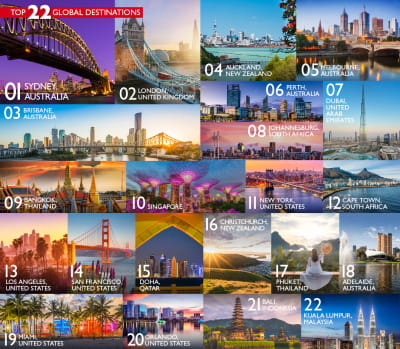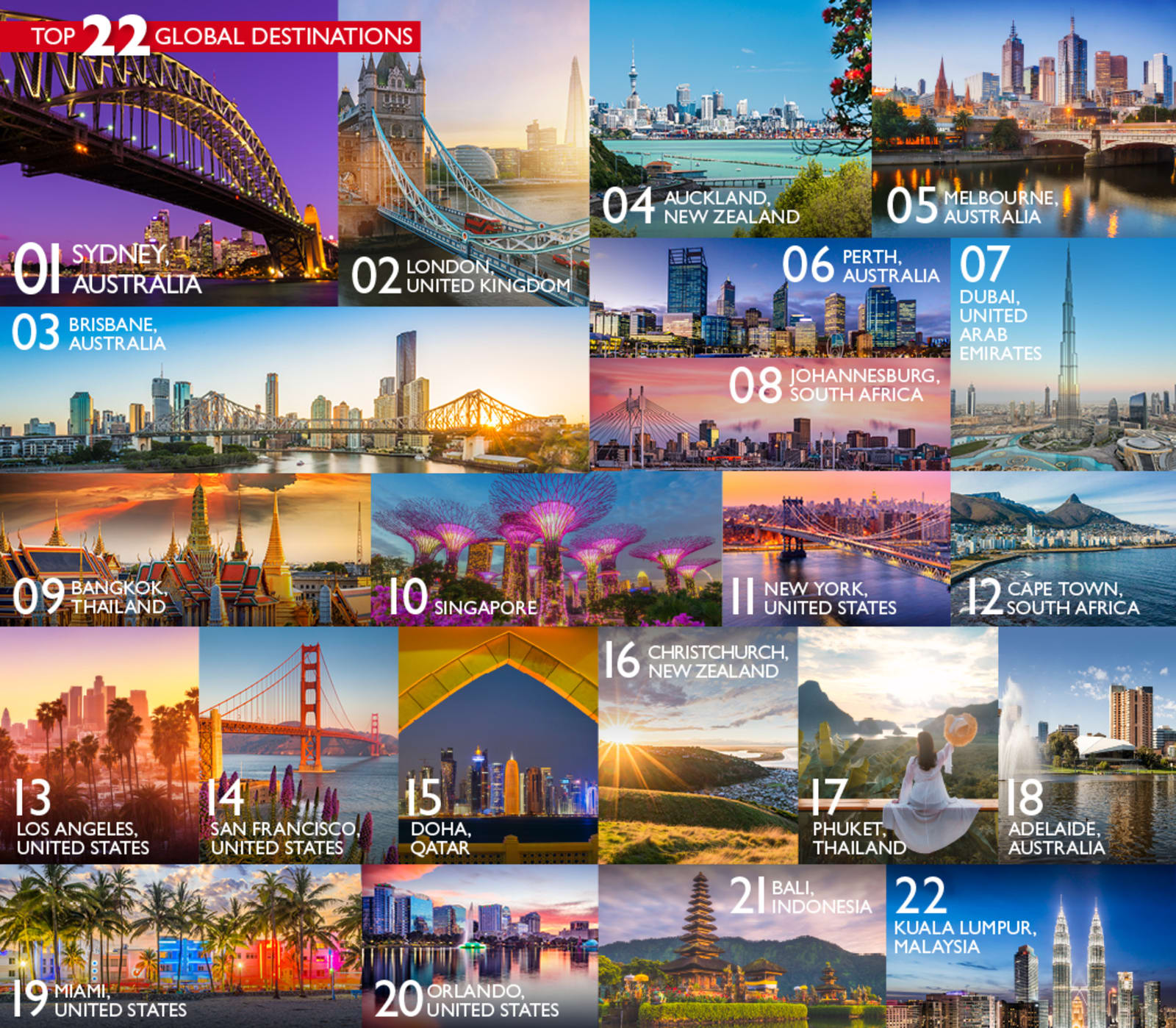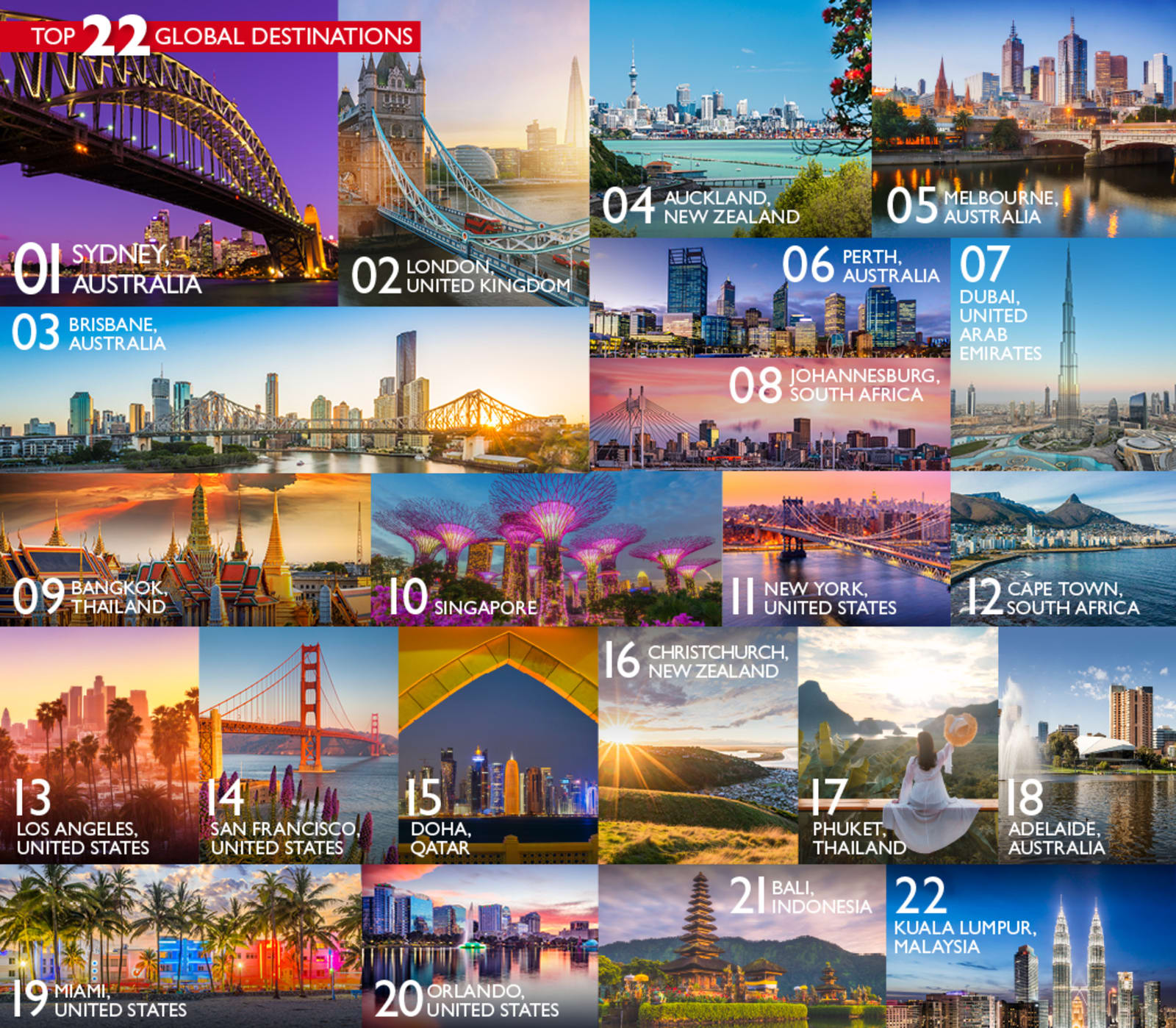 Where They Went: Favourite Travel Destinations In 2022
Did you know there are close to 200 different countries in the world? While some travellers have ticked off all of them, there were some clear favourites this year.
Sydney was the most popular destination among our UK customers, among them (surely!) had to be a gaggle of home-sick ex-pat Aussies reconnecting with home  – 11 % of our UK customers flew there.
Top 22 Destinations Around The World In 2022
Top 20 Destinations Around The UK In 2022
Northern Ireland was the standout favourite among our customers flying domestically in 2022, with 21% of all bookings heading to Belfast. Trips to London and Edinburgh rounded out at 17% each and 11% touched down in Glasgow.



They Spent How Much And Booked How Many?!
Our most expensive cruise booking this year cost a cool £38,406, which is the equivalent of approximately 50 iPhone 14s (or 67 if you're willing to settle for the iPhone 13). The cost of cruising depends on many things – the destination, the length of the trip and the stateroom booked to name a few. We'd love to know where this lucky traveller cruised to... and what the inside of their stateroom (or rather suite) looked like!
The most expensive international hotel booking we made in 2022 cost someone £50,569  and the most expensive domestic hotel booking came in at £22,771 (we're guessing it wasn't an airport hotel). In case you were wondering, our travellers hired over 939 cars in 2022 and the most northern destination we booked was Longyearbyen in Svalbard and Jan Mayen, Norway. What does one do in Longyearbyen you may ask? The northernmost town in the world, highlights are the dazzling Northern Lights in winter or the Midnight Sun in summer.
Hot tip: Locals leave their homes and cars unlocked in most places in the Arctic Circle, as the polar bear population far outweighs the human population, so keep your eyes peeled and running shoes on.






So, Who Exactly Were All These Travellers?
With so many incredible destinations visited by UK travellers in 2022, you might be wondering at this point who exactly all these globe-trotters were.
About half of our travellers (50.12%) were flying solo in 2022, visiting friends and family, or perhaps escaping them after international borders reopened. Couple travellers came in second with 35.92% of travellers looking to enjoy a trip with their significant other or a friend. Our remaining travellers were made up of family and group bookings, with 8.13% and 5.83% respectively.
Our oldest traveller was 91 years old and our youngest was zero years old. It's unknown if they flew together.
Fun fact: We booked 540 babies onto domestic and international flights in 2022. To the babies' parents, we say you're doing great. To every other passenger on those flights, hopefully you packed your noise-cancelling headphones.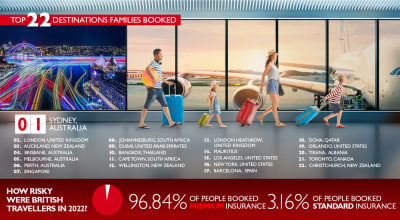 Top 22 Destinations For Travelling Families In 2022
Speaking of travelling babies, let's dive head-long into our family travel trends and take a look at the top 22 destinations chosen as the setting for precious family memory-making in 2022.
Many families were itching to dust off their passports this year – particularly those with family and loved ones abroad. Australia, New Zealand, Singapore and South Africa were among some of the most popular destinations.
And How Risky Were UK Travellers This Year?
Like they say, "If you can't afford insurance, you can't afford to travel" and after the ordeal of getting hundreds of passengers home in 2020, we couldn't agree more.
Let's face it, travel has been a little more unpredictable than we would have liked over the last few years. Between COVID-19 testing, flight cancellations and misplaced luggage, it's always good to have a plan for if things go amiss. It's also why we'd recommend booking travel with a travel agent (😉), so that if you do get into a pickle you don't have to try and get yourself out of it!
For the majority of our travellers, travel insurance was a priority when booking travel this year. Upon weighing up the risks and the costs involved, only 3% of our insurance bookings included platinum or gold cover. The remaining 97%, the overwhelming majority, booked standard cover for their travels.
Planes, Cruises And Touring: How They Travelled in 2022
Buckle up, let's look at how our UK customers chose to travel this year.



Putting The 'Flight' In Flight Centre
As much as we'd all love to travel exclusively up in First Class, it may comfort you to discover that only 1.79% of our travellers flew First Class in 2022. Approximately 76.62% of us shuffled down to Economy, crossing our fingers that the person in front of us wouldn't recline their seat all the way down and that the person behind us wouldn't be a chair-kicker. The remaining flight bookings comprised of 13.81% Business Class and 7.78% Premium Economy.
Only 0.15% of our flight bookings this year were multi-stop flights (like round the world adventures!) meaning almost all of you chose to travel to one destination over multiple in one trip. Perhaps 2023 will see months long globe-trotting trips back on the agenda.
What about baggage? Despite our efforts to show you just how easy it is to travel with carry-on only, on average, we added just over one bag per booking.



Cruising Is Back, Baby!
2022 was a big year for cruising and with so many ships to choose from (if you're not a cruiser, watch this), let's have a look at some of our cruising data.
In 2022, the average age of our cruisers was 62.2 (which shocks no one). Interestingly, 27.63% of our cruisers booked Balcony staterooms and 10.53% booked Suite or Penthouse staterooms (must be nice!), despite their higher price points, versus 9.21% booking the cheaper Interior staterooms. (Not sure what the difference is? Read our expert's guide here).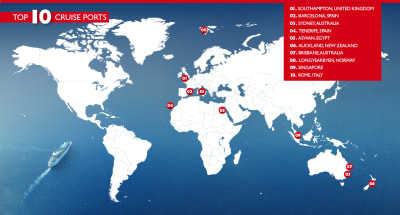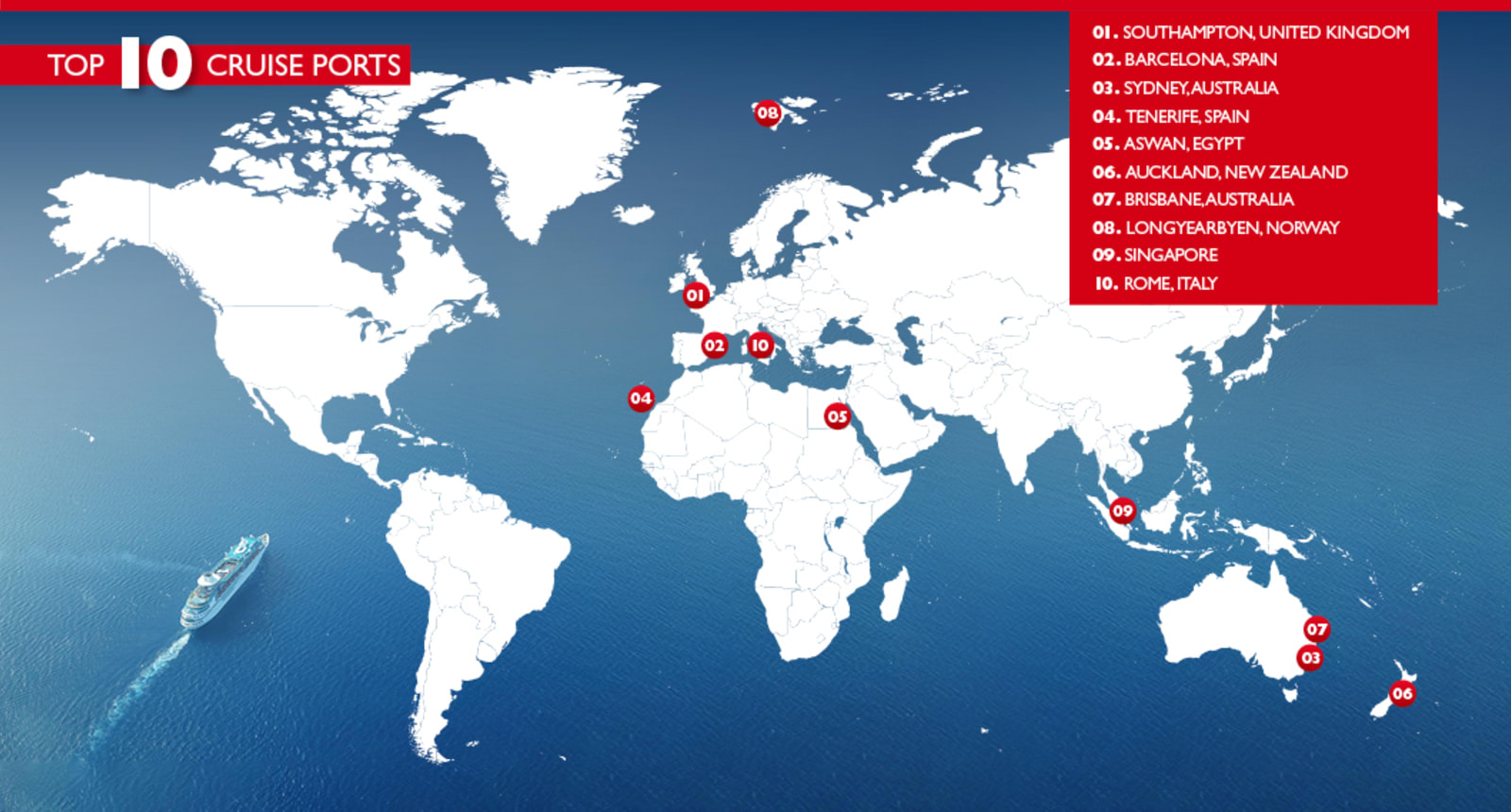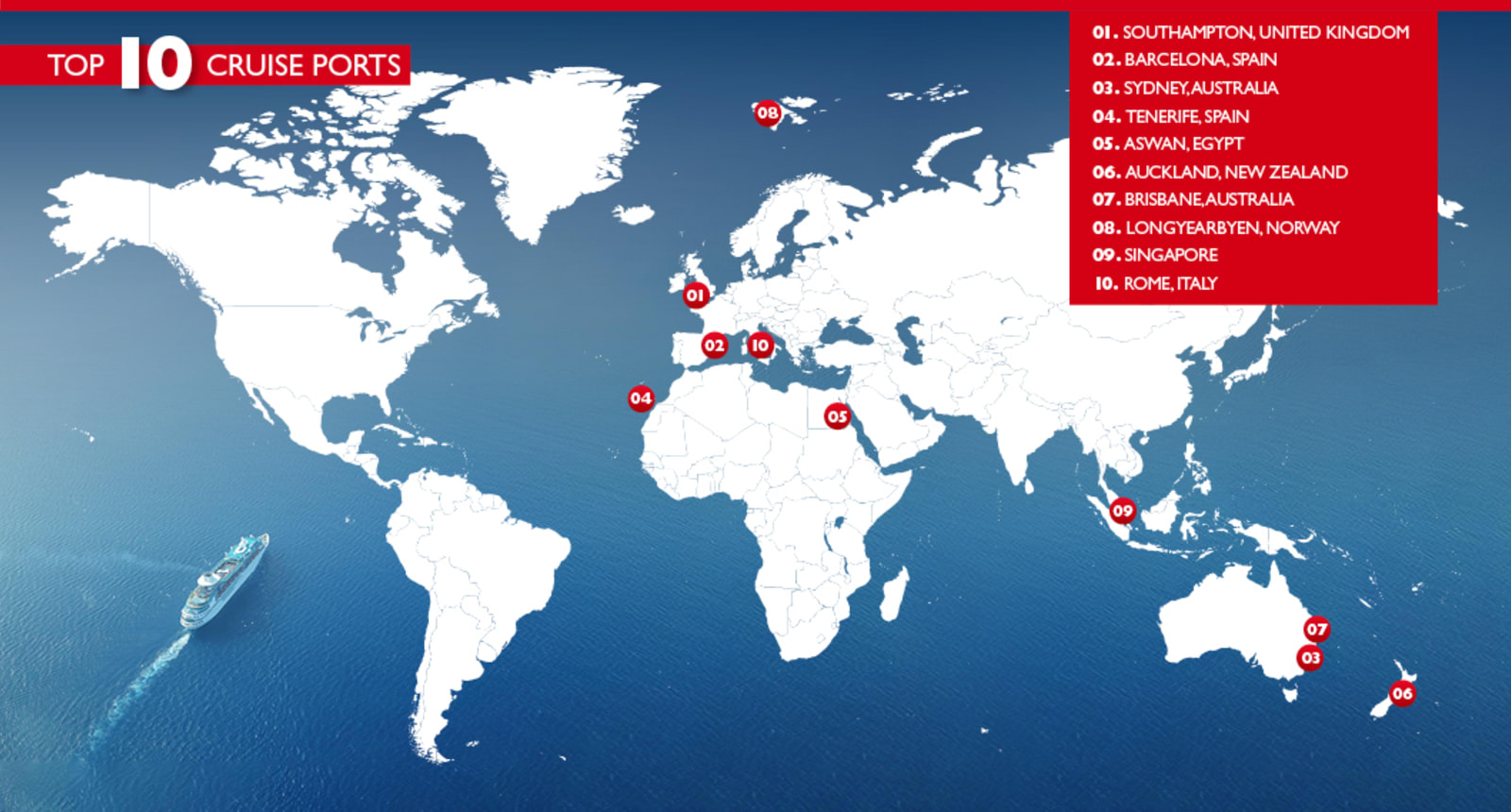 Which Port Did Our UK Customers Cruise To In 2022?
The Port of Southampton has seen cruise ships dropping gangplanks to high seas tourists since the 1840s, so it's no surprise most of our cruise customers in 2022 either started or finished their journey at the UK's busiest port. Our cruise enthusiasts also visited Barcelona, Tenerife and Sydney.
From Budget To Luxury: Where Our UK Customers Stayed In 2022
There are two kinds of travellers in this world. The ones who value 5-star luxury above all else (we all know someone who can't travel without their own pillow!) and the one who barely spends any time in their hotel at all.
Read on to discover our top hotel trends of 2022.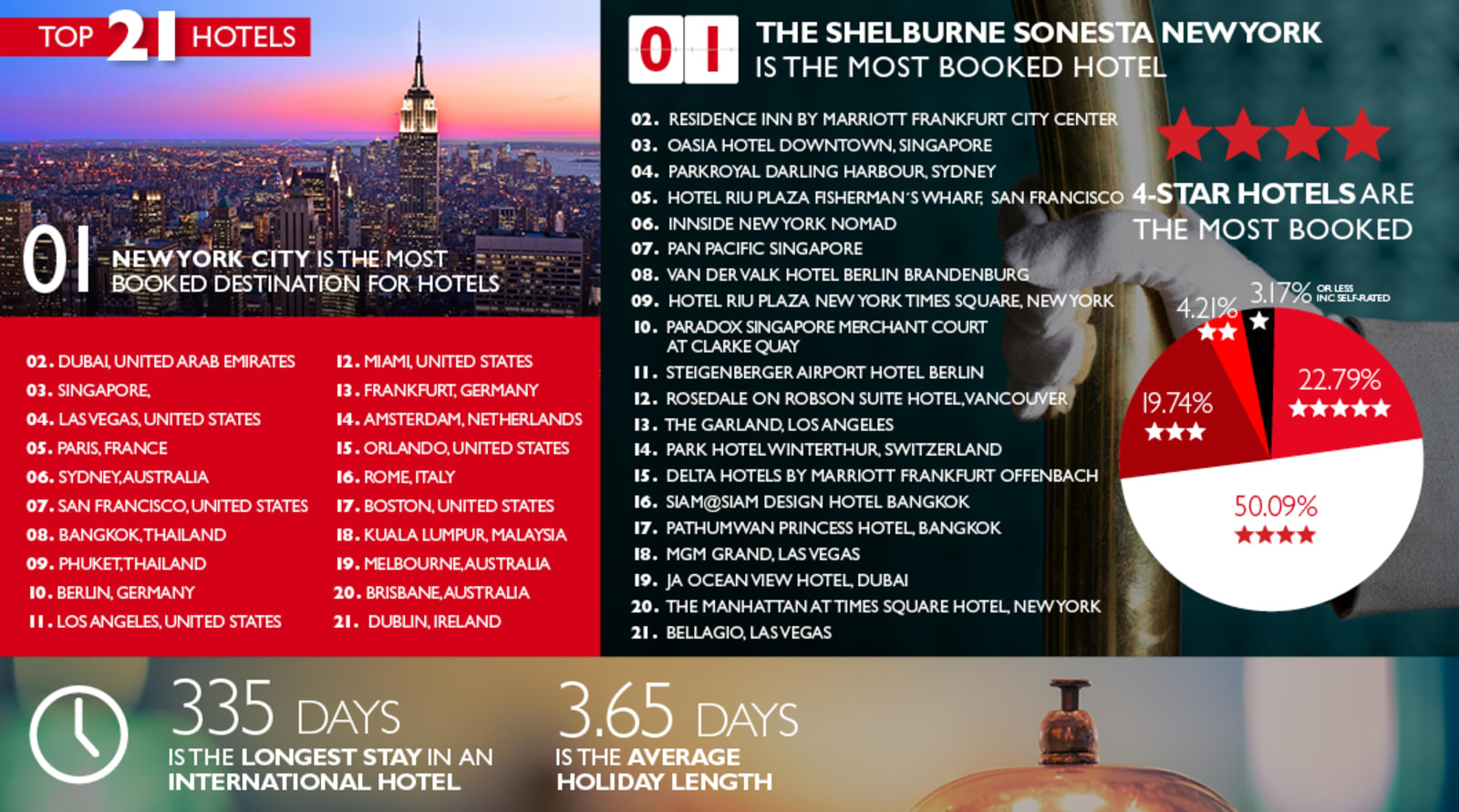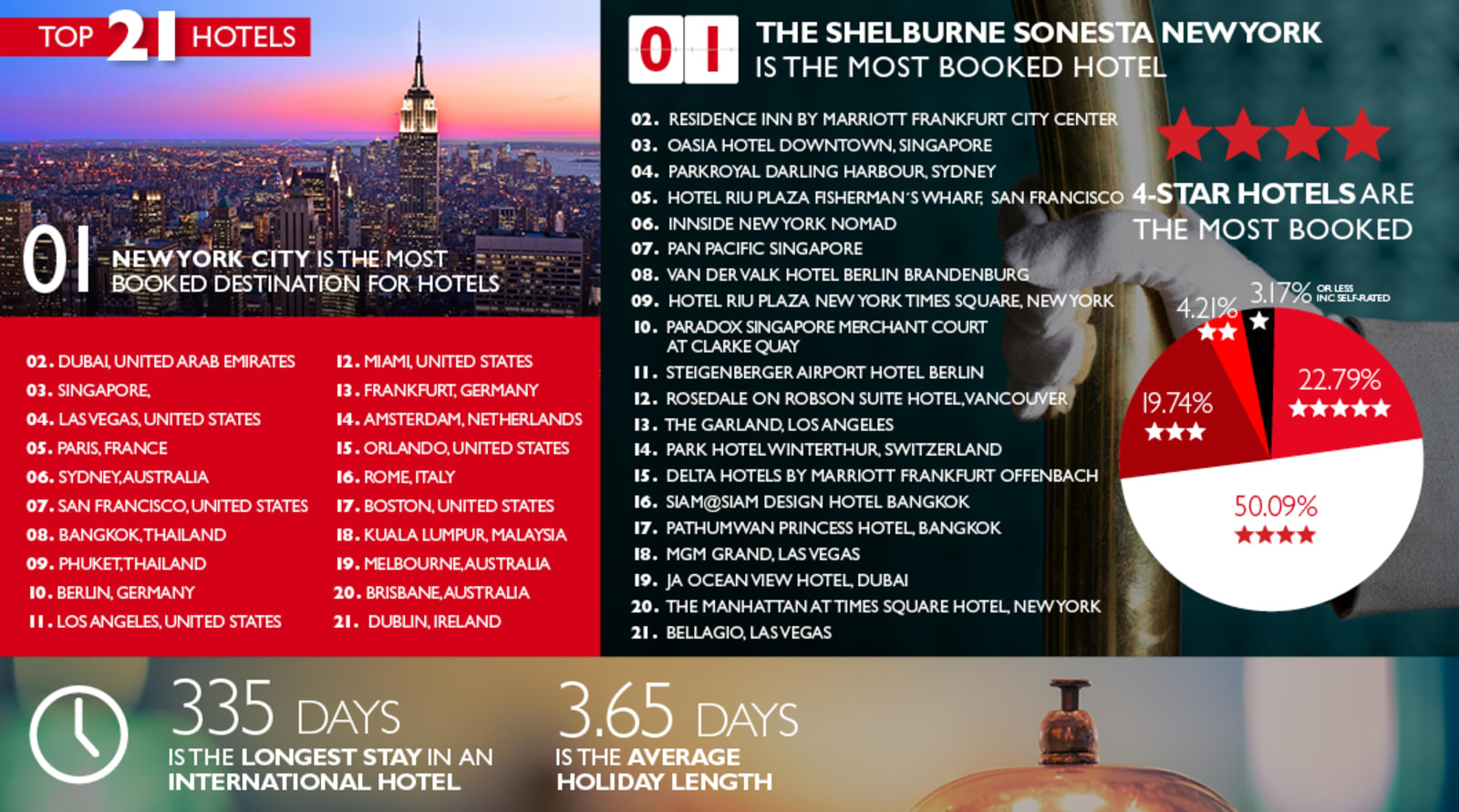 Top 22 Hotels Booked Around The World In 2022
After a careful analysis of the domestic and international hotel booking data available to us, we discovered that The Shelburne Sonesta New York was our most popular hotel for 2022! In fact, four of our top 22 hotels were also in New York, including INNSIDE New York NOMAD; Hotel Riu Plaza New York Times Square and The Manhattan at Times Square Hotel  –  possibly there were lots of "business meetings" taking place in the Big Apple this year (😉).
Top 22 Hotel Destinations Around The World In 2022
New York even edged out London in the top 22 travel destinations based on the number of hotel bookings. The race was nose-to-nose among the front-runners with New York finishing strongest with 3.97% of bookings, London 3.28%, Dubai 3.23% and Singapore with 3.14%. Further back, Paris and Las Vegas completed the top five.
The Long And Short Of It...
The average hotel booking duration this year was a very respectable 3.65 days (3.79 days for international bookings and 2.20 days, for domestic hotel stays) but we love an outlier, so let's take a look at the longest and shortest hotel bookings made in 2022.
According to our data, the longest hotel booking made overseas in 2022 was 335 days, from March 2022 to March 2023. We wonder if ANY of those branded notepads found in every hotel room were touched in that time.
And the prize for the shortest hotel booking came in at 0 days. We wonder what need someone could have had for such a short hotel stay...
When looking at our international and domestic bookings combined, around half of our travellers (50.09%) booked 4-star stays for their holidays, looking to find a balance of luxury and affordability in their home away from home. Around one in five travellers stayed in 5-star accommodation (22.79%) with a similar proportion opting for 3-star stays (19.74%).  However, when travelling overseas, the pattern changed. Of our international hotel bookings, 24.12% were 5-star in comparison to the 9.07% for domestic hotel bookings where 35.57% of travellers within the UK opted for 3-star lodgings.
So, What Did Our UK Travellers Do While On Holiday Abroad In 2022?
People travel for lots of different reasons. Let's break down the data to find out what holiday activities our travellers were excited to book this year.
When travelling internationally, the top three holiday products booked in 2022 fell into the categories of City Sights (29%), Cruises, Boats & Submarines (15%) and Attractions (12%). We hope all those travellers enjoyed their submarine excursions!
Further down the list, Multi-day Tours saw 10% of bookings and Food, Wine & Gastronomy attracted 7%.
5% of our top 22 products booked were categorised as Adventure & Action (you know those hero shots of people standing on lofty peaks they've hiked to?  Segway & Walking Tours attracted 0.75%   (though if we're honest you don't look as good on a segway as standing near the edge of Grand Canyon).
Biggest Group Holiday Bookings In 2022
Fun fact! In 2022, our biggest group booking involved sending 18 people to Newcastle – must have been quite the work conference!



Self-Reflection Time: How Flight Centre Changed In 2022
We love a little bit of end-of-year introspection so here are some of Flight Centre UK's numbers for 2022.
In exciting news, Flight Centre turned 40 years young in 2022! We re-opened 6 stores across the UK in 2022 and hired approximately 113 new agents (want to work with us? Check out our careers page!) Assuming each of our Travel Experts consumed between one and two cups of coffee per day at work this year (though we can think of a few who drunk more...!) the total number of coffees downed as they made travel dreams come true was approximately 120,000 cups! That's roughly 42,000 litres of coffee.
Bring on 2023!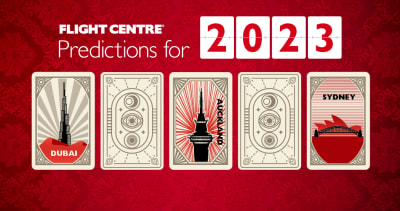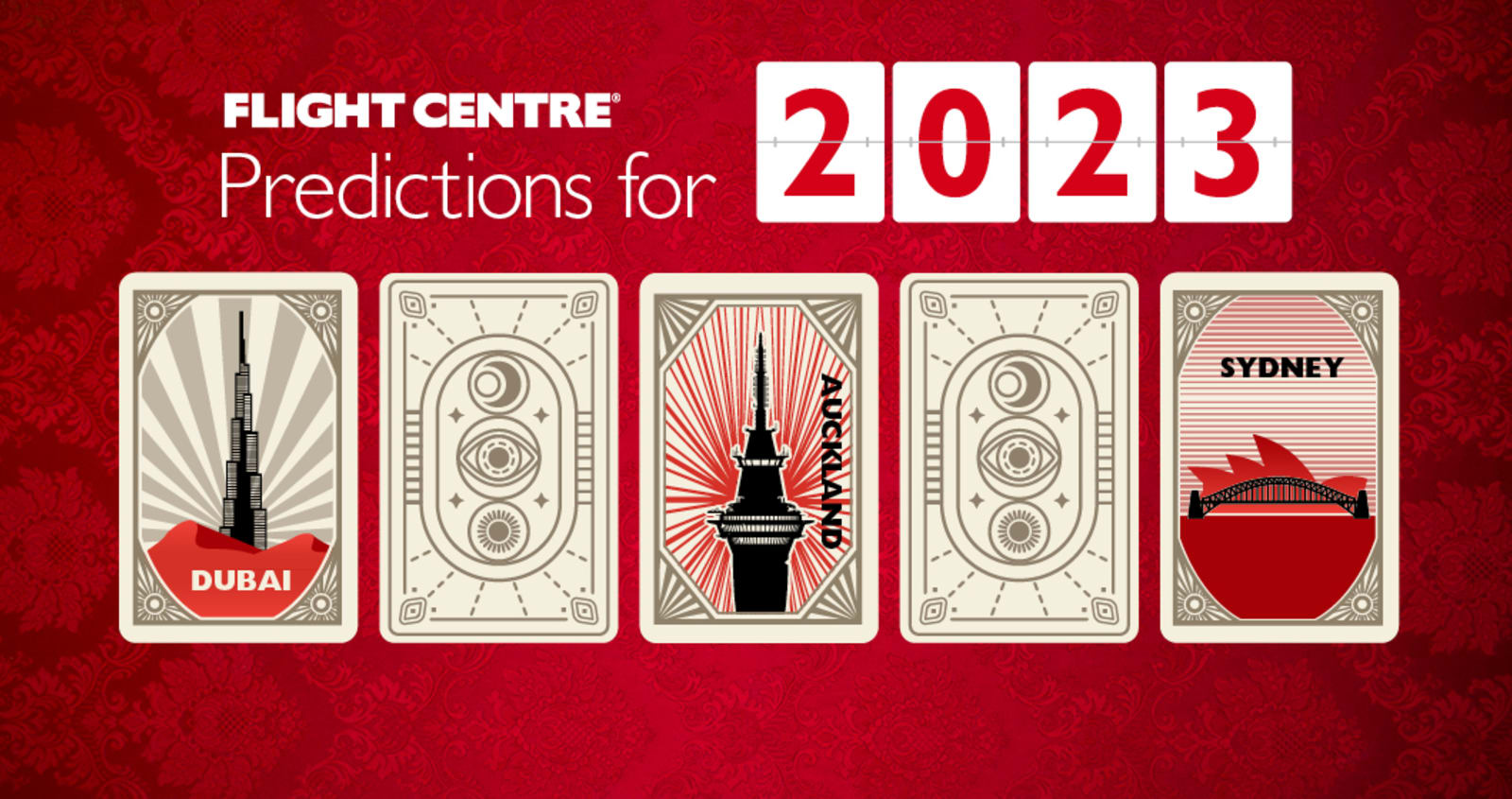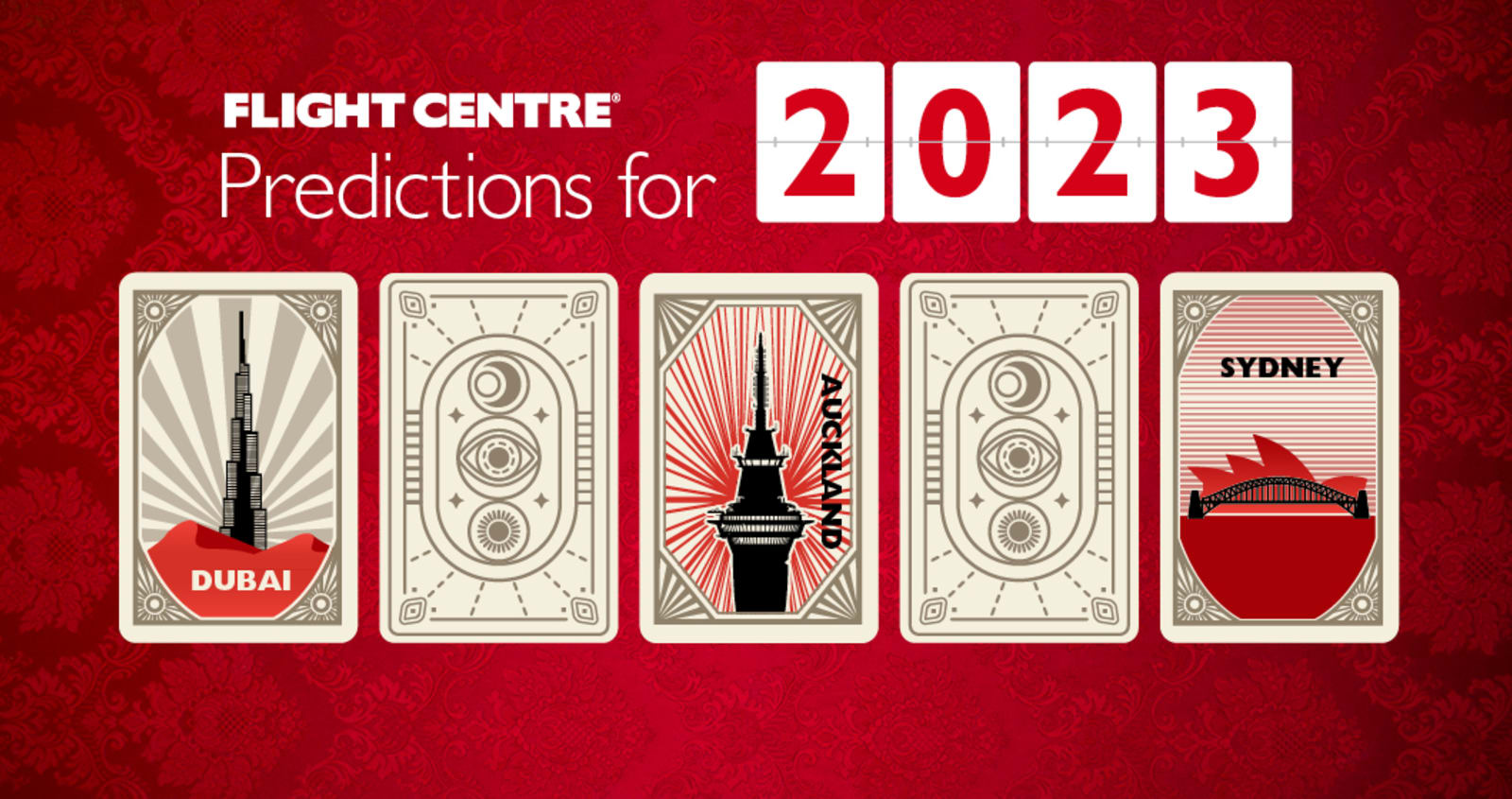 Dusting Off The Crystal Ball: Our Predictions For 2023
No one really knows what the future has in store, but this is our best guess at the top 23 destinations of 2023 based on the booking data and travel trends we've seen towards the end of 2022. We don't anticipate our customers' desire to dive down under to abate anytime soon, so we're picking Sydney will remain our number one destination into next year.
Our Predicted Top 23 Destinations For 2023
1. Sydney, Australia
2. Dubai, United Arab Emirates
3. Melbourne, Australia
4. Brisbane, Australia
5. Auckland, New Zealand
6. New York, United States
7. Singapore, Singapore
8. Bangkok, Thailand
9. Perth, Australia
10. Johannesburg, South Africa
11. Cape Town, South Africa
12. Phuket, Thailand
13. Los Angeles, United States
14. San Francisco, United States
15.  Las Vegas, United States
16. Miami, United States
17. Orlando, United States
18. Vancouver, Canada
19. Christchurch, New Zealand
20. Paris, France
21. Toronto, Canada
22. Kuala Lumpur, Malaysia
23. Adelaide, Australia
We're also picking Dubai's appeal to keep growing with our tarot cards also pointing towards South Africa, South-East Asia and the USA as popular destinations.  
To Wrap Up...
And that's Flight Centre UK's Year in Travel for 2022! We hope you found it interesting, but we also hope it inspires you to travel near and far in 2023.
Methodology
This report is based on the booking data we had available to us and covers a time period of 1 December 2021 to 30 November 2022. We're confident in the quality of our data and every effort has been made to ensure and preserve its accuracy.