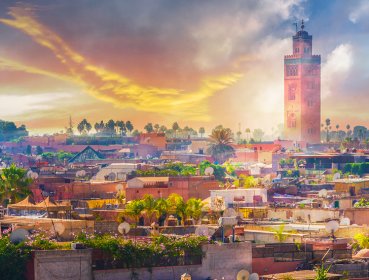 The Moroccan city of Marrakesh has exotic written all over it. Pack your camera and get lost in a world of flavour, colour and fragrance. 
Where to stay in Marrakesh?
When in Marrakesh, we recommend booking into a traditional riad (a home converted into a hotel). It's an utterly unique experience, but naturally there are other accommodation options to choose from. Here are some of our favourites:
Many travellers choose the peace and tranquillity of a riad stay when they are in Marrakesh. There are more than 500 riads dotted throughout the city maze. While some may not look like much from the outside, open the carved wooden padlocks and you'll be greeted by a courtyard oasis with gorgeous mosaic tiles, palm-fringed swimming pools and traditional hammams (steam baths). Our fav is the Riad Jardin Secret, a haven of authenticity and quirkiness with its pink rooftop and an artist residency.

Then there's the Le Rihani, a magical family-style riad that has the feel of a traditional Moroccan experience, and the service of a five-star boutique hotel. With its picturesque courtyard and elegantly decorated rooms, pool and rooftop terrace, it's the perfect sanctuary in the city. Don't miss out on their fabulous spa treatments.
---
Want to splurge on your accommodation? The Royal Mansour is considered one of the best luxury hotels in Marrakesh. It was once owned by the King of Morocco and, as you can imagine, no expense was spared in the design and décor. Some of Morocco's leading artisans were involved in the project. It is conveniently situated a few steps away from the hubbub of the Jemaa el-Fina marketplace,
---
Things to do in Marrakesh
We were not kidding around when we said this is a city of contrasts. One minute you can be caught up in a wave of tourists and locals in the confusion of the busy, winding alleyways, and the next you could be transported to a quiet little café oasis tucked into a courtyard or peaceful garden. There is a little bit of everything for everyone here.
Jardin Majorelle botanical garden
By far one of the main attractions in the city is a visit to the exotic Jardin Majorelle – a 40-year-long botanical garden project of French artist Jacques Majorelle set on the edge of the Medina. Featuring a bright-blue building housing a museum, an enormous collection of cacti and exotic plants, it has become a hugely popular tourist attraction. Get there early so you can find a table at the café or a quiet spot to take in all its quirky beauty.
---
For something a little different, visit the Anima Botanical Gardens to view its wacky and rather famous artworks against the backdrop of the High Atlas Mountains. This isn't your average garden − it's a full-on art experience created by artist André Heller.
---
The Agafay Desert is a very easy day trip to escape the Marrakesh crowds. Hop on a camel, join an ARV desert excursion over the sweeping sand dunes or go mountain climbing. You can also join a village tour, or spend a night out in a tent around a fire under the stars and enjoy, just for a stolen moment, the sheer simplicity of life in the desert.
---
Immerse yourself in the experience and traditions of Berber villages. Various companies will have packaged day trips or day tours out into the villages of Imlil and Aroumd that include mule rides through the foothills, expansive views over Lake Takerkoust and a traditional tagine lunch at a local auberge (inn).
---
Living up to its name of "brilliance", the Bahia Palace has more than 20 acres of gorgeously tiled courtyards, ornate fountains and perfectly preserved 19th century Islamic and Moroccan architecture. It has been carefully restored over the years and is a beautiful place to visit that offers a glimpse into the history of Marrakesh and Moroccan life.
---
Be sure to visit the prominent grand Koutoubia Mosque that dominates the Marrakesh city centre. The stunning detail of the tile motifs and carved arches of the Dar El Bacha museum and the Saadian Tombs are also a must-see. Wander the Medina and make sure you find a good rooftop spot to sip some mint tea as the lights of the Jemaa el-Fnaa turn on at dusk and the evening call to prayer rings out. After a day of sightseeing, treat yourself in the traditional way with a glorious hammam and a famous argon oil massage or scrub of savon noir (black soap).
---
You're going to be eating a lot of tagine in Marrakesh, so why not learn how to make your own at a cooking class? Spend the morning with a guide shopping for your ingredients in the Place des Epices (spice souk) and then cook up a flavourful storm with a local chef. The traditional cooking classes hosted by Amal, a non-profit association, are run by local disadvantaged women, so you get to cook for a good cause.
---
Marrakesh food and drink
Eating out in Marrakesh is not just for fuel to keep you going – it's a whole experience in itself. Moroccan dishes are exotic, flavourful and sometimes a little overwhelming for the regular palate, but you'll also find familiar fare such as barbequed chicken and fries.
At the heart of the Medina is the expansive and busy Jemaa el-Fnaa marketplace. This city square is full of snake charmers, women touting henna tattoos, monkeys on leads and street performers all vying for your attention and cash. At dusk, the streetlights go on, the stalls jammed into the centre of the square start up their grills and gas bottles en masse. Find a spot you like among the rickety benches and plastic tables to have a bite of barbecued chicken, salads and fries. And, of course, some of the more traditional fare like snail soup (babbouche), camel spleen (tehal), and a full range of offal – if you're feeling brave.

While out and about, grab some Moroccan-style sesame cookies, called chebakia, or the deep-fried deliciousness of ma'qooda (potato fritters dipped in egg) that different food stalls make in their own flavourful way. Foodies in the know head to Mechoui Alley for the traditional lamb and sheep head (lahem ras) cooked in clay ovens over a wood fire. Yes, we said sheep's head. Don't knock it till you try it as this is as authentic as it gets.

Make sure you bring along a reusable water bottle as it's not a good idea to drink from the taps if you are not used to it. Note that Morocco is a Muslim country – so not many places besides certain hotel restaurants and bars will be serving alcohol.
---
Throughout the Medina there are rooftop terraces that become your dining room where you can while away the evening under the stars. Le Foundouk's famous views have featured on many television programmes over the years. Make a reservation before you go as it's hugely popular for fine dining, as well as for live music.

If you prefer a more modern take on the rooftop experience, swing past either Kabana or M Rooftop, where they serve up some delicious traditional Moroccan flavours with a modern twist. At the quirky El Fenn restaurant you can watch the sun set behind the famous Koutoubia Mosque and the High Atlas Mountain range beyond. You might end up coming back more than once as no two nights on the terrace are the same, coupled with an experimental menu that incorporates all the spices and flavours of the city. This is the perfect place for a date-night.
---
A refreshing orange juice or a sweet mint tea with a plate of crispy meat or cheese briouat (what looks like a samosa or a springroll) at a pavement café while you watch the world go by is quintessentially Moroccan.

Mandala Society's brunch menu is healthy and fair trade while Café Littéraire at the Dar Cherifa in the very centre of the city oozes charm and is surrounded by art, sculptures and evening cultural performances. The Henna Art café is a good spot for a quick bite of vegan or fusion food followed by a henna tattoo perhaps.
---
Marrakesh through your eyes
Where to shop in Marrakesh?
Shopping might be one of the main reasons you choose to visit Marrakesh, because there is nothing quite like it anywhere else in the world.
You may have heard stories of the infamous pickpockets, so be sure to use basic street smarts to avoid having to part with your valuables. Shopping in the souk, or market, is going to be quite an experience, so hold onto your hat! And wallet. And eardrums. Souk Semmarine is the biggest and most popular when it comes to hunting down little trinkets and goods. The alleyways are jam-packed with spices, colourful leather sandals, decorative pots, rugs, and vessels of every size, shape and colour you can imagine.

Haggling or price bargaining is part of Moroccan culture when you shop in Marrakesh. Everything can, and probably will be, haggled over. Keep your cool and lean into this incredibly unique experience. And don't mind the shouting. We promise no one is angry, it's just how things are done here. A good tip is to try not to touch or linger too long around anything you don't really want. It's considered very rude to back out once the haggling ball is rolling. When you find the item you can't leave without – don't be shy and dive in!
---
Marrakesh has something for mall rats too. In fact, mall rats will be spoilt for choice but some of our picks are Medina Mall Marrakech with 34 stores and offering an arts and culture experience to boot, and the Menara Mall which is one of the largest covering 50,000 square metres, boasting 90 shops with international brands, jewellery, perfumes and even a musical fountain and an indoor park for kids.
---
An original handmade rug is the ultimate item to buy in Marrakesh. While there are many shops and a huge selection, the Les Nomades de Marrakech is one of the largest. Here too haggling is tradition so please note all of the above. Take your time and see as many rugs as you can before committing to one.
---
When is the best time to travel to Marrakesh?
The hot and dry subtropical semi-desert climate of Marrakesh means very hot summers and cold winters. July is the hottest month of the year with an average temperature of 36.8°C (98.2°F). The weather cools over the spring months of March to May and in autumn from September to November. When you're trying to decide the time of year to visit Marrakesh, keep in mind that the temperatures outside spring and autumn can swing between melting during the day to freezing at night. It is a country of contrasts, after all. The coldest month is January, with the average temperature fluctuating between 5.9°C (42.6°F) and 18.4°C (65.1°F).
Be aware of the holy time of Ramadan to avoid missing out on some sites, activities and restaurants that are closed to travellers during this time. Mid-January to February is best if you plan to visit the snow-covered High Atlas Mountains, (two to four hours away depending on your mode of transport). Fortunately, with relatively little to no rainfall (average of 28mm per year and mainly from October to May) you won't have to pack a raincoat.
How to get around Marrakesh
 In a city this compact, the best kind of sightseeing is done on foot, but just be cautious of the traffic, which can include donkeys and carts! If you prefect four wheels to two feet, there are two kinds of taxis you can use for getting around the city. Petit taxis are pretty much any car that has a taxi sign on it, all in varying stages of repair, but they are by far the quickest and easiest to flag down. Grands taxis are, as the name means in French, big, and easily spotted beige MPVs (multipurpose vehicles). They operate on a fixed rate and fixed routes from the train station to the outskirts of the Medina.
E-hailing apps, such as Uber are not available but how about a ride in a horse-drawn carriage for something really different? You can find them at Place de Foucauld next to Djemaa El Fna and in Jardin Majorelle.
Want to opt for public transport? The local transport service in Marrakesh is called Alsa and operates close to 2 000 buses. 
The current requirements for travelling to Marrakesh
Talk to a Marrakesh Travel Expert
Our dedicated team of experts know all the ins and outs of travel and love sharing their knowledge. If you're looking for help planning specific sections of your trip or full itinerary planning, our team is ready and waiting to help create your perfect holiday.
Enquire now