Straddling Europe and Asia, Istanbul has a proud history of being at the cross roads of civilisation. With our cheap flights to Istanbul you can explore every inch of this fascinating city.
We don't have any products online right now but one of our consultants may be able to help you. Enquire now to get access to great deals all over the world.
At Flight Centre, our range of flights from the UK to Istanbul depart from London Heathrow and Newcastle and are available with British Airways.
Istanbul Airport (IST)
Flights from the UK to Istanbul will disembark at Istanbul Ataturk Airport. Istanbul Ataturk Airport (IST) is one of two international airports in Istanbul. The other port, Sabiha Gökçen International Airport is much newer, yet Istanbul Ataturk remains the busiest and largest of the two. The airport takes its name from Istanbul's first president, Mustafa Kemal Atatürk, and is a hub for Turkish Airlines.
Once the heart of the great Byzantine, late Roman and more recently the Ottoman empires, the significant strategic location of Istanbul has secured its place in history. Today the legacy of these important cultures remains scattered throughout modern Istanbul.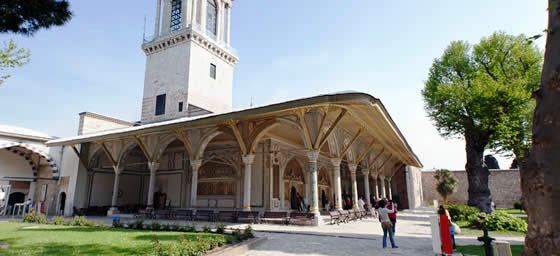 Topkapı Palace
From the Ottoman period, consider exploring the impressive Topkapı Palace and the incredibly beautiful Sultanahmet Mosque, which is more commonly known as the Blue Mosque because of its distinctive tiling. The Dolmabahçe Palace is a glittering example of late Ottoman architecture. The iconic Hagia Sophia was initially constructed by the Byzantines with the minarets added later by the Ottomans. The Maiden's Tower was built by the Greeks in 411BCE as an ancient lighthouse. The Roman legacy remains with the layout of the Hippodrome, sections of Valens Aqueduct, which was used to deliver water to the city and Column of Constantine.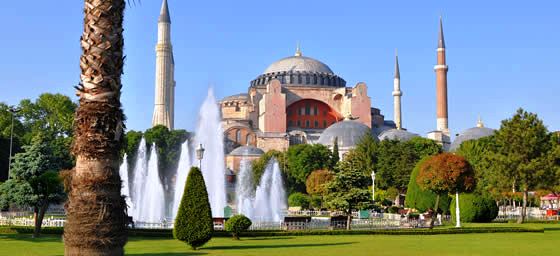 Hagia Sophia
While in Istanbul, it would be remiss not to indulge in an invigorating Turkish bath at a traditional hamam. A cruise up the Bosphorus is also a great way to spend a day. Departing from central Turkey, enthusiasts take in the sights along this historically important waterway to the mouth of the Black Sea. Most boats stop at Yoros Kalesi, a fortification constructed to protect the city, before returning to Istanbul. With our cheap flights to Turkey, you can explore all these sights and more throughout this fascinating city.
For more information on Istanbul holidays check out our Istanbul travel guide. Looking for more than just a flight? Ask our consultants today about our latest Istanbul holiday packages including flights, accommodation, and often other extras like tours or car hire.