Istanbul is a throbbing, chaotic gateway to Turkey for many travellers. Outside this two continent-straddling wonder, there's an array of ruins, beaches, mountains and hearty local welcomes waiting for the curious traveller.
We don't have any products online right now but one of our consultants may be able to help you. Enquire now to get access to great deals all over the world.
At Flight Centre, our range of flights from the UK to Turkey depart from London Heathrow and Newcastle and disembark in Istanbul. We recommend flying with British Airways or KLM.
Turkey Airports:
Flights from the UK to Turkey will disembark at Istanbul Ataturk Airport (IST). Istanbul Ataturk Airport is one of two international airports in Istanbul. The other port, Sabiha Gökçen International Airport, is much newer yet Istanbul Ataturk remains the busiest and largest of the two. The airport takes its name from Istanbul's first president, Mustafa Kemal Atatürk, and is a hub for Turkish Airlines.
Modern-day Turkey only came into being in 1923, formed from the remnants of the Ottoman Empire, but history within its current borders sweeps widely. The Hittites were here. Istanbul was formerly known as 'Byzantium' and it became the capital of the Roman Empire once that honour was removed from Rome. This is when Byzantine Empire, with its churches and influence on art and music, began to flourish. It survived for more than 1000 years until the Ottoman Turks conquered and renamed the city in 1453.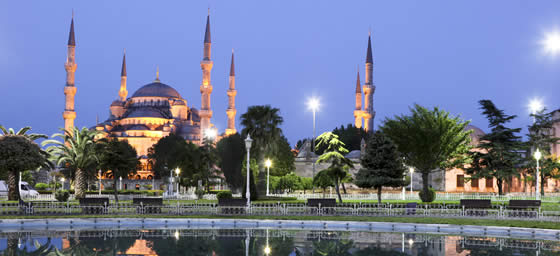 Blue Mosque, Istanbul
Once you look beyond the chaos of Istanbul and its bazaars and touts, you'll see Turkey is remarkably and geographically diverse. So you'll find Aegean beaches, forested snowy mountains and steppe landscapes (with moon-like Cappadocia) within its borders. So, looking for a quick guide to hit the ground running once you arrive? Here's a few fantastic spots to see once you've enjoyed Istanbul:
Bodrum – a Southern Aegean playground for holiday makers mixing trendy nightlife and characterful villages with Roman ruins.
Urfa – a city where Kurdish, Arabic and Persian cultures meet amid beautiful architecture.
Ephesus – Roman city ruins on Turkey's west coast.
Ölüdeniz – a town near Fethiye known for its pristine waterway, the Blue Lagoon.
Gallipoli – where Anzac legend began in 1915.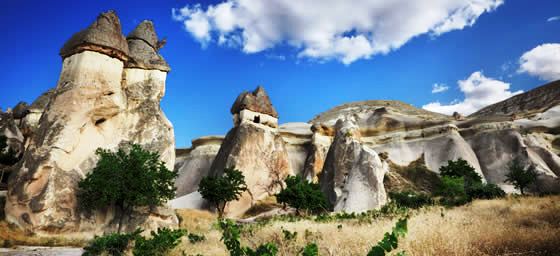 Cappadocia
Turkish delight? Try the real deal. Check out our flights to Turkey or contact Flight Centre for tips on making the most of your Turkish adventure.