Spectacularly situated on the banks of Lake Wakatipu, Queenstown represents a beautiful New Zealand town idyllically located amongst stunning scenery.
We don't have any products online right now but one of our consultants may be able to help you. Enquire now to get access to great deals all over the world.
Airlines that fly from the UK to Queenstown
Queenstown Airport (ZQN)
Flights from the UK to Queenstown will involve a number of stopovers depening on the airline, and disembark at Queenstown Airport. Queenstown Airport (ZQN) is located in Frankton, New Zealand, and is a gateway to the popular resort town of Queenstown. Both international and domestic flights are serviced through the one terminal building.
Queenstown is the principle holiday resort town in the province of Otago, in the heart of New Zealand's South Island. After establishing a settlement at Bluff on the south coast in 1823, it was the gold rush of the 1860s that delivered prosperity to Queenstown. Gold was discovered in 1862 in Arrow River, near modern day Queenstown. Legend has it, that a local gold digger gave the town its name by saying the location was fit for Queen Victoria.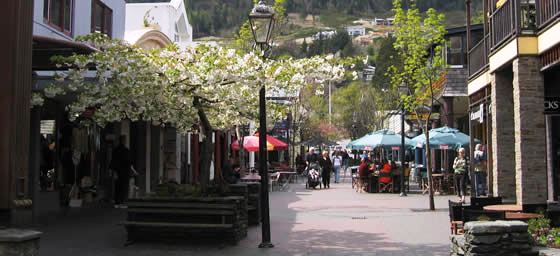 Shops & Cafes Line the Streets of Queenstown
Today the city provides the perfect base for the numerous activities offered in the surrounding countryside. As a result of its popularity, Queenstown accommodation is plentiful, ranging from hotels, lodges, luxury retreats and ski resorts. In winter, skiing and snowboarding is popular on nearby Coronet Peak and the Remarkables Mountain Range. Needless to say, in summer, these mountain peaks present picturesque hiking opportunities to those who love 'tramping,' as the kiwis call it. Horseback riding is another popular pursuit in summer to appreciate the natural beauty.
If adrenaline activities are your thing then Queenstown tours are sure to satisfy. Consider taking a jet boat trip on the surrounding waterways that perform 360 degree pirouettes in the water or take a bungy jump on the nearby Kawarau Bridge. There is also white water rafting, mountaineering and parasailing on offer. For those who would prefer something less hectic, take a scenic flight over the region to appreciate its full beauty.
For more information on Queenstown holidays check out our Queenstown travel guide.
Flights to New Zealand
New Zealand Holidays