Venice – the world's favourite sinking pedestrian city with all its gritty charm and historical preening, is a show of its own. And you're sure to love what's playing, whenever you go.
At Flight Centre, our range of flights from the UK to Vence are available from London Gatwick, flying with British Airways.
Venice Airport (VCE)
Flights from the UK to Venice will disembark at Venice Marco Polo Airport.Venice Marco Polo Airport (VCE) is an Italian airport located just north of Venice. Venice Marco Polo is the bigger of the two airports servicing Venice, and takes its name from the Venetian explorer Marco Polo.
Venice looks as it did centuries ago – an engineering marvel with a high concentration of masterpieces and verve. There may be more pigeons squabbling on the cobblestone squares, and there are certainly more tourists, but getting lost among the 118 islands in the central district called 'Sestieri', is likely and thankfully enjoyable. Your transportation options include foot, vaporetti (water buses), gondolas and water taxis.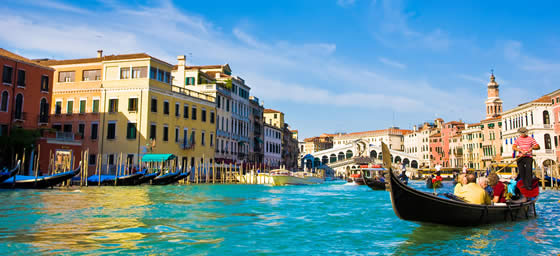 Venetian Gondolas on the Grand Canal
Highly-visited sites (with good reason) include:
Doge's Palace (Palazzo Ducale) on San Marco Square – the seat of power for the Venetian Republic for almost 1000 years, grab a guided tour called Secret Itinerary to see Casanova's jail.
Saint Mark's Basilica (Basilica di San Marco) – adjacent to the Doge's Palace, this is a stunning example of Byzantine architecture and was formerly the chapel of the Doge.
Rialto Bridge (Ponte di Rialto) – one of the main bridges over the Grand Canal, more than 800 years old.
Venetian Lagoon islands of Murano and Burano – Burano sports pretty pastel coloured houses and a lace museum; Murano is known for its beautiful glass.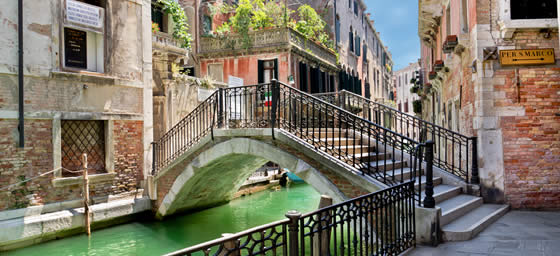 Quaint Venetian Architecture
Grab a flight to Venice if you're set to go or if you'd like to talk more, give Flight Centre a call on 0800 587 0058. For more information on Venice holidays check out our Venice travel guide.