Italy is the land that invented La Dolce Vita, or the sweet life. Fly to Italy and you can wander the Colosseum in Rome, cruise the canals of Venice, sit down to a plate of perfecto pizza and reignite your zest for the finer things in life.
Choose an Option to Start Tailor-Making Your Holiday
Flight Centre's Travel Consultants really know their stuff when it comes to creating bespoke holiday itineraries. Get in touch below, and let us tailor-make it easy
At Flight Centre, our flights from the UK to Italy are available with British Airways, departing from London Heathrow and London Gatwick.
International Airports in Italy:
Italy is a country where history and culture run wild. More than 40 World Heritage sites are dotted around Italy, from the historic city of Verona to the Leaning Tower of Pisa. Art is also a vital part of Italy's identity with works by famous artists including Leonardo Da Vinci and Michelangelo Buonarroti lining the galleries and ceilings of the country. In addition to history and art, food in Italy is celebrated - and for good reason. You'll never eat a better pizza, slurp a sweeter gelato or sip a stronger espresso than in Italy.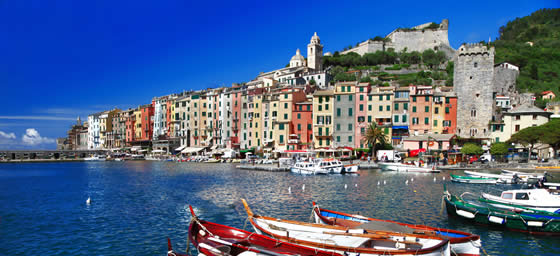 Cinque Terre
Most international flights will disembark in Rome, the country's capital. Once the centrepiece of the great Roman Empire, Rome is now a pseudo museum city where tourists flock to wander the ancient Colosseum, walk the Spanish steps and flick a coin into the Trevi Fountain. Rome is also home to the Vatican, a major pilgrimage destination for Catholics worldwide. After days spent walking through cobble stone streets and fascinating museums, take a break at one of the city's numerous cafes or rest and revive at your Italy accommodation.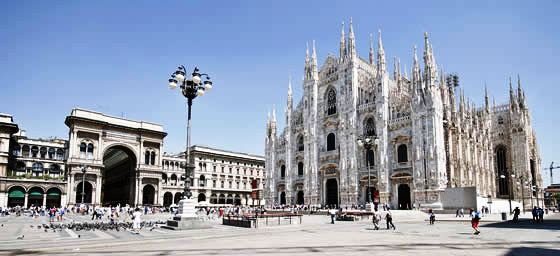 Piazza del Duomo, Milan
Milan is the second largest city in Italy and widely considered to be the most stylish in Europe. This is the home of Italian fashion, striking architecture and Italy's stock exchange. Though its roots are firmly in the industrial, Milan is a city worthy of your time, particularly if you like shopping. Fashion flagship boutiques, designer furniture and avant garde home wares all do a roaring trade in Milan so shopaholics would be wise to up their credit limit. On the other spectrum, football is Milan's other beating heart with the town's teams Inter and AC Milan inducing passionate cheers and debate whenever they play.
Modernisation and innovation may have infiltrated Rome and Milan, but Venice, a city in Italy's northeast, remains relatively untouched by time. With a maze of canals and buildings bursting with character, Venice is a charming city beloved by tourists. It is here you can cruise the Grand Canal via a gondola, see the impressive Saint Mark's Basilica and shop the Rialto markets.
For flights to Italy call Flight Centre on 0800 587 0058. For more holiday tips, see our Italian travel guide.