Unified and forward-looking, Berlin is now a cultural capital of cool. Its museums, galleries, cafes and nightlife are big drawcards for creatives and urbanites who enjoy its tollerant and experimental atmosphere.
Chat to Us About Tailor-Making Your Trip!
Flight Centre's Travel Consultants really know their stuff when it comes to creating bespoke itineraries. Get in touch below, and let us tailor-make it easy
Top Berlin Airfares & Flight Deals
What airlines fly to Berlin?
Berlin Airport (TXL)
Flights from Singapore to Berlin will disembark at Berlin Tegel Airport. Berlin Tegel Airport (TXL) is Berlin's main international airport and a major hub for international travel to Germany. Also known as Otto Lilienthal, the airport has four passenger terminals and is a hub for Lufthansa.
Relatively young by European standards, Berlin was founded in the early 13th century. Today, in addition to being a new-wave cultural icon, Berlin is a city that absorbs change. Come when you've time to wander, talk and dance. The architecture, restaurants, theatres, parks – and people – have their own idiosyncracies across the city's 6 districts: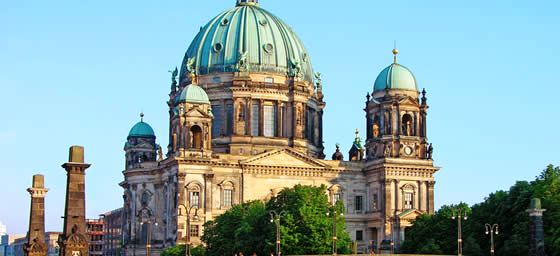 Berlin Cathedral
Mitte – the heart of the former East Berlin, the area is rife with sites of historic interest, cafes, galleries and clubs.
City West – key attractions include the carefully restored Charlottenburg Palace, Olympic Stadium and a main luxury goods shopping street of the former West Berlin.
East Central – a once working class, industrial area, this newly-gentrified slice of Berlin is a trendy arts, media and fashion hub that also attracts students; be sure to visit East Side Gallery, made from a 1 mile section of the Berlin Wall.
North – the borough of Spandau sits at the confluence of the Havel and Spree Rivers and this, along with Reinickendorf, houses attractive old towns.
East – if you're interested in East German history, the Stasi Prison within the Berlin-Hohenschönhausen Memorial is worth investigating.
South – this region of Berlin comprises the wealthiest and poorest areas: Zehlendorf and Neukölln respectively, alongside the forest-fringed Müggelsee, the city's largest lake.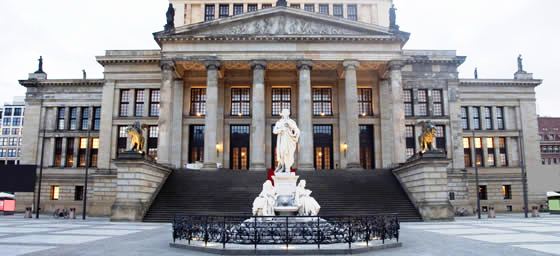 The Konzerthaus or Concert Hall, Gendarmenmarkt Square
So, if you're not going now, when will you see Berlin? Grab a flight to Berlin if you're set to go or ask about out the Berlin holiday packages to keep your plans simple. For more information on Berlin holidays check out our Berlin travel guide.
More Information about Berlin
What is the weather like in Berlin?
The average maximum temperature for Berlin ranges between 3 and 24 degrees. The hottest month is July with an average temperature of 19 degrees and the coldest month is January with an average temperature of 1 degrees.
How much does it rain in Berlin? What is the driest/rainiest month in Berlin?
The average annual rainfall for Berlin, Germany, is 570mm of precipitation.
The wettest month with the highest rainfall is June, with 70mm of precipitation. The driest month with the lowest rainfall is February, with 34mm of precipitation.
Hottest Month
August
(25°C)
Coldest Month
January
(10°C)
Avg. Max. Temperature
14-29°C
Driest Month
February
(34mm)
Wettest Month
June
(70mm)
Avg. Annual Rainfall
570mm