Oktoberfest is Europe's most-visited festival and is a gateway for broader exploration of this financial powerhouse with a spread of stunningly romantic landscapes and innovative people who look well beyond their 20th-century history.
Chat to Us About Tailor-Making Your Trip!
Flight Centre's Travel Consultants really know their stuff when it comes to creating bespoke itineraries. Get in touch below, and let us tailor-make it easy
Top Germany Airfares & Flight Deals
At Flight Centre, our flights from the UK to Germany will disembark at either Frankfurt or Berlin. Our recommended airline for these flights is British Airways.
International Airports in Germany:
What airlines fly to Germany?
Known for high-tech engineering, creative fashion and cultural verve, fairytale castles and brothers Grimm landscapes to get lost in, Germany is a little bewitching. You can find gemütlichkeit – coziness – in the thick of its cities and its Alpine farmhouses. The regions still have a strong character and pride. Millions decend on Munich each year for Oktoberfest and Berlin remains an absorbing capital that shifts and changes with a mindfulness of history and a push to the future. Frankfurt is a highrise host to the world's largest book, consumer goods and musical instrument fairs.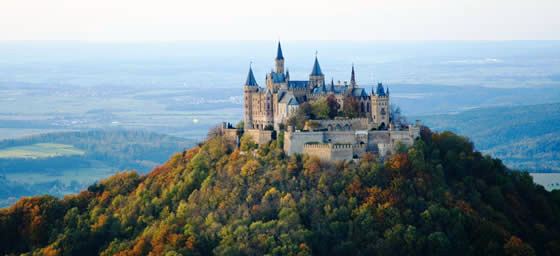 Castle Hohenzollern
The country has at least 37 sites (including buildings, whole towns and landscapes) on the UNESCO World Heritage List. Here's a quick-start rough guide to the regions of Germany's 16-state republic:
Northern Germany – here you'll find the popular North Sea and Baltic Sea holiday spots set amid windswept hills.
Western Germany – come and sample the fruits of wine country labours and admire the Rhine and Moselle Valleys.
Central Germany – this is the country's green heart, with historical cities and the Thuringian Forest.
Eastern Germany – Berlin is the drawcard here, in all its multi-faceted glory.
Southern Germany – explore the Alps, Black Forest and toast with new friends at Oktoberfest.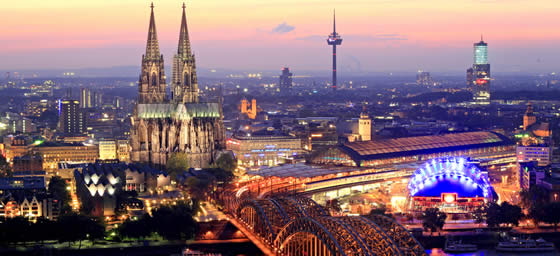 City of Cologne
Check out our Germany travel guide for more holiday tips and ideas. Want to book a flight or holiday package? Call us today at 0208 127 4273.
More Information about Germany
How long is the flight to Germany?
Flights from the UK to Germany generally disembark in Berlin, Munich and Frankfurt where the country's main international airports are based.
The short-haul flight to Germany takes under 2 hours non-stop.
The total flight duration from London to Berlin is 1 hour and 45 minutes, from London to Munich is 1 hour and 55 minutes and from London to Frankfurt is 2 hours and 15 minutes.