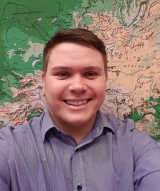 At Euston Road we pride ourselves on delivering exceptional service and going above and beyond for all our customers. Between us we have travelled all over the world and love sharing our recommendations and experiences to open up the world for those who want to see it. We can't wait to send you on your own amazing travel experience, so pop on in and let our friendly team start planning your next exciting adventure.
Chris Readings
Manager
opening hours
More about this store
Our friendly and knowledgeable travel agents in our Euston store will ensure that you receive exceptional customer service. All of our travel agents are just excited about your holiday as you are. In addition to leisure holidays, our Euston team also specialise in business travel, offering a dedicated account manager who will save you money and time by finding you the best fares, hotels, car hire, airport parking. At Flight Centre Business Travel we also believe in offering flexible payment options, not a contract. For more details call or visit the store today. Our Euston travel agency is located at Clifton House next door to Starbucks and opposite the British Library.
What our customers say about our store
Contact our experts
We know our stuff when it comes to flights – our Travel Experts can get the best flight option for you, within your budget and travel dates. - So what are you waiting for?