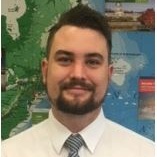 At Flight Centre Ealing we focus on putting together the most amazing bespoke trip, unique to you. We pride ourselves on the wealth of knowledge and expertise at hand to be able to ensure that your holiday is perfect! Please feel free to give us a call or make an appointment and we would love to put together your dream trip for you.
James Thomas
Manager
What our customers say about our store
CONTACT OUR CONSULTANTS
We know our stuff when it comes to flights and tailor-made holidays – our Travel Consultants can find the best options for you, within your budget and travel dates. So what are you waiting for?