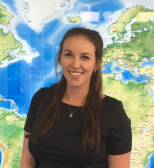 Here at Flight Centre New Row, we pride ourselves on being a local store with a knowledgeable team, made up of friendly Travel Experts dedicated to creating amazing travel experiences for our customers. Open seven days a week, we are here to help you create your dream holiday and take the stress out of holiday planning.
Laura McKinney
Manager
opening hours
More about this store
Since 2002 our travel agents in Covent Garden have been booking flights and holidays for the people living and working in Central London. As part of the world's largest travel agent, we pride ourselves of our incredible range of travel offers and the exceptional customer service of our travel agents. Specialising in flights, holidays and tailor-made Journeys, our Experts look forward to planning your perfect holiday. To find out more about our fantastic travel offers and to discuss your upcoming travel plans, call or visit us in store today. The store is located on New Row, next door to Costa Coffee and opposite the Roundhouse Pub.
What our customers say about our store
Contact our experts
We know our stuff when it comes to flights – our Travel Experts can get the best flight option for you, within your budget and travel dates. - So what are you waiting for?