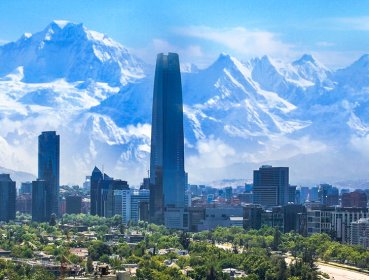 Santiago is Chile's cultural and political capital, surrounded by the snow-capped Andes and the Chilean coastal mountain ranges. The city calls you to explore its historic corners, museums and architecture, get acquainted with its iconic street art, and after all that sightseeing, relax in one of the many beautiful parks. The home of famous Chilean poet, Pablo Neruda and with the hiking landmark of San Cristóbal Hill in in its midst, Santiago also has much to offer the party set and foodies with a thriving club scene and exciting bars and restaurants.
For travellers wanting to go deeper and give back to this amazing city and its people, there are some great volunteer programmes you can sign up for. Read through our Santiago travel guide to find out more about the city's unmissable hotspots.
 
Santiago quick facts
Beverages
Bottle of Coke/Pepsi (330ml)
GBP £1.24
Currency
Chilean peso
GBP £1.00 = CLP $1103.15
Eating out
Restaurant meal (casual dining)
GBP £8.83
Electricity
Plug type: C
2 or 3 pins • 220V
Where to stay in Santiago?
You're spoilt for choice when it comes to deciding where to stay in Santiago. The many neighbourhoods of the city each have their own character and charm. Take your pick from eco-focused boutique stays, five-star luxury hotels and a variety of cosy dorms.
The Barrio Italia neighbourhood is a bohemian haven for creatives, art lovers and culture vultures.
 A lovely little eco boutique hotel is Hotel Maison Italia 1029 with private terraces and an on-site restaurant, while Edelweiss Hostel Boutique is a bed and breakfast offering a tranquil stay that's nevertheless minutes from all the action.
---
Get away from the crowds for a more chilled stay in Santiago and head to the neighbourhood of Barrio Brasil. We recommend Matildas Hotel Boutique for its tranquil garden-view rooms and elegant interiors. Travelling on a budget? Landay Hostel has comfy dorms, a shared dining room and lounge, and free Wi-Fi.
---
Cool and quirky Barrio Bellavista offers you bars, clubs, parks, shopping opportunities and street art galore. Consider settling down at The Aubrey, which boasts four-star luxury and a piano bar. A little more low-key is Hotel Terrazas Bellavista – a small and peaceful oasis in the city with a garden, rooftop bar and pool. It's also around the corner from the tube station.
---
Things to do in Santiago
There's something for everyone in Santiago, whether you're a literature or history buff, street art fan or outdoor enthusiast.
Lace up your hiking boots and slap on the sunscreen – no visit to Santiago is complete without
a challenging but rewarding hike to the top of San Cristóbal Hill. The hill towers more than 900m above Metropolitan Park, and those reaching the summit are rewarded with amazing views of the sprawling city below, as well as the legendary statue of the Virgin Mary. Not in the mood to break a sweat? No worries, hop aboard the funicular on Pío Nono Street to get to the top.
---
Plaza de Armas is the "town square" and offers you the chance to get to know the locals better.  Grab a snack from a friendly street vendor, watch the elderly gentlemen play chess or do some people-watching in the shade of a tree next to the fountain. It's a great place from which to launch your sightseeing adventures – you'll come across the beautiful  Santiago Cathedral, and the Royal Palace.
---
Created to ensure that the awful human rights infringements under Chilean dictator Augusto Pinochet are never forgotten, the Museum of Memory and Human Rights is a three-level building crammed with video footage, newspaper articles, and interactive photography and audio exhibits.
---
Visit the home of a famous poet
The late Chilean poet, Pablo Neruda, known as much for his eccentricity as his works, built his colourful home in Barrio Bellavista where he lived with the woman he deemed "the love of his life", Matilde Urrutia, for many years. He called the residence "La Chascona", which loosely translates to a "wild mane of hair" after Matilde, who had long, red locks. He created many of his best works within its walls and was even awarded the Nobel Prize in Literature in 1971.
---
Santiago is famous for talented street artists, known locally as grafiteros. In fact, the city is home to several internationally renowned street art pieces and artists, such as INTI. Born in Valparaíso, he's made a name for himself adorning streets far and wide with his works. You'll find one of his best-known masterpieces when you exit the Bellas Artes metro station (Línea 5). Another street art "mecca" is Bandera Street in Lastarria. Here, you shouldn't have any trouble finding the Paseo Bandera – an expansive pedestrian promenade featuring a colourful floor mural inspired by Chilean history and culture.
---
Volunteer for a good cause
"Travel with a purpose" has been growing in popularity; people want to make a positive, lasting impact on the destinations they visit – and Santiago is no exception. Luckily, there are many ways to volunteer in Santiago during your holiday, whether you lend a hand at a local school or assist for a few hours at a charity.
---
Santiago food and drink
Cuisine in Santiago combines traditional Spanish and Chilean influences with a focus on simplicity and flavour. This doesn't mean you won't find upmarket though. You will – and also the best of both worlds because Santiago is also all about satisfying, lip-smacking street food.
Boragó is known for sustainable Chilean gastronomy and boasts a tasting menu with a range of dishes that have been made using locally sourced ingredients. They also have an extensive wine list and we all know how famous Chilean wine is… Craving seafood? Olam Restaurante is a must for sustainability-focused travellers, celebrated for its zero-waste approach to fine dining and cuisine. Ambrosía is a restaurant that has featured on Latin America's 50 best restaurants. It offers the perfect mash-up between Chilean and French cuisine, with an à la carte menu including delicacies such as oysters, wild deer and grilled southern toothfish.
 
---
Vendors are everywhere in Santiago and you can literally taste your way through the city. Sopaipilla are round "patties" of spiced dough fried to crispy golden perfection and hailed as "king" of local street food. There's also a local version of the hot dog called a completo with a kind of guacamole topping, mayo and salsa, while a popular sweet drink to wash everything down with is the mote con huesillos, made with sugary dried peaches spiced with cinnamon, swimming in syrup and topped with cooked husked wheat. It's enjoyed as a summer treat. For dessert, grab an ice cream on the go!
---
Santiago through your eyes
Where to shop in Santiago?
Santiago is a shopaholic's dream! Although Chile's capital city was a bit late to the party in terms of building large shopping malls, (the first ones only popped up in the late 1990s and early 2000s), nowadays there are plenty. The good news is that if you're watching your budget, Santiago has loads of markets where you can put your haggling skills to the test and score some bargains.
Santiago is home to one of South America's largest and tallest shopping malls – the Costanera Centre. It's six-floors of some 300 stores, where you can spend hours browsing high-end fashion, footwear, décor or catch a movie and dine at a top restaurant. The glass-walled observation deck offers jaw-dropping 360-dgree views of Santiago. Then there's Parque Arauco in Las Condes. It's separated into three main areas, namely the Boulevard (full of restaurants), the Design Floor (international brands for home decor) and the Bazar Gourmet (Chile's first food hall). If you're at Plaza de Armas, you'll find the entrances to some fascinating single-storey malls where you can stroll down convoluted corridors to find cafés, artisanal products and more.
---
When is the best time to travel to Santiago?
Avoid the annual influx of travellers by booking a low-season holiday to Santiago. Many will agree that the best time to visit Santiago is in the autumn from March to May when temperatures are mild. Another reason to visit during autumn? Wine season! This is the time of year when harvesting begins in the vineyards bordering the city, which means you'll have the pleasure of indulging in wine tastings and pairings. Temperatures are still warm in March (28°C /82°F), but dip as the season progresses into May (19°C/66°F).
Booking a spring holiday just after the rainy season comes to an end (that is, any time from September to early November) means you'll enjoy warm, sunny days, with temperatures averaging 23°C/73°F.
High season is in summer from December to February. Temperatures are around 29°C/84°F, on average, during the day and it's also the ideal time of year to visit Patagonia, as an add-on to your Santiago vacation. About a four-hour drive away, it's a nature lover's paradise with mountains, glaciers and fjords. Summertime is prime time in Patagonia because the conditions are perfect for outdoor activities, including hiking and penguin-spotting.
How to get around Santiago
With an organised public transportation system, you shouldn't have any problem getting around in Santiago. The city has six metro lines, taking passengers to every corner of the city. If it's going to be your go-to mode of transport, you'll definitely want to buy a Bip card, which you can use for both the metro and local buses.
Speaking of buses, they run seven days a week and there are many bus stops throughout the city. Note that a Bip card is essential if you want to hitch a ride in one of Santiago's red buses.
Keen on taking a taxi? In Santiago they are black with bright yellow roofs, making them easy to spot. To avoid paying more than necessary, always ensure that the taxi has a meter before starting your trip.
What are the best parks in Santiago?
Escape from the buzz of the city and venture into one of the many beautiful parks in Santiago. The city's expansive green spaces welcome both the active and the laid-back, the young and the old, not forgetting the furry (we're talking about dogs here – but it's all good if you've taken a break from your razor while on holiday!). Enjoy a picnic or a leisurely stroll and let the kids run free.
Catch a glimpse of the pink flamingos at Parque Bicentenario in Vitacura. It's a family - and furkid -friendly green space with a playground and a dog agility course where you can watch the locals' adorable pooches getting some exercise. Nice picnic areas and walking paths to enjoy too.
---
Get active while enjoying the fresh air at Parque Araucano, known for its sporting and kidds' facilities. Relax among the colourful, fragrant roses, shoot some hoops on court or watch the kids strap on their knee- and elbow-pads as they make the most of the skate park.
---
This is Santiago's oldest park, established in the mid-19th century. Here, you can rent a paddle boat on the pond or get a history lesson or two at the on-site National Museum of Natural History or Children's Museum.
---
The current requirements for travelling to Santiago
Talk to a Santiago Travel Expert
Our dedicated team of experts know all the ins and outs of travel and love sharing their knowledge. If you're looking for help planning specific sections of your trip or full itinerary planning, our team is ready and waiting to help create your perfect holiday.
Enquire now