Madrid knows how to live. Bring your zest to add to the mix. If you dip your toe into this force of a city you might find yourself embracing Madrid life at all hours and not in a hurry to leave...
We don't have any products online right now but one of our consultants may be able to help you. Enquire now to get access to great deals all over the world.
At Flight Centre, our range of flights from the UK to Madrid depart from London Heathrow and take approximately 2 hour and 20 minutes with Iberia.
Madrid Airport (MAD)
Flights from Singapore to Madrid will disembark at Madrid-Barajas International Airport. Madrid-Barajas International Airport (MAD) is Madrid's primary airport and the busiest airport in Spain. The airport is made up of four terminals. Terminal 4 is one of largest terminals in the world.
The Spanish capital is always 'on' – it has been the centre of the Spanish Empire and in its contemporary incarnation, the nightlife is legendary. Madrileños enjoy a decadent music scene, fine restaurants, flashes of flamenco and an array of art galleries, museums and festivals to keep the most culturally-minded happy. Siestas only make a rare appearance these days, such is the energy spurring this place on.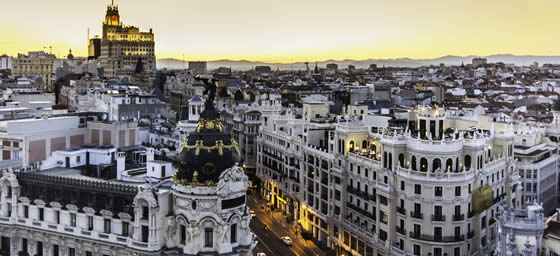 Aerial View of the City
In a city rife with round-the-clock spectacle, and where you'll universally be welcomed, here are a few teasers to get you thinking on what you can indulge in while here:
Visit the Prado Museum – a globally-renowned treasure trove of more than 8,000 artworks, including masterpieces from the Spanish, Italian and Flemish schools.
Try tapas at the minimalist Sula restaurant/bar – in the Salamanca district, there's a couple of Michelin stars floating around this establishment.
Admire the Royal Palace – the site of a royal residence since the 14th century, construction of the current building began in 1738 and noteworthy rooms include the Main Staircase, Throne Hall and Hall of Halberdiers.
Enjoy flamenco in its birthplace – try the venues Corral de la Morería, Café de Chinitas, Las Carboneras and Casa Patas.
Find a traditional or modern treasure at El Rastro market – set up around the Plaza de Cascorro and dating back to medieval times, this is one of Europe's oldest markets and is held each Sunday.
Royal Palace
Book your flight to Madrid if you're ready to go or have a look at Madrid accommodation to get started. For information on airlines that offer flights to Madrid, have a look at our international airline page.