Set on Spain's northeast Mediterranean coast, Barcelona is a whirl of a city with food, art, architecture and the sea to tempt. When you're all tuckered out you'll be glad to embrace a siesta with as much gusto as a local Catalonian.
Chat to Us About Tailor-Making Your Trip!
Flight Centre's Travel Consultants really know their stuff when it comes to creating bespoke itineraries. Get in touch below, and let us tailor-make it easy
Top Barcelona Airfares & Flight Deals
Choose a Method of Contact
Tap an option below
Email
Send a quick message
Fill in the form with as much detail as you can and we'll get back to you.
Sometimes it's easier to talk! Call us on 0800 587 0058 to chat instantly - It's the quickest way to get your quote! Our travel consultants are waiting to speak to you.
Sometimes it's easier to talk! Call us on 0800 587 0058, 9-6pm - It's the quickest way to get your quote!
Callback
We can call you, now or later.
Enter your number below and we can call you now or at a set time - the choice is yours!
We're not in the office right now
Enter your number and we'll call you back at a time that suits you (within opening hours)
Enter your number
Callback
When would you like us to call?
Select a day and time (UK)
Success!

Continue Browsing
Barcelona Airport (BCN)
Flights from the UK to Barcelona will disembark at Barcelona El Prat Airport. Barcelona El Prat Airport (BCN) is the international airport for Barcelona and its surrounding municipalities. Often referred to as El Prat, the airport comprises two terminals and is the second largest in Spain.
What airlines fly to Barcelona?
From a Roman town to a medieval trading giant to Spain's second-largest city, Barcelona has a rich history extending back at least 2,000 years. Today you'll find locals who are proud of their place in the sun and eagerly patronise the outdoor markets, restaurants and late night cafes. It has a distinct look too: here you'll find Europe's greatest concentration of Gothic architecture, Catalanian modernism is alive and well, and Gaudi's Gothic/Modernist/Art Nouveau-inspired basilica – Sagrada Família – is a must-see. Gaudi's creations in Park Güell are also popular and the views over the city from the top of the park are lovely.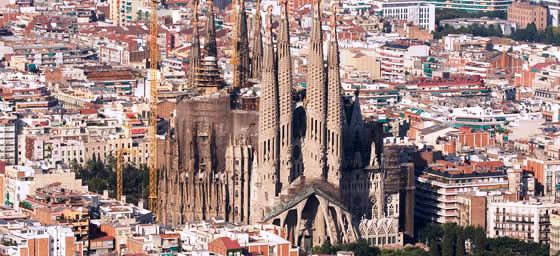 Sagrada Família
Here's a quick guide to neighbourhoods and further activities to indulge in during your Barcelona stay:
Wander the Ciutat Vella neighbourhood – here you'll find the heart of Roman and medieval Barcelona in Barri Gòtic and the popular, tree-lined 0.7 mile boulevard La Rambla
Visit a flamenco show in a tablao – one of the best is Tablao de Carmen in Sants-Montjuïc
Ride the Cable Way – for an interesting trip from the sea front to Montjuïc mountain in Sants-Montjuïc
Immerse yourself in the language – there are a host of Catalan and Spanish language schools to help you grapple with grammar and converse with confidence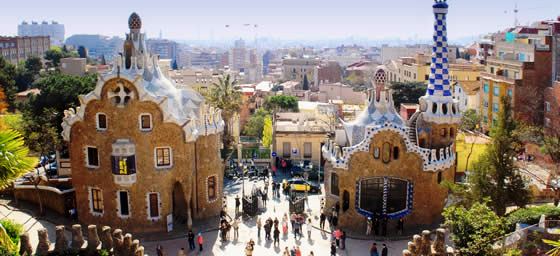 Park Guell Entrance