Flights to Czech Republic
The Czech Republic has a bounty of castles, monasteries and mansions across the forests and mountains of its ancient lands of Bohemia and Moravia. Then there's the crowning capital that is a delight named Prague...
We don't have any products online right now but one of our consultants may be able to help you. Enquire now to get access to great deals all over the world.
Powerful families from European history have hailed from this country before borders were drawn around the modern-day Czech Republic. Stonemasons, stucco workers and tradespeople have left their testatment to fine craftsmanship here too. Outside the bustling finery of Prague other noteworthy Czech sites include: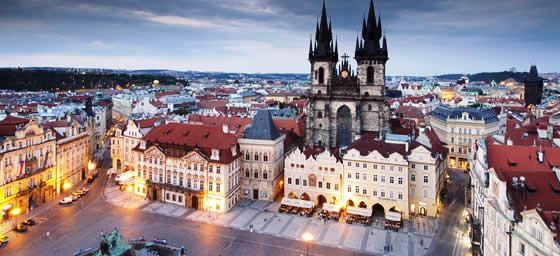 Prague
Brno – the Czech Republic's second-largest city; it has a historical centre, fine museums and an annual international fireworks festival.
Ceský Krumlov – a beautiful old town can be found in this South Bohemian town.
Krkonoše – running along the Czech/Polish border are the country's highest mountains and many popular ski resorts.
Mutenice wine region – excellent vineyards off the tourist path.
Karlštejn – about 13 miles west of Prague, this town has one of the most-visited castles in the country.
Pilsen – home to the original Pilsner beer.
Bridges Over the Vltava River
This country dishes up a lot in a small area, catering to the active traveller and meandering tourist. Book a flight to the Czech Republic if you're set to go or contact Flight Centre to get tips on making the most of your holiday.