There's a lot of justified fuss about the Austrian Alps (which cover three-quarters of the country) in winter, but exploring Austria's cultured capital, meadows, foothills and river gorges in summer will make you feel charmed.
For information on the airlines that offer cheap flights to Austria, have a look at our international airline page.
Flights from Singapore to Austria will disembark at Vienna International Airport (VIE).
Chat to Us About Tailor-Making Your Trip!
Flight Centre's Travel Consultants really know their stuff when it comes to creating bespoke itineraries. Get in touch below, and let us tailor-make it easy
Top Austria Airfares & Flight Deals
What airlines fly to Austria?
The Austro-Hungarian Empire splintered post-World War One but distinct cultures remain across Austria's 9 land-locked states, (who needs a coastline when you've got The Alps?) Vienna tends to dominate cultural and political life and its history has left Roman, medieval, baroque and post-modern stamps on the architecture. Visiting Vienna's stunning Schönbrunn Palace, with its 1441 rooms, is likely to be a highlight, along with taking in a waltz played by the Vienna Phillharmonic at the Wiener Musikverein – even if you're not usually a classical music buff.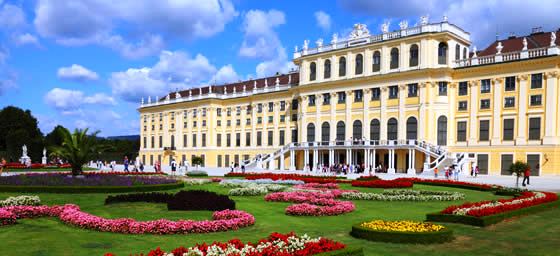 Schönbrunn Palace
The baroque splendour of Mozart's birthplace, Salzburg, is worth seeing and driving the valleys and mountain passes of Tyrol will make you pledge to return. One of the most popular cycle paths in Europe is the Danube path from Passau to Vienna, but if you're itching to get your hiking boots on and get out into the Alpine wonderland, there's a dense network of marked trails and mountain shelters through The Alps. You may need to share your views with more than a handful of hikers in high season – but what a view!
To get your chops around a Wiener schnitzel, book a flight to Austria if you're set to go. Curious but want to find out more? Give Flight Centre a call.
More Information about Austria
How long is the flight to Austria?
Flights from the UK to Austria generally disembark in Vienna or Salzburg where the country's main international airports are based.
The short-haul flight to Austria takes over 2 hours non-stop.
The total flight duration from London to Vienna is 2 hours and 15 minutes and from London to Salzburg is 2 hours.