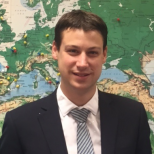 As the first Flight Centre store in the UK, we are a well-established part of the South West London community. At Flight Centre Putney we pride ourselves on delivering amazing travel experiences for all our clients. With a wealth of travel expertise throughout the team, we are enthusiastic, friendly and knowledgeable. We create tailor-made holidays for travel across the world and endeavor to create the perfect getaway – no matter the destination. Make an appointment or drop in – we look forward to seeing you soon!
Robert Pyle
Manager
opening hours
More about this store
Our travel agency in Putney has been booking flights and holidays for the people of Putney and South West London for over 15 years. In that time we have booked a huge range of flights and holidays, constantly striving to offer our customers the best price as well as the best travel advice. As part of one of the largest travel agents in the world, our team of travel agents have access to an incredible array of flight and travel deals. From long haul flights to packaged beach breaks and more, come in store or call today to find out about our latest deals.
What our customers say about our store
Contact our experts
We know our stuff when it comes to flights – our Travel Experts can get the best flight option for you, within your budget and travel dates. - So what are you waiting for?