Economy
You won't believe that Icelandair's Economy Class is just that. It strives to offer quality at an affordable price and succeeds in both areas. Passengers will benefit from complimentary non-alcoholic beverages, personal seatback entertainment, Wi-Fi and, most importantly, spacious seating complete with blankets and pillows on North American routes. With a 32-inch seat pitch, travellers benefit from heaps more legroom than the average economy cabin.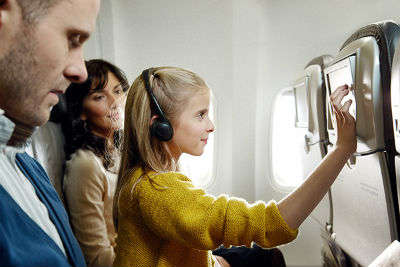 Entertainment: Enjoy hours of new and classic films, TV shows and music from the UK, USA and Iceland – whatever class you're in. You can use your own headphones or buy a set on-board for just €6. A selection of newspapers and magazines are available too.
Food and Beverage: Complimentary soft drinks, coffee and tea are available. A selection of light refreshments, as well as wine, beer, champagne and spirits, are for sale during the flight.
Economy Comfort
Enjoy all the benefits of Economy Class with a touch of luxury in Icelandair's Economy Comfort Class. The grandeur begins on the ground, with priority check-in, lounge access and early boarding and disembarkation. When you board you'll be seated towards the front of the plane and get more legroom (33-inch seat pitch). The middle seats are blocked off for your comfort too, so instead of rubbing elbows with a stranger, you'll have an extra table for your complimentary food and drink. Travellers going to North America will also get a free travel kit including ear plugs, an eye mask and a towel.
Entertainment: Economy Comfort passengers are entitled to the same in-flight entertainment as Economy Class, with the added benefit of inclusive complimentary headphones and an in-seat power outlet to keep your electronic devices fully charged.
Food and Beverage: Meals in Economy Comfort are complimentary along with alcoholic and non-alcoholic drinks. Passengers can select whatever they would like from the Economy menu, made of quick, fresh and quintessentially Icelandic grub. Menus vary depending on whether you're travelling in Europe or to North America.
Saga Class
Saga Class is Icelandair's most indulgent offering. With its own quiet cabin at the front of the plane, limited to just 22 passengers per flight, Saga is all about superior service – you'll even get your own cabin crew. The experience begins at the airport with priority check-in and lounge access, and continues when you board with a pre-flight drink, hot towels and plush bedding for night flights. With a 40-inch seat pitch, legroom certainly won't be an issue when you want to stretch out for a kip, and an enhanced amenity kit (including Blue Lagoon moisturers) should help you get some shuteye.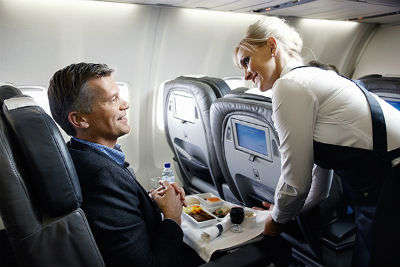 Entertainment: Enjoy the standard in-flight entertainment system with the added benefit of inclusive noise-cancelling headphones, a universal electric outlet if you want to use your own devices instead, and a free newspaper.
Food and Beverage: Saga Class travellers benefit from their very own gourmet menu, a selection of fine dining options comprising fresh ingredients transformed into tasty English and Icelandic delicacies and snacks. European flights offer one main meal per person, North American routes offer two courses and a pre-flight drink. As with Economy Comfort, all beverages are included.
Icelandair Baggage Allowance
Carry-on
Icelandair's carry-on allowance varies depending on which class you're travelling in. Economy Class passengers are allowed one bag, plus a small personal item (such as handbag or laptop) up to a combined weight of 10kg. The first bag must be within the dimensions of 55cm x 20cm x 40cm. 

For easy access, place commonly used in-flight items in a smaller bag underneath the seat in front of you.
 
Checked
Checked baggage allowances vary depending on flight routing, cabin class and frequent flyer status. Check with your Flight Centre Airfare Expert in advance for specific baggage policies, but generally allowances are as follows:
Economy Class - Europe, one bag weighing no more than 23kg; North America, two bags with a maximum of 23kg each 
Economy Comfort - two bags with a maximum of 23kg each
Saga Class - two bags with a maximum of 32kg each
Saga Gold and Saga Silver holders are entitled to one additional bag. Weight is dependant on cabin type. Premium and Business Icelandair American Express card holders receive 10kg extra on top of their general allowance when travelling in Europe. When travelling to North America they are entitled to one extra bag weighing up to 23kg.

Baggage allowances may differ on other airlines. Check beforehand if your itinerary includes travel on an alliance partner airline.
Bulky Items
Many bulky items such as sporting equipment and musical instruments can be checked in as part of the passengers free baggage allowance. Musical instruments that fit within the carry-on size dimensions can be taken in the cabin. Your Flight Centre Travel Expert can help determine what items are permitted and what items will incur an additional charge.

Non-motorised bicycles are permitted only if packed in a protective case or bag. Pedals should be removed and tyres deflated.

Infant Baggage
Infants under two years of age without a reserved seat do not have their own carry-on/hold allowance. Children with a reserved seat are allowed the same amount of carry-on as adults. Car seats and prams can be checked in free of charge. 

Infants are considered under the age of two. Children aged two and older must have a seat purchased for them.
Restricted Dangerous or Goods
There are many liquids and materials that are banned from flying. Consult with your Flight Centre Airfare Expert on specific items that are banned. Flammable liquids, gases and materials such as matches are not allowed. Explosives, fireworks, poisons, fertilizers are also banned substances.

Equipment with petrol engines are sometimes allowed to fly if drained of fuel before hand. Always check with your Flight Centre consultant before departure on what is allowed on board.
Check-in at Your Leisure
There are various ways to check in for your flight with Icelandair:
Online – For flights to Europe and Canada, online check-in is available from 36 hours before departure. For flights to and from the USA you can check-in online 24 hours before departure. Check-in closes 60 minutes prior to take-off
Mobile – Check-in via m.icelandair.co.uk. Access you reservation by submitting your booking number and last name and, after check-in, you can choose to receive your boarding pass digitally or pick it up at the airport check-in desk
Airport Kiosk – Many airports, including London Heathrow and Keflavik Airport in Iceland, offer the convenience of kiosks. Passengers can check-in by themselves, following the on-screen instructions. 
Counter – Airport check-in counters for international flights usually open about three hours before departure. 
International Check-in Guide
at home
Know what time you need to leave the house to get to the airport
Pack your things, check out our baggage guide
Have your flight itinerary ready
Ensure you have your valid passport ready
Getting there
Be at the airport at least

120 minutes

prior to scheduled departure time
At the airport
Proceed to check-in counter with passport and itinerary ready
Go through security
Continue through customs
Check the gate number and flight status
Sit down and get comfy!
Icelandair Lounges
Icelandair has dozens of lounges across Europe and North America. Its crown jewel though, is the Saga Lounge at Keflavik Airport, a luxurious haven for Saga Class and Economy Comfort passengers with a real Icelandic feel. Designed by native designers Eggert Ketilsson and Stígur Steinþórsson, this unique lounge really looks the part – think basalt columns and Icelandic waterfall imagery. It, and other Icelandair lounges, offer a welcome reprieve from the thronging terminal areas, providing perks like free Wi-Fi, showers and food and drink.
Lounge access is available to those flying in Saga Class or Economy Comfort, as well as Saga Gold and Silver members, and Premium/Business Icelandair American Express card holders. Other entrants include: MasterCard World Elite card holders with Arion Bank; Platinum Business card holders with MP Bank; Star Alliance gold card holders flying with SAS/Lufthansa; EuroBonus Pandion if flying with SAS; passengers with SAS –Business Class; passengers with a Lufthansa Senator Gold or Hon Circle card when flying with Lufthansa.
Icelandair Saga Club
Icelandair Saga Club is the perfect frequent flyer program for regular users of the airline. Members can earn points to make their travel cheaper, upgrade to Saga Class or Economy Comfort and even get great deals on hotels and car rentals. You can even buy or share your points to expand their usage, and earn more at a range of Icelandic hotels or car rental outlets. The most frequent flyers are recognised with Saga Silver and Saga Gold memberships,